BGR Coaching Legend Honored
By Nicole Fogarty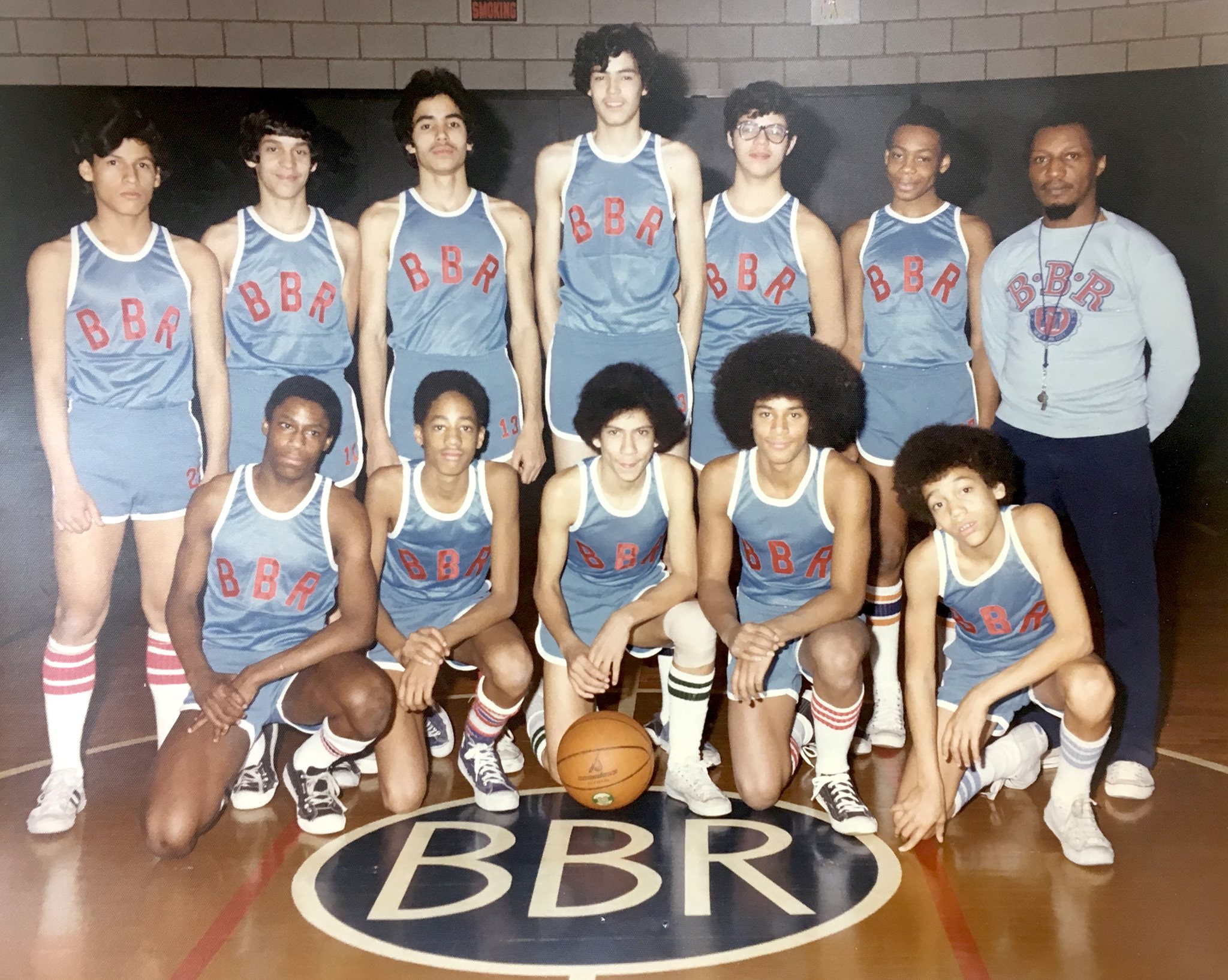 Coach Tyler, left, with one of his basketball teams at BGR (then known as BBR) in 1976. 
Last week, Boys and Girls Republic (BGR) citizens and alumni gathered to honor Coach Samuel "Sonny" Tyler with a special banner ceremony and reception. Tyler served as a basketball coach and staff member at BGR for over 35 years before his retirement in 2006.
After the honorary purple banner was unveiled (Tyler's signature color), guests were treated to a throwback slideshow of photos from Tyler's time at BGR. A roster of speakers paid tribute to the coaching legend, including remarks from Henry Street Executive Director David Garza, BGR alumni Ging Vann and James "Soupy" McDonald, and BGR Sports and Recreation Coordinator Luis Checa.
In his remarks, Garza emphasized BGR's history, legacy, and impact, stating, "I know the transformative effect coaches can have. It's the people like Sonny that I think of when I plan for the future of the Settlement. The history and deep roots of BGR in this community are embodied in Sonny and his history."
At the start of McDonald's remarks, he turned to Tyler and mused, "You know, all of this applause is really for you. Everything that I am is because of you." Before he could say anything else, he was quickly drowned out by even more deafening applause.
Throughout the evening, alumni emphasized that Tyler hadn't just taught them basketball. They were learning about life, and basketball was the tool—a theme still prevalent in today's sports programming at BGR.
The final speaker of the night was Tyler himself, who thanked everyone, and paid tribute to the late Ralph Hittman, former longtime Executive Director of BBR and BGR who passed away last year. Hittman oversaw the merging of the original Boys Brotherhood Republic with Henry Street in 1998, when it was renamed the Boys & Girls Republic.
"This has been an incredible night that I'll never forget," Tyler said in closing. "It has been an honor and a privilege to serve the youth of BGR."