Henry Street Receives $8.4 Million Grant from Manhattan DA Cyrus R. Vance, Jr.
By Henry Street Settlement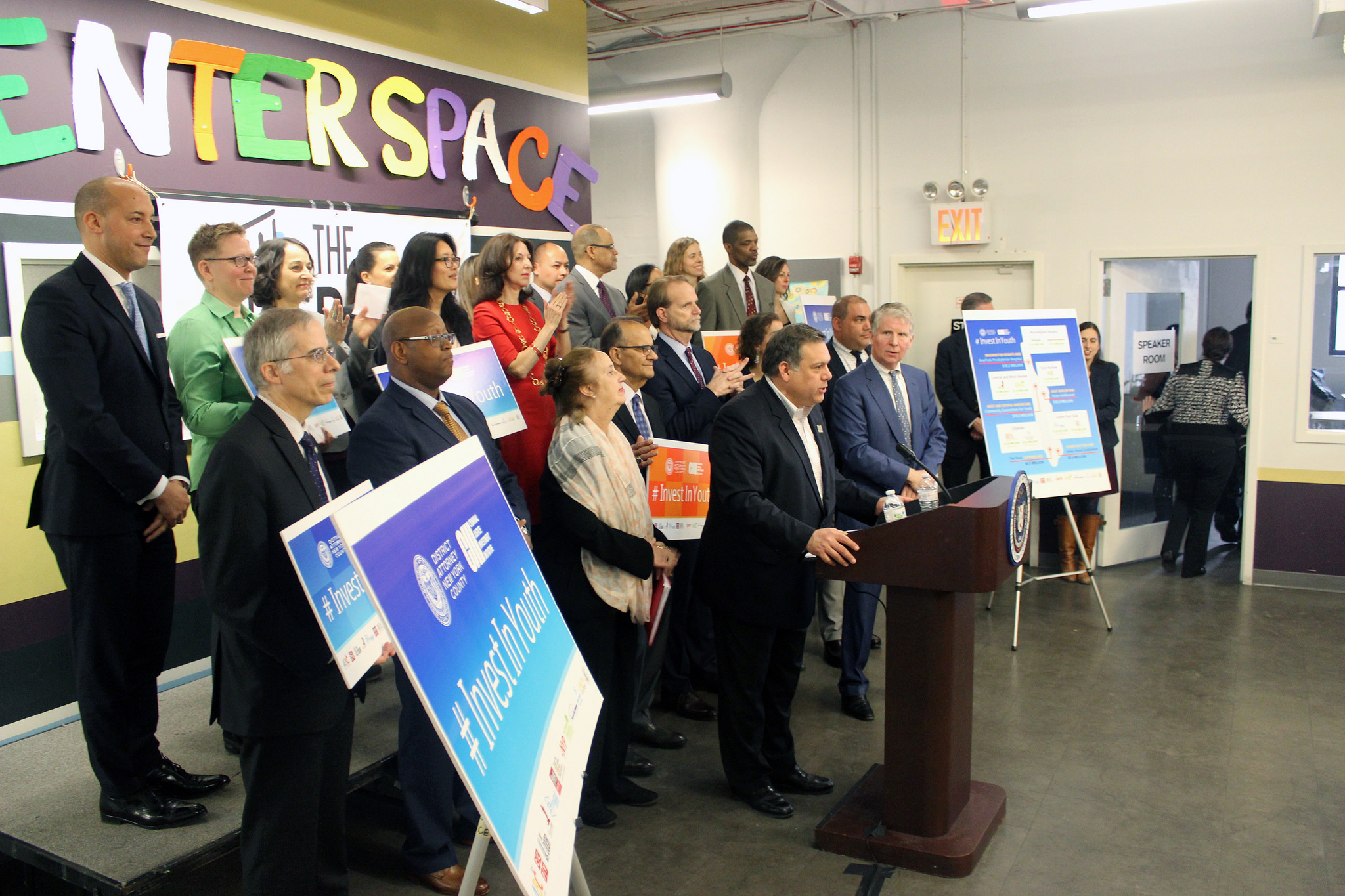 Above: David Garza, Executive Director, with all grantees and Manhattan District Attorney Cyrus R. Vance, Jr.
Henry Street Settlement received $8.4 million, including $2.7 million in capital funding, from Manhattan District Attorney Cyrus R. Vance, Jr., to create a Youth Opportunity Hub on the Lower East Side.  The announcement was made today at a press conference held at The Door, another grant recipient.
The money is from the DA's Criminal Justice Investment Initiative, which redistributes criminal forfeiture funds obtained through settlements with international banks.
Of the $58 million in funding, the bulk – some $45.9 million – will be used to create five Youth Opportunity Hubs in underserved neighborhoods. These innovative Hubs will make services more accessible by linking neighborhood service providers together to offer one-stop, comprehensive support for at-risk children, teens, and young adults in welcoming facilities order to prevent them from becoming involved in the criminal justice system.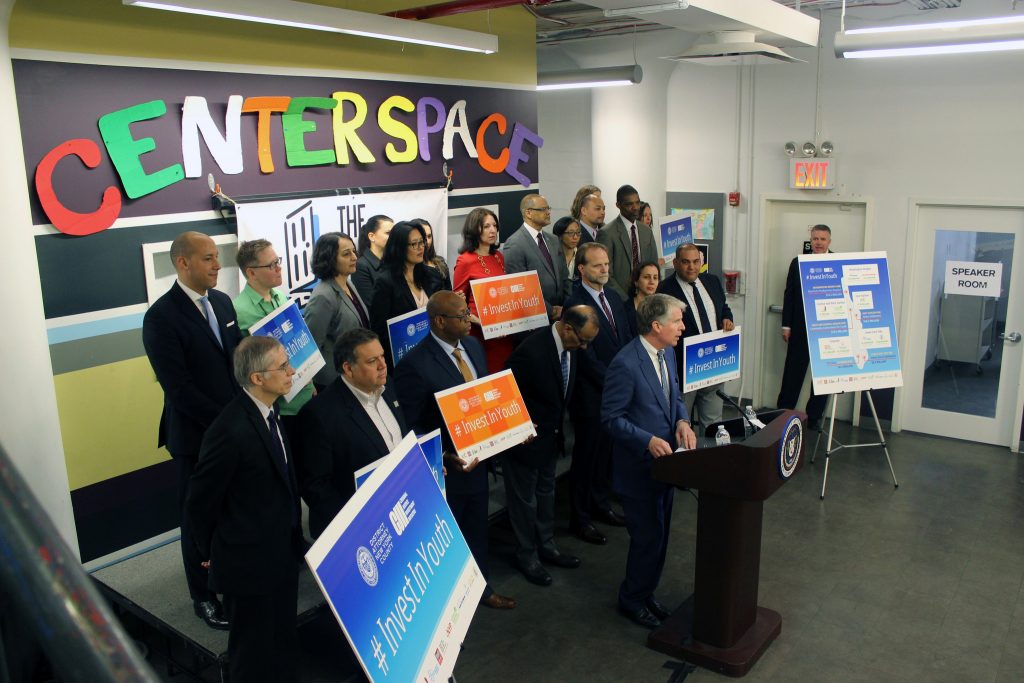 Above: District Attorney Vance, with CJII grantees. 
"The role of law enforcement in the 21st century is not merely to arrest and prosecute," said District Attorney Vance. "We can deliver greater public safety and healthier communities if we prevent young people from coming into contact with the justice system in the first place. The ill-gotten gains seized in our financial crime prosecutions represent a windfall opportunity to prevent crime by investing in our youth."
David Garza, Executive Director of Henry Street, said at the press conference, "We are grateful to District Attorney Vance and his team. The creative and powerful design of the initiative – which will allow us to partner with our sister settlement houses on the Lower East Side and additional organizations – will bring more than 600 years of combined experience to help put underserved youth on the right path. 
"These resources are transformative, and will enable us to identify and meet the needs of our young adults in a way that is unprecedented. The program provides a tightly woven safety net that will not only prevent our youth from falling through but, more importantly, lift them up by connecting  them to the comprehensive services they need to succeed," said Garza. 
In a nod last night's Oscar flub, Garza told the audience, "For the record, I brought our award letter so no one can say we got the wrong envelope."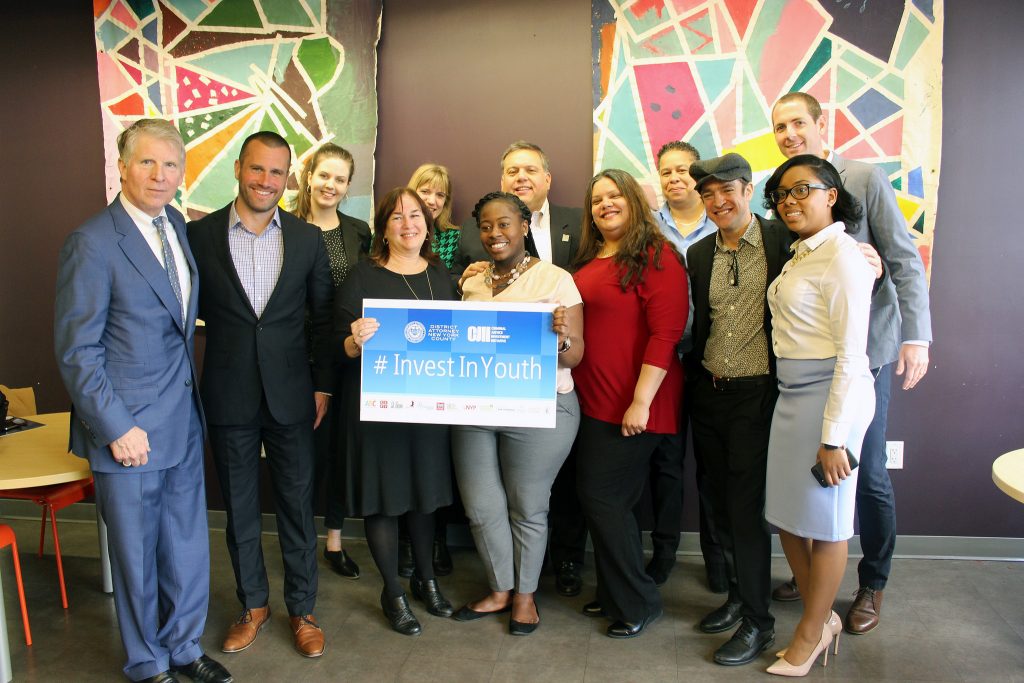 Above: Henry Street Settlement staff with District Attorney Vance
In addition to Henry Street and The Door, other Youth Opportunity Hub grantees are Community Connections for Youth, New-York Presbyterian Hospital and Union Settlement.  Speakers at the conference included Michael Jacobson, Executive Director of the CUNY Institute for State and Local Governance; Manhattan Borough President Gale A. Brewer; and Joe Torre, whose Joe Torre Safe at Home Foundation received a portion of the additional $12 million awarded to existing community-based service providers specializing in youth and family development to expand capacity.