Candidate Forum: The Crowded Field to Represent District 2
By Henry Street Settlement
Updated: Answers to audience questions will be posted on this page as we receive them; click here to see the candidates answers »
A lively standing-room-only crowd filled the Boys & Girls Republic on Avenue D last night to hear seven candidates vying for the District 2 seat on the NY City Council now held by Rosie Mendez, whose term limit will expire. The Candidate Forum, sponsored by Henry Street Settlement and the Women's Political Caucus of New York City, hosted five Democrats — Ronnie Cho, Juan Pagan, Carlina Rivera, Jasmin Sanchez, Mary Silver and Jorge Vasquez — on the primary ballet on September 12 and Jimmy "The rent is too damn high" McMillan who will run in the November general election as a Republican. The forum was moderated by David Garza, Executive Director of Henry Street.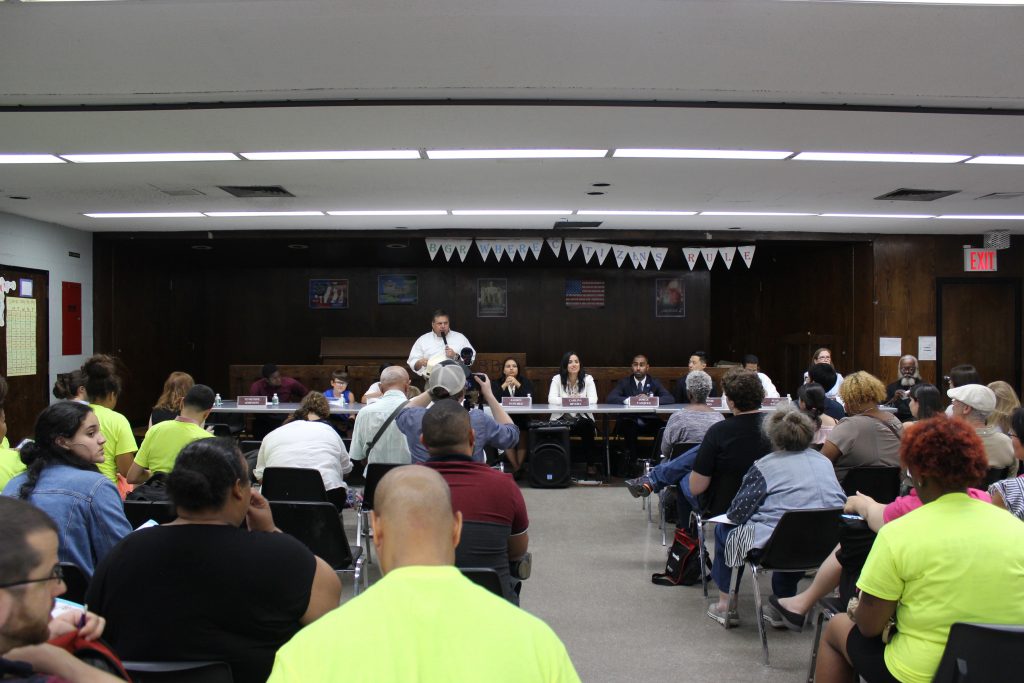 Above: David Garza addresses the packed room at Boys and Girls Republic, with the candidates ready at his left. 
The candidates, several of them lifelong Lower East Siders, had many of the same goals – increase affordable housing, improve education, and support small businesses.
Ronnie Cho, the son of South Korean immigrants, a first generation college student and former Obama White House staffer, wants more young people in the district to have success like his. A district resident for four years, he called for change. "Can we get new outcomes with the same approaches?" he asked. He promised to reform laws, build permanent stabilized housing, and make sure seniors get the services they need, as some programs are undersubscribed.
Juan Pagan said that, in addition to affordable housing, education and crime prevention, the environment is an issue, noting that asthma and cancer rates are high in the district.  He also said that the NYCHA NextGen program is part of the erosion in housing for working poor and middle class and must be stopped.
Carlina Rivera, who still lives in the building where she was raised by a single mother, wants young people engaged, and would expand the Summer Youth Employment Program. She would also fight predatory landlords, and fund eviction prevention services and those that serve the LGBTQIA and disability communities. She would replace cops in schools with social workers, and add music and arts programs.
Jorge Vasquez, also raised by a single mother and now an attorney, said protecting small business is the most important issue facing the district. "When small businesses close, they are replaced with luxury housing," he said, adding that closures increases neighborhood crime and contributes to unemployment. His solution is to give shops the right to renew leases.
Attorney Mary Silver, a mother of three public school daughters, said she is the "education candidate." She expressed frustration that school problems have not been remedied, noting that education is the pathway to success. She would work to ensure that children do not get "derailed" during their years of schooling. "Our kids deserve a first rate education," she said. "Education is transformation."
Jimmy McMillan said that housing laws are akin to population control. "They don't want you here," he said, before leading the crowd in a chant of The Rent is Too Damn High.
Jasmin Sanchez proposed a starting a Business Improvement District LES to protect mom and pop stores, community involvement in education and youth development to empower young people. She would help the homeless and the community by repurposing vacant buildings like bathhouses in the district, and would want more foot patrol officers in the neighborhoods where disturbances take place.
Several Henry Street clients posed questions. Anthony Ramos and Jason Rojas, who both live in the Lillian Wald Houses and participate in the Settlement's Cornerstone program asked about motivation for running and help for the homeless. Temitope Johnson, a member of Jobs Plus and GOLES, asked about jobs for youth. Williana Delgado, a Settlement client, asked the candidates how they can improve the mindsets of community members to allow them to have hope. Her question was so eloquently phrased and delivered, that audience members and even some candidates encouraged her to run for office!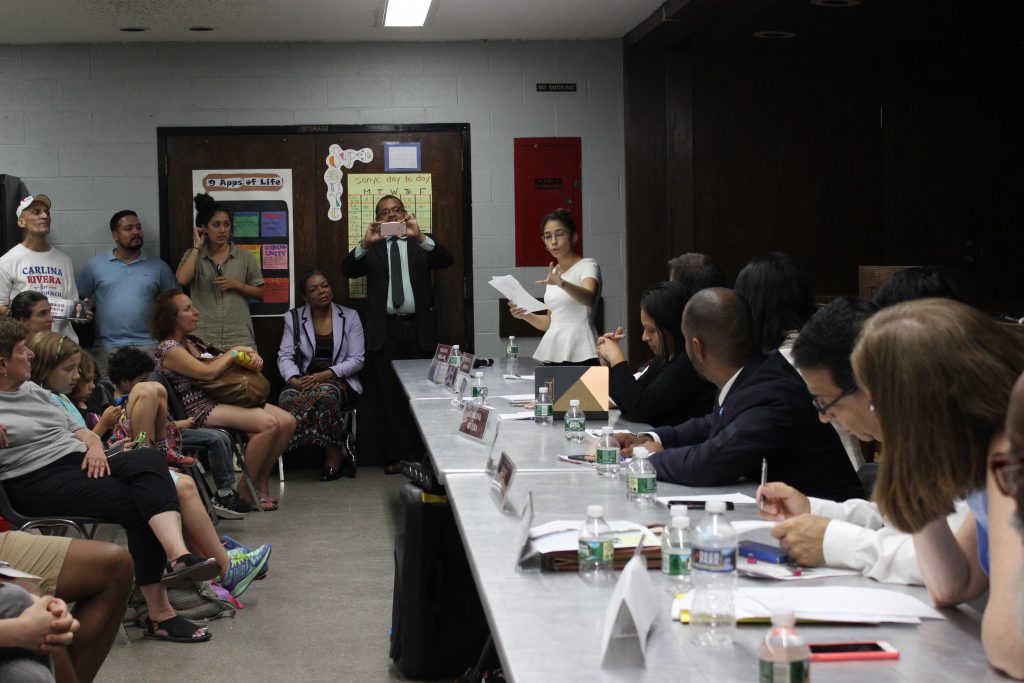 Above: Williana Delgado addresses the panel of candidates. 
Audience questions, which included quality of life issues like disturbances caused by noisy bar patrons, were met with responses to enforce legislation. Garza said that he would email the 25 audience questions that could not be answered because of time constraints to the candidates directly. The answers will be posted on the Henry Street Settlement website.
And while not a district issue, each candidate expressed support for closing Rikers Island.
"Henry Street, an anchor on the Lower East Side for 124 years, has a history of civic action and advocacy on the behalf of our neighbors. Bringing this forum to the community is a continuation of those efforts," said Garza.
Click the grid below or the link here to see more photos from this event.