Celebrating Survivors at "The Pathway to the Light Within"
By Nicole Fogarty
Attendees admire the artwork on display at "The Pathway to the Light Within"
October marked Domestic Violence Awareness Month around the globe, and Henry Street honored the occasion with its annual conference celebrating survival, held at the Abrons Arts Center.
This year's festivities, entitled "The Pathway to the Light Within," featured guest presentations, storytelling, poetry and, an exhibit in Abrons' galleries featuring art by residents of the Domestic Violence Survivor's Shelter, and a special Relaxation Space.
The Relaxation Space, which was open during the conference, was created as part of A Creative Encounter for People and Plants, a multi-week workshop with the Domestic Violence Program led by Abrons Engagement artist Jill Sigman. All art on display was created by women who participated in the workshop, which provided an ongoing space for relaxation, creativity and discussion through exploring plants commonly referred to as weeds. This focus aimed to take something that was commonly overlooked and discarded, let it blossom, and turn it into art.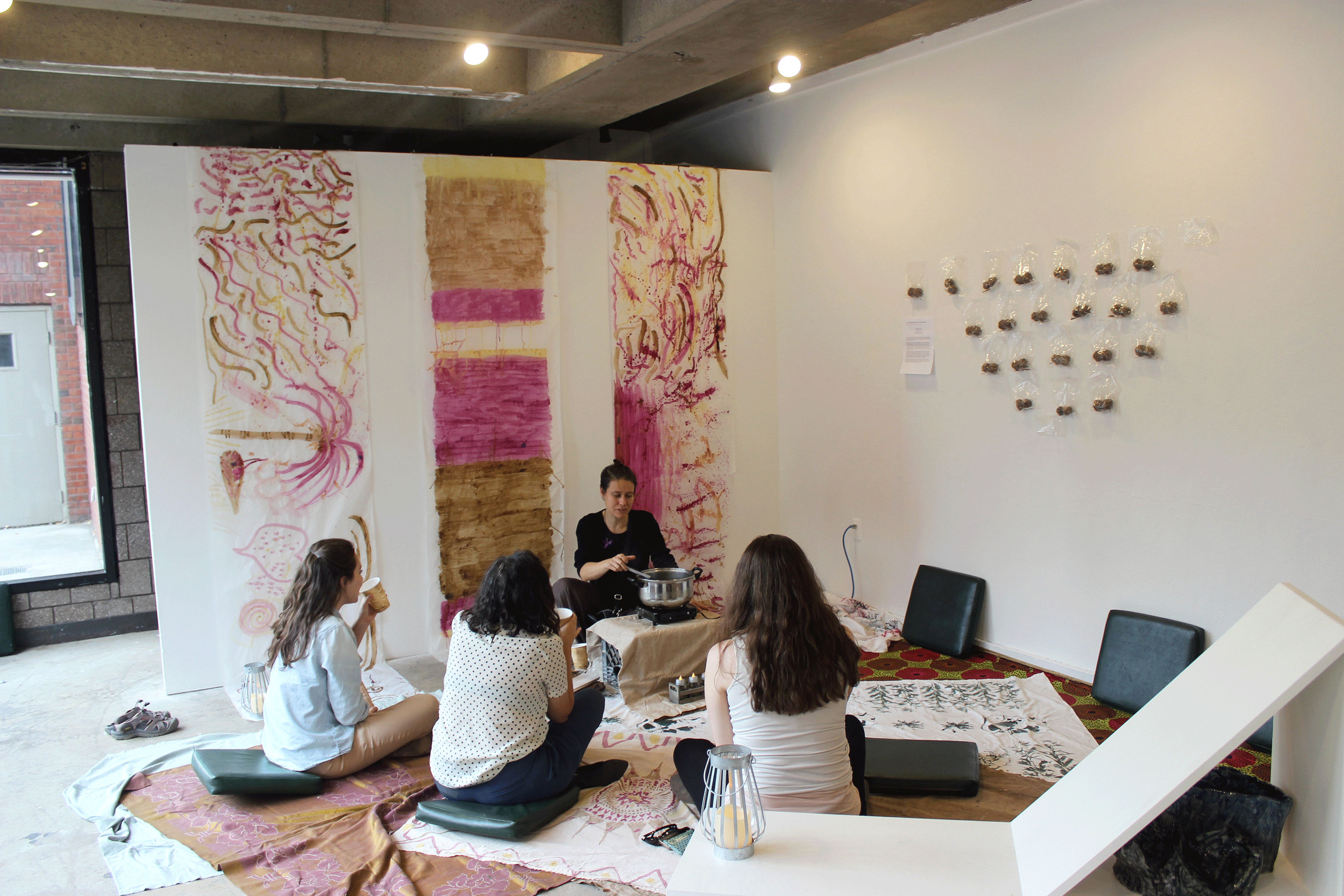 Henry Street team members enjoy tea made from foraged weeds with Abrons Engagement Artist Jill Sigman
The pieces on display throughout the galleries also included letters written to future selves, a mural celebrating resilience, original poems, collages, reflections and more. Guests were able to mingle and reflect on the artwork before gathering in the Experimental Theater for the conference.
Henry Street Executive Director David Garza welcomed attendees, noting how fitting it was the event was held at the Abrons Arts Center. "It is through art that people can communicate and express profound and powerful statements they might not otherwise be able to express," he said. "Today is about lifting up the voices of our residents and the voices of those moving forward to the future with a brightness and a light."
Stephanie Paer, from the gender violence prevention organization Sanctuary for Families, spoke to the audience with NYPD Officers Jacqueline CiFuentes and Luis Velandia of Police Service Area 4 about the importance of recognizing that domestic violence can take many different forms and affects everyone.
Assistant District Attorney and Director of Legal Outreach for Special Victims and Immigrant Affairs Mayerling Rivera gave an informational presentation on the Legal Ramifications of Domestic Violence, where she explored why people stay in situations of domestic violence, the importance of safety planning, and what how a domestic violence case goes winds its way through the legal system.
Geniria Armstrong, Deputy Program Officer of Transitional & Supportive Housing, closed the event by making an important distinction. "We are not domestic violence victims; we are domestic violence survivors, and deserve to be applauded."
Henry Street Settlement's Domestic Violence Program has provided safe refuge and on-site social services for survivors of domestic violence and their children since 1977. During their time-limited length of stay, residents are educated on family safety, non-violent relationship choices, economic self-sufficiency, and finding and maintaining permanent housing. Click here for more information.
Clockwise from left: an aspect of the Relaxation Room, Henry Street Domestic Violence Program team members, masks that were created as part of the exhibit, and Henry Street Executive Director David Garza delivering his remarks.