Expert Tips from Henry Street's Employment Conference
By Henry Street Settlement

"Being separated from employment is one of the most devastating things that can happen to a person, but helping connect someone with employment is one of the most helpful things you can do," said Henry Street president and CEO David Garza in a keynote address at the recent From Hello to Hired! Job Hunting During a Pandemic virtual employment conference. The event was designed to mirror events like job fairs that have been temporarily paused due to the COVID-19 pandemic, helping to connect attendees with employment given the dramatic shifts taking place in the workplace amid the pandemic.
The virtual employment conference—moderated by Matt Phifer, vice president of education and employment, and hosted by Kiana Walbrook, director of Job Essentials Training (JET)—brought employers from NewYork-Presbyterian Hospital, CVS, Columbia University, and The Jewish Board to share their insights into how to adapt a job search to the current climate. In breakout sessions, participants picked up tips on networking, resume writing, interviewing, and leveraging social media in the job search. Garza called himself a "hello to hired" success story—telling of how networking, through a chance meeting with an old friend at a Chinese restaurant, led to his first job at Henry Street as a job developer and put him on the path to CEO.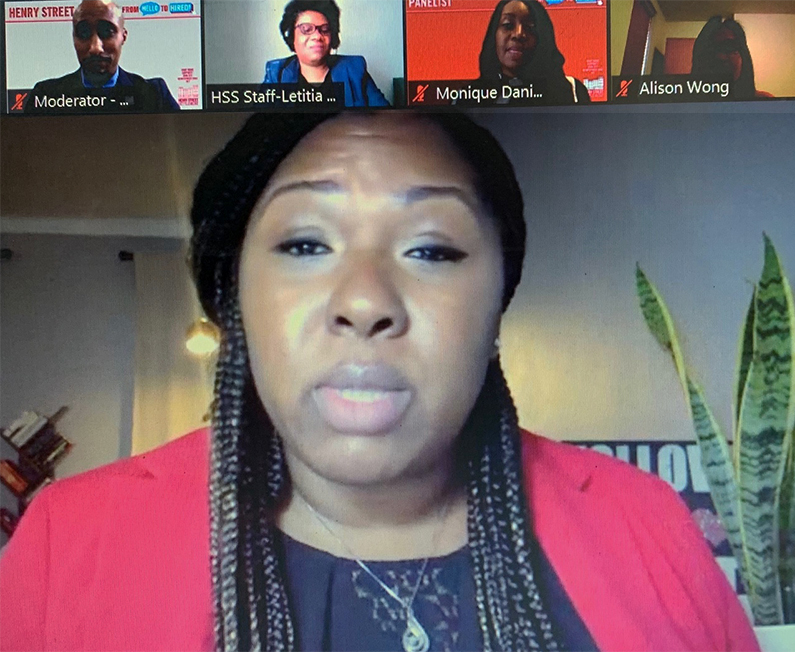 Above: Conference host and director of Job Essentials Training (JET) Kiana Walbrook, along with panelists and attendees on Zoom. 
Four Employers Tell It Like It Is
How can job-seekers stand out from the pack during an unemployment crisis? Four expert hiring managers gave attendees a world of advice.
Joana Lisboa, workforce innovation and Talent Center manager of CVS Health, is looking for people who are friendly, willing to go above and beyond for a customer or patient, and able to multitask. "We need to provide the best service so they remain loyal customers," she said, adding a few words about interview etiquette: Come a little early, but not too early! Remember that as soon as you walk in, you are in interview mode. "At CVS, it's okay to talk to the staff and show you're really interested and want the position. It's also okay to be nervous."
When it comes to Zoom interviewing, panelists agreed that job seekers still need to dress to impress. And, to the extent possible, make sure they have a quiet space to talk.
Liz Jones, director of community employment programs and services at Columbia University, noted, "Nobody is perfect, but there are things managers look for. Be prepared to answer questions about your resume with examples of your experience. Be on time. And make sure in advance that your technology is working."
Monique Daniels, of the NewYork-Presbyterian Talent Acquisition Department, said that COVID has changed everything in the job-interview process. At NYP, candidates don't come in person until they are offered a job, and the onboarding process has moved online.
Grace Lau, a nurse recruiter for NYP, advised job seekers to show that they're motivated to do the job—because statistics show that low motivation is one of the major reasons for turnover.
Avoid These Interview Turnoffs
The employers agreed that it's a big red flag when a candidate talks negatively about a former job or colleagues. Never say you are leaving your job because you don't like your manager or co-workers; instead explain what appeals to you about the new job. Another sign of trouble is when candidates deviate from the question and start talking about personal things. For Iris Groen of The Jewish Board—where client confidentiality is paramount—sharing "TMI" (too much information) is worrisome. Be sure not to over-talk, and let the interviewer speak.
Additional tips: Never answer a phone call in the middle of an interview, the speakers said. In fact, turn it off before you walk in—and don't ask the interviewer if you can charge it up. Lisboa advised candidates not to ask about money or hours in the first interview; those questions are important but can wait until you get a call back. That point was echoed by Cassandra Walker, Henry Street's chief recruiter, in a breakout session. Walker said it's fine to ask an HR recruiter about the salary, but don't bring it up in your formal interview unless the employer mentions it first. You can often research industry standards by Googling organizations and companies within your industry to find their median salaries, or look up "average salary/pay rate for x position in New York."
Are you or is someone you know looking for employment during the pandemic? Please contact the Job Essentials Training (JET) program at Henry Street's Workforce Development Center at 212-478-5400 for help with your job hunt.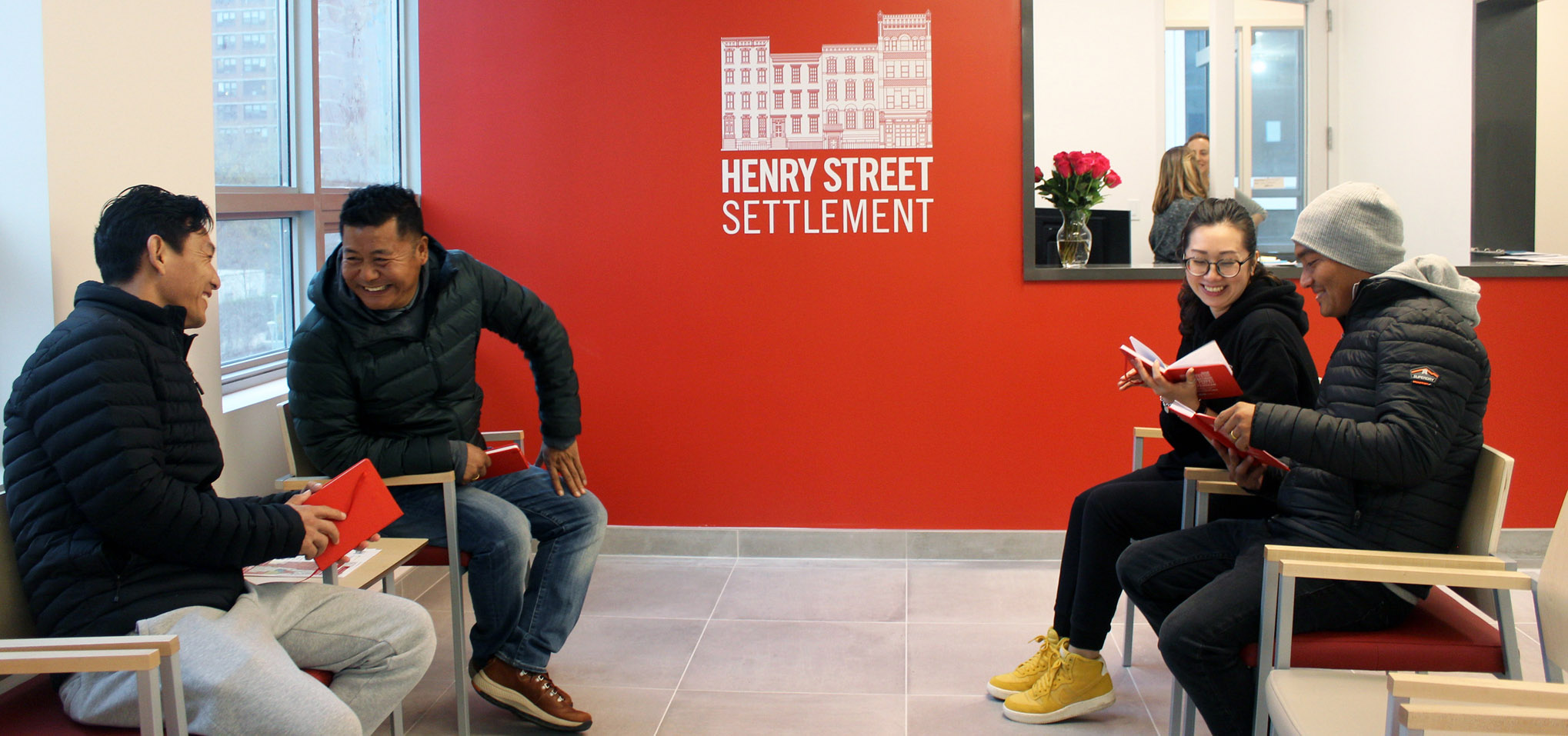 Tips from the Pros: Top Takeaways from Four Breakout Sessions
Networking Like a Pro
Gaspar Caro, the partnership director at the Lower East Side Employment Network, led this session, which emphasized creative opportunities for networking. When people picture networking, they imagine themselves in an office, in a suit or on a cell phone. People rarely picture themselves in a broken elevator," Caro said. He noted that most of the opportunities he had cultivated through networking happened at places like the gym or a grocery store.
Networking is little different these days, but it's not impossible, said Henry Street Employment Coordinator Jay Koo, who shared a story about advising a program participant to network with his barber, who connected the participant to a handful of job opportunities.
Panelist Anisha Steephen, Community Board 3 economic development chair and interim executive director at Space Works, said, "Keep in mind what you can offer. People will most remember how you played a role in supporting their cause and how [the people you've helped] can reciprocate."
Resume Tips
Resume expert Andrea Gerson of RS Works left participants with numerous concrete tips that they can implement immediately.
Pick a format appropriate for the job; a more serious design is appropriate for a bank; you can be more colorful and creative for retail.
Quantify everything. Instead of "I helped customers find what they needed," try, "I helped 5,000 people a year have an optimal shopping experience helping the company expand by 100%.
Start each bullet with an active verb, such as:

Contributed to
Participated in
Be positive. Instead of "reduced error," say "improved accuracy."
You don't need a different resume for each job, but you can adapt the summary of skills section at the top to match certain words in the job description, such as customer relations or financial transactions.
Interviewing Techniques
Cassandra Walker, Henry Street Settlement recruiter, shared her insider's tips on interviewing.
Research the company or organization ahead of time so you can answer honestly why you want to work there. And, always have a question or more ready for the employer.
If asked what your weaknesses are, don't say that you don't like to be supervised!
Send a thank you. Take the opportunity to mention something that stuck with you.
If asked when you can start, don't say "immediately" if you are currently employed. Show that you still respect your current employer enough to give sufficient notice.
Try to be flexible when it comes to scheduling interviews.
If you haven't heard back after some time, it doesn't hurt to get in touch.
Leveraging Your Social Media
Chelle Shapiro, a networking and social media coach and president of Chelle Station, shared tips on using social media to leverage networking opportunities and driving traffic as a means to employment opportunities.
"Ninety-two percent of companies use social media for hiring and are looking at Facebook, Twitter, and Instagram as well. Don't just rely on LinkedIn!" Shapiro said.
Follow and engage with relevant companies, leaders, and influencers in your industry. Also, make it easy for recruiters and potential employers to find you—it's crucial to put out there exactly what you want them to know about you. Tag your relevant social media content with hashtags like the job or industry you're looking to work in, in order to make your content easier for employers to find.
80% of jobs are found through connections, so it's essential to put yourself in places where you want to be found. Follow and engage with relevant companies, leaders, and influencers in your industry on social media.
For more job-hunting help, please reach out to Henry Street's Workforce Development Center at 212-478-5400.