"Just Keep Going": A Record-Breaking HSE Graduating Class Persists
By Nicole Fogarty
HSE Program Coordinator Lisa Diomande addresses the crowd at Henry Street's HSE Program Graduation, August 16, 2019.
The road to a high school equivalency (HSE) diploma in New York state can be winding, often with a few stops along the way. Before even sitting down to take the expansive, two-day exam, students must prepare in subject areas that might have gone unexplored for decades. Merely 52 percent of test-takers pass on the first try—below the national average of nearly 60 percent, according to the National Center for Education Studies—and the number of people who actually complete the exam has decreased by almost half since 2010, when the HSE test was first introduced as a replacement for the GED.
Henry Street's statistics, however, are improving. This year, 24 students passed the exam—the largest cohort in the history of the Settlement's HSE prep program, and almost half succeeded on their first try.
The graduates gathered in celebration at a ceremony on August 16, 2019, at 265 Henry Street, along with friends, family members, mentors, and Henry Street team members. HSE Program Coordinator Lisa Diomande spoke to the group, lauding their accomplishments and reassuring them they'd always have a home at Henry Street.
There's no typical student in Henry Street's HSE classes, held at the Workforce Development Center. Age varies, from 18 to older adults, as does life experience and background. Students have multiple reasons for taking the test—some to jumpstart the college process after dropping out of high school, some to open doors to employment, and some to hit the emotional milestone of a high school diploma.
Ramon Lopez, for instance, was motivated to return to school when his mother, who had cared deeply about his education, passed away. Lopez, who owns his own legal clerical business, had taken a few HSE classes in his twenties, but they never stuck. "I always knew I could do it, but I was afraid to take the challenge. I realized I was holding myself back for no reason, so I came to Henry Street," he says.
The test covers reading, writing, social studies, science, and math; Henry Street's classes prepare students in each area. Settlement teachers also address a number of non-academic challenges: testing and performance anxiety often come up, explains Diomande. So do issues relating to the complicated nature of returning to a school-like setting as an adult. Teachers adopt a variety of methods to meet students wherever they are in their educational preparation, so they always feel supported.
"We provide a safe environment," Diomande says, "factoring in the whole individual. We work to overcome fears about performance, so that students can focus on the preparation process and how much it can teach them as opposed to just results."
Rashawn Willis, another graduate, credits Diomande's teaching style with helping him feel in control. She always gives students their freedom, he says, while reminding them of all the reasons they made commitments to the program. "She was matter-of-fact, and it helped a lot."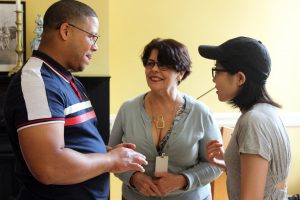 Diomande, center, leads two graduates in a community-building icebreaker activity at the ceremony. 
Willis also found community and help from his classmates after having failed the exam the first time, drawing inspiration from others who had also failed but kept going. "I lost the motivation to come to class, and they gave me the guidance I needed to get me to a place where I could pass," he says.
Diomande has an immense amount of respect for students who return to the program after initial setbacks. "We want them to know it's not a personal failing; it's just a skills-based issue," she says. "They come back, they continue to build their skills, and when they do pass, their sense of accomplishment is tremendous because there were so many factors contributing to their success."
Ashleigh Staples, part of this year's cohort, passed the exam on her first try; she had been unable to complete high school for medical reasons. Ashleigh is looking forward to taking her SATs in October and will start applying to college as those results come in. Reflecting on her Henry Street journey, she offered up advice to students preparing for the exam:
"Keep going, even if it feels pointless. Even if you're sitting in class, feeling like you already know everything or like you don't need it, you're developing an endurance that will help you when it's time to take the exam–everything is working to prepare you," she said. "So, keep going."
Interested in enrolling in HSE classes at Henry Street? Click here to learn more, or call 212.478.5400.