A Cool Movement for a Hot Summer
By Christie Bowers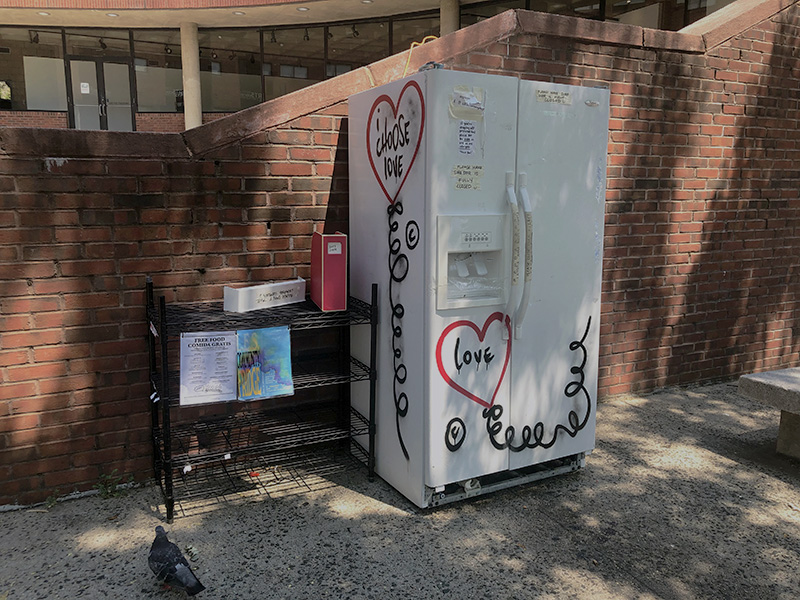 The coronavirus pandemic has generated an outpouring of innovative, grassroots, community-led efforts to help neighbors in need, and Henry Street is proud to be part of an especially exciting one: the arrival of outdoor community refrigerators. With the motto "take what you need, leave what you don't," community fridges are cropping up all over New York City (31 and counting!) and are a way for neighbors to directly give or receive free refrigerated food.
Located in the amphitheater of Henry Street's Abrons Arts Center, this fridge was provided by the community collective In Our Hearts and is continually restocked with donations from individuals and local businesses as well as extra food from Henry Street's Food Access Initiative. Cleaned by Henry Street staff and neighbors every day, the fridge provides a safe way to reduce food waste and offers a help-yourself pantry for those in need. John Harper, director of emergency food operations, noted that Henry Street often gets offers of small food donations that wouldn't necessarily make a dent in the larger food programs, but "the fridge has been a great resource to be able to direct people to" as they look for a way to share their overflow with their neighbors. 
Access to nutritious food has long been an urgent need on the Lower East Side, but as the pandemic has left tens of thousands out of work, more people than ever are struggling to put food on the table. The mutual aid framework of community fridges demonstrates that food scarcity can be battled at the community level, with neighbor helping neighbor. 
The fridge will soon intersect even more closely with the mission of its host, Abrons Arts Center, when Abrons youth come together to paint and decorate it. Both food and art can nourish a community and allow it to flourish, even under times of extreme duress.