A Sewing Class Sets Andres Biel on the Road to His Fashion Career
By Henry Street Settlement
Andres Biel shows his recent designs—the Miami Lights fashion collection.
As a high school student on the Lower East Side, Andres Biel felt disengaged from school. Though he had been inspired by one art teacher, little intrigued him except when he found himself sketching clothes in his spare time. He left school before graduating.
During the summer of 2009, Biel, at age 20, found a summer job in New York's fashion district through the Young Adult Internship Program (YAIP) at Henry Street Settlement—an organization he'd known since childhood through his father, who had worked as a janitor at both Abrons Arts Center and the Youth Services Building.
Interning at a company that made custom aisle runners for events encouraged Biel's interest in fashion—so much so that the YAIP program coordinator at the time, Matthew Kelly, had an idea: He brought Biel to the Settlement's Home Planning Workshop to introduce him to long-time sewing teacher Ruth Taube.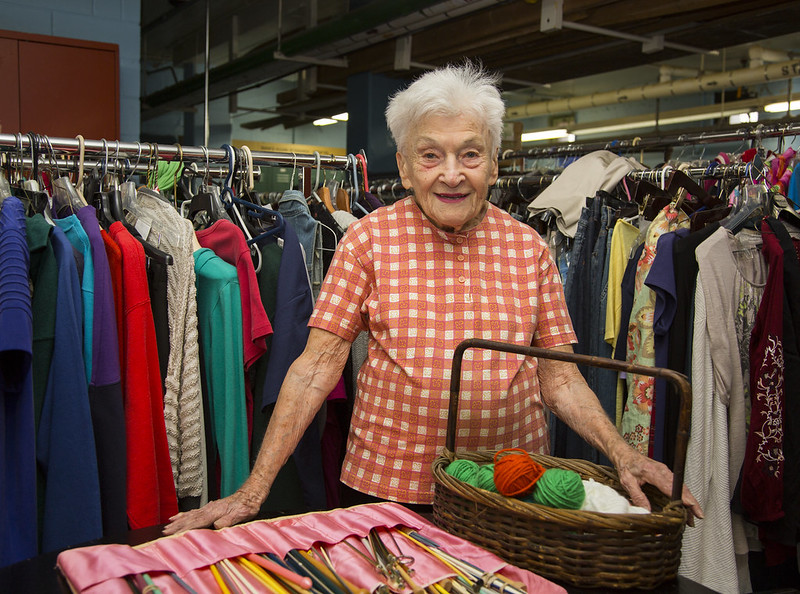 Ruth Taube taught the sewing class that Biel says was "the key" for him when he was ready to launch his fashion career.
Taube, now in her 90s, was in the middle of leading her sewing class when Biel walked in, brimming with excitement. "It was just her and a group of older ladies knitting in a circle," he says. Biel was the only young man. Taube sat him down at an antique factory sewing machine and told him that he would make a tote bag. "No one leaves without having something to show for their work," Taube says.
Biel had watched his dad alter his own clothes using a sewing machine, but he'd never asked how to use it. Taube helped Biel choose the fabric: yellow, green, and black. His mother still uses the bag he made that day.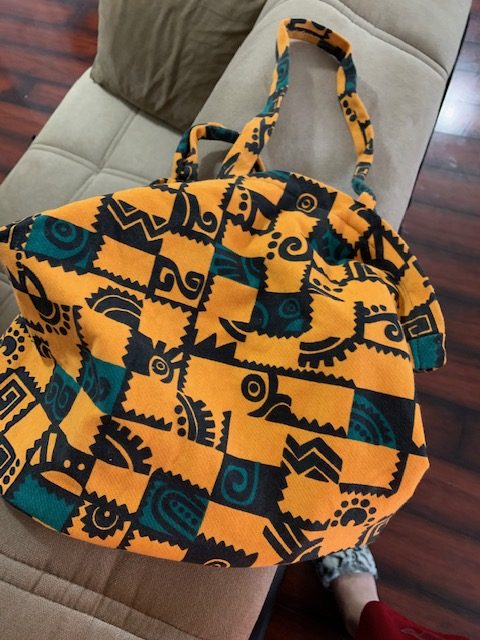 Biel created this bag in 2009 in his one and only class with Ruth Taube, Henry Street's five-plus-decade sewing teacher and head of the Home Planning Workshop. His mother still uses it.
Through his early 20s, Biel struggled to figure out "how to be an adult" and make a living. He found a job as a mail clerk for a Brooklyn law firm, where he was promoted to paralegal and still works. After putting in a full day, he often does a second shift, sewing until midnight.
Biel credits his partner with helping him overcome the insecurities that had prevented him from moving forward in his fashion career. At 26, he earned his high school equivalency diploma, and began emerging from his years of indecision. He started taking lessons at Mood Fabric—the iconic and encyclopedic fabric store on West 37th Street in Manhattan—where his teacher, Benjamin Mock, had been a contestant on Project Runway.
In September 2019, with his first collection completed, Biel was selected as Harlem Fashion Week's Emerging Designer. He recently reconnected with Taube, letting her know how much that brief encounter had meant to him.
"I was young and had lost my way, but I told her that she gave me a key, figuratively, that I could hold onto until I regained myself mentally. When I came back to a sewing machine again, it was like I started an old car; it went and it never turned off. She gave me something valuable to use when I was ready."
Biel's first collection of street wear was based on his life story—"from my birth on the Lower East Side to my rebirth as a designer," he says, adding, "If I take a trip down the block, my designs are going to depict that. They're 100% me." He's especially inspired by the colorful fashion choices of his Puerto Rican mom and Dominican dad.
His second collection is based on a trip with friends to Miami and specifically influenced by two buildings that had colorful stripes, one horizontal and the other vertical—as well as by the food and beach scenes.
Biel is still building his repertoire and plans to sell clothes through the organization SoHarlem, an incubator for local cultural workers where he uses the studios and works with fashion instructors. He hopes to move into full-time fashion design soon. After Biel traveled to California to show his second collection, he was chosen to appear in February 2021 on a televised showcase of young musicians' and artists' work. (The show will be aired on Amazon Prime instead of in person due to the pandemic.)
For both Biel and Taube, the end of the pandemic will bring an opportunity to meet again in person—perhaps for a trip together to the fabric store! But he will never forget their first chance meeting, which, he says, "worked out in the best possible way."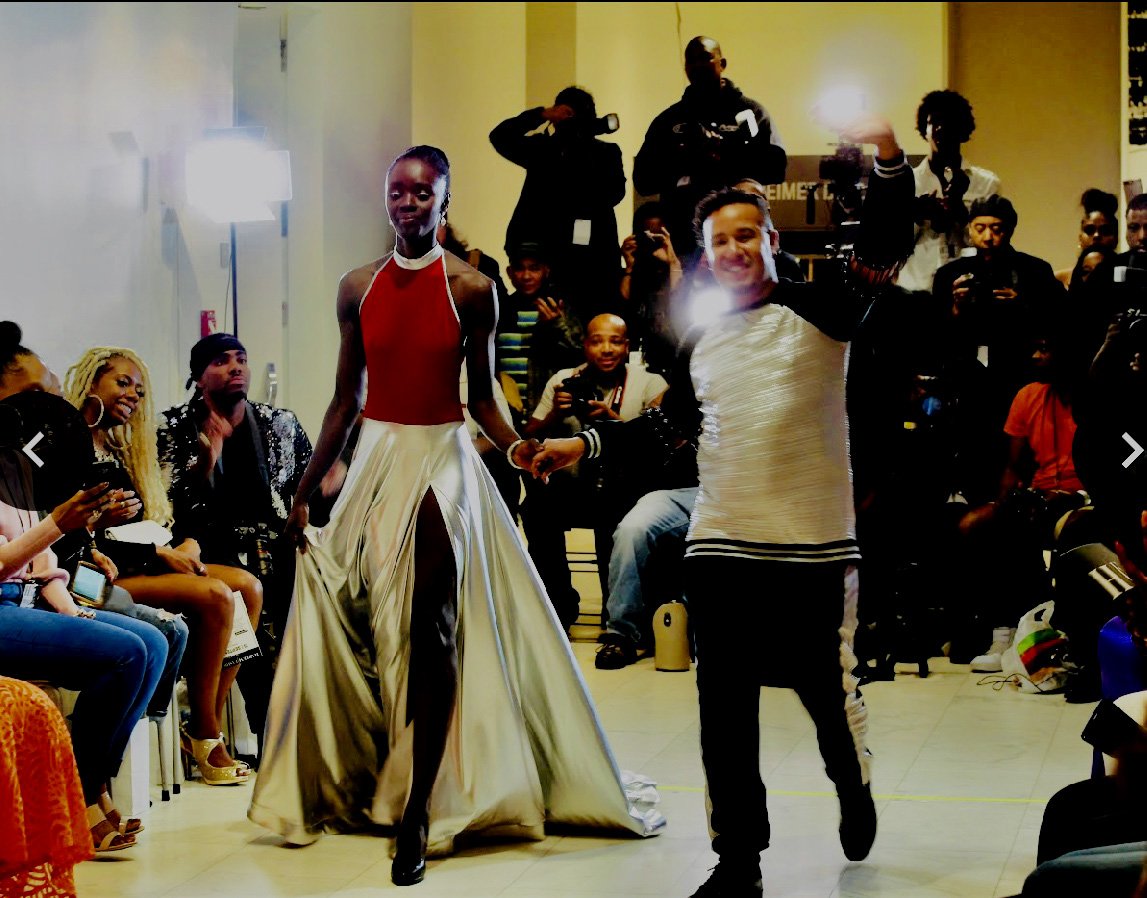 Biel's first collection is based on his life "from my birth on the Lower East side to my rebirth as a designer." He has created all of his work while working full time at a Brooklyn law firm, but hopes to move into fashion design full time.