Celebrate U Celebrates Henry Street
By Chelsea Jupin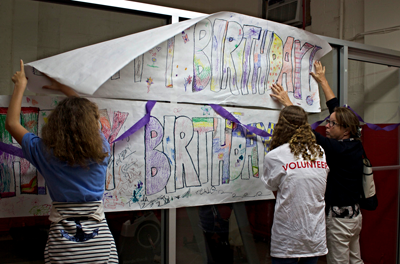 Click here to see photos from a recent Celebrate U party at Henry Street Settlement »
For many children, celebrating birthdays with a party is an annual event – and one that's eagerly anticipated. But for children in homeless shelters, birthday parties are rare. That is, until recently, when the Celebrate U Foundation began hosting birthday parties for children living in Henry Street's homeless shelters.
What's even more remarkable is that Celebrate U is the brainchild of two New York City high school students, Chase Kauder and Talia Eskenazi, who formed the organization to provide  birthday parties for children who otherwise might not have them.
For Geniria Armstrong, Henry Street's Deputy Program Officer for Transitional and Supportive Housing, Celebrate U fulfilled an item on her wish list. "I always wanted to find a way to celebrate the birthdays of our children, since most never had a birthday party," she said.  "Then, we received an email from the founders of Celebrate U asking to host parties for our shelter participants. We met, felt it was a great fit and the rest is history."
So far, the group has hosted five birthday parties at Henry Street, parties that include games like Simon Says, arts & crafts and of course, cake! Chase and Talia often enlist Magnolia Bakery to donate their delicious cake and cupcakes for the kids. At the May party, Chief Baking Officer Bobbie Lloyd and fellow bakers even led a cupcake decorating tutorial!
Jeremy Reiss, Henry Street Settlement's Deputy Development Officer for Public Policy and External Relations, said, "Everyone at Henry Street is thrilled with the work being done by the Celebrate U founders and their volunteers. Their energy is contagious, their enthusiasm is unwavering and their parties are a lot of fun! We cannot thank them enough." Molly Morris, Volunteer Program Manager at Henry Street Settlement, added, "They have contributed something very special to our organization and the young children we serve."
At the monthly parties at Henry Street, co-founders Chase and Talia are assisted by volunteers – their friends, siblings and fellow students — who all believe that every child deserves a chance to celebrate their birthday to help build self-esteem and give hope. "We couldn't have asked for better partners then Henry Street," said Chase and Talia. "All our volunteers look forward to every Henry Street Celebrate U event! The smiles on the kids faces is priceless!"
The celebrating shows no signs of stopping; Chase, Talia and their team will be back in September for more fun and more parties at Henry Street.