Community Funding the Community Update
By Nicole Fogarty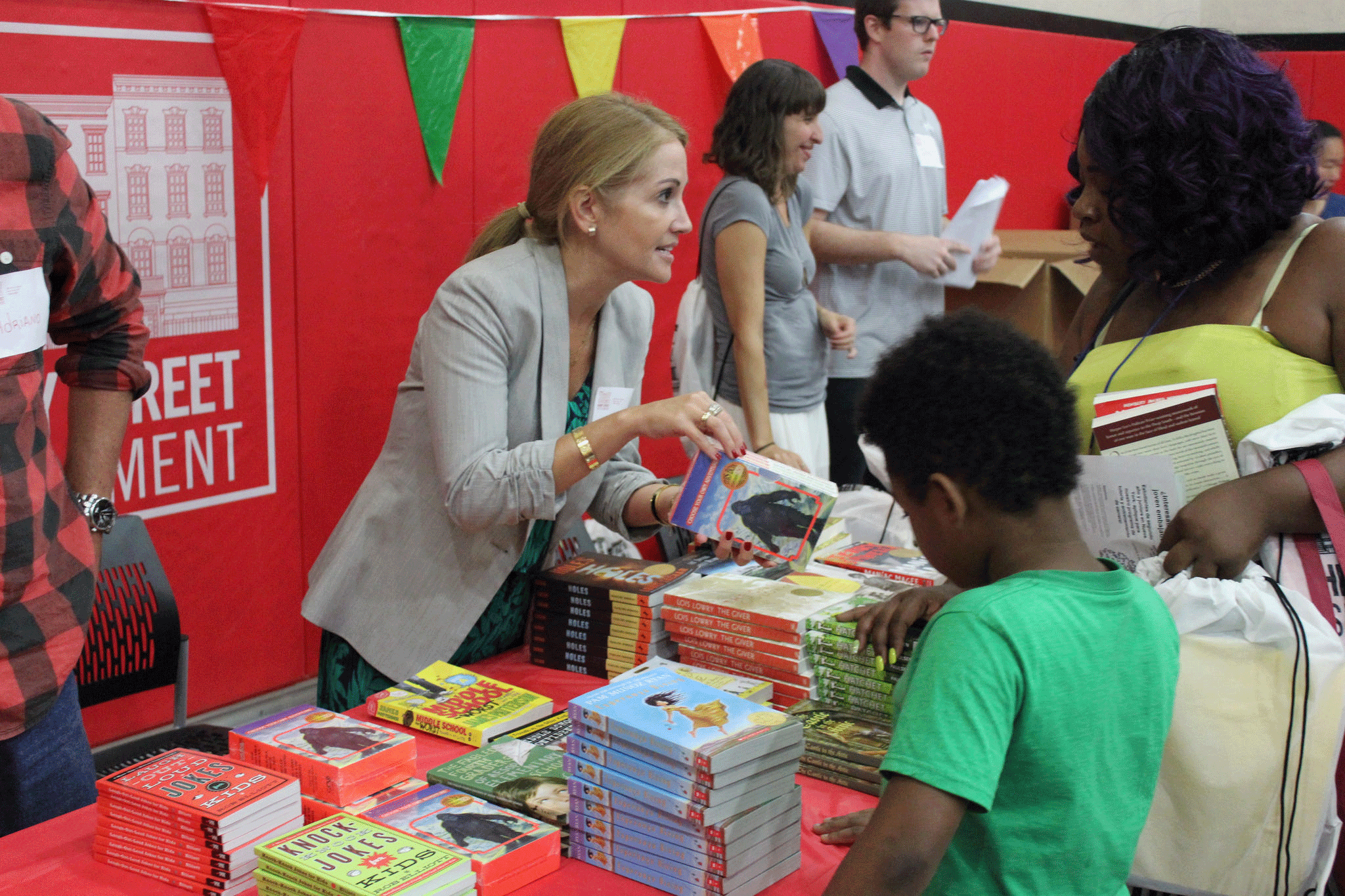 A volunteer at the SBMHC/Parent Center Back to School event assists a participant in choosing free books.
Last year, Henry Street began allocating $5,000 of its general operating support to the Community Advisory Board (CAB) for a unique participatory budgeting initiative. Henry Street programs were able to apply for grants through this initiative, and CAB members observed program activities and met with agency leadership and program staff to select the grantees. Ultimately, five different projects across the Settlement were funded. We checked back with the winning programs to see what these grants meant to them, and how the projects have grown over the past few months.
The School Based Mental Health Clinic (SBMHC) and Parent Center both received money to expand their annual Back to School Event, opening it up to more families and offering nutritious lunches as well as backpacks stuffed with school supplies for the students present. SBMHC Program Coordinator Nicole Lee explained the value of these lunches, stating that they "reminded families of the importance of fueling growing bodies with healthy food, and stirred up excitement for the school year!"

From left: students in the Expanded Horizons College Success Program; the Shelter Employment Program
Henry Street's Shelter Employment Program was awarded a grant that subsidizes various job-related costs for participants. Employment Manager Renee Best realized individuals were applying for jobs in industries like security, hospitality and construction, but having trouble paying for required licensing or training fees. This grant provides the program with the funding to further assist people in breaking barriers to employment.
The Settlement's Expanded Horizons College Success program was awarded a grant to hire two student ambassadors who provide support and guidance to younger participants. The ambassadors help to cultivate community within Expanded Horizons by assisting with programming and acting as a resource for younger students within the program, and the grant money helps to compensate the ambassadors for their time.
The Workforce Development Center (WDC) was awarded a grant to develop a "Selfie Wall of Fame," which will include self-portraits and stories from nine successful, high-achieving clients, helping to communicate outcomes and adding faces to the services provided at the center. The selfies and stories will be displayed in the lobby of the WDC at 99 Essex Street beginning in March of 2018.
Henry Street's Health and Wellness division received a grant to host a Health & Wellness Community Day, which is scheduled to take place in May 2018 and aims to foster connections with the Lower East Side community and increase awareness about senior services, health, and mental health programs at the Settlement.
This participatory budgeting process will take place every year. The application period for programs is currently open, so stay tuned to henrystreet.org to see what projects get funded this year!
Comprised of Lower East Side residents and Henry Street clients of diverse backgrounds, ages, and ethnicities, the CAB ensures that the Settlement maintains "an ear to the ground," and is truly receptive and responsive to local needs. Community members interested in joining the CAB should contact Talia DeRogatis at tderogatis@henrystreet.org.