Community Response Team Imprints Itself on the Lower East Side
By Mataeo Smith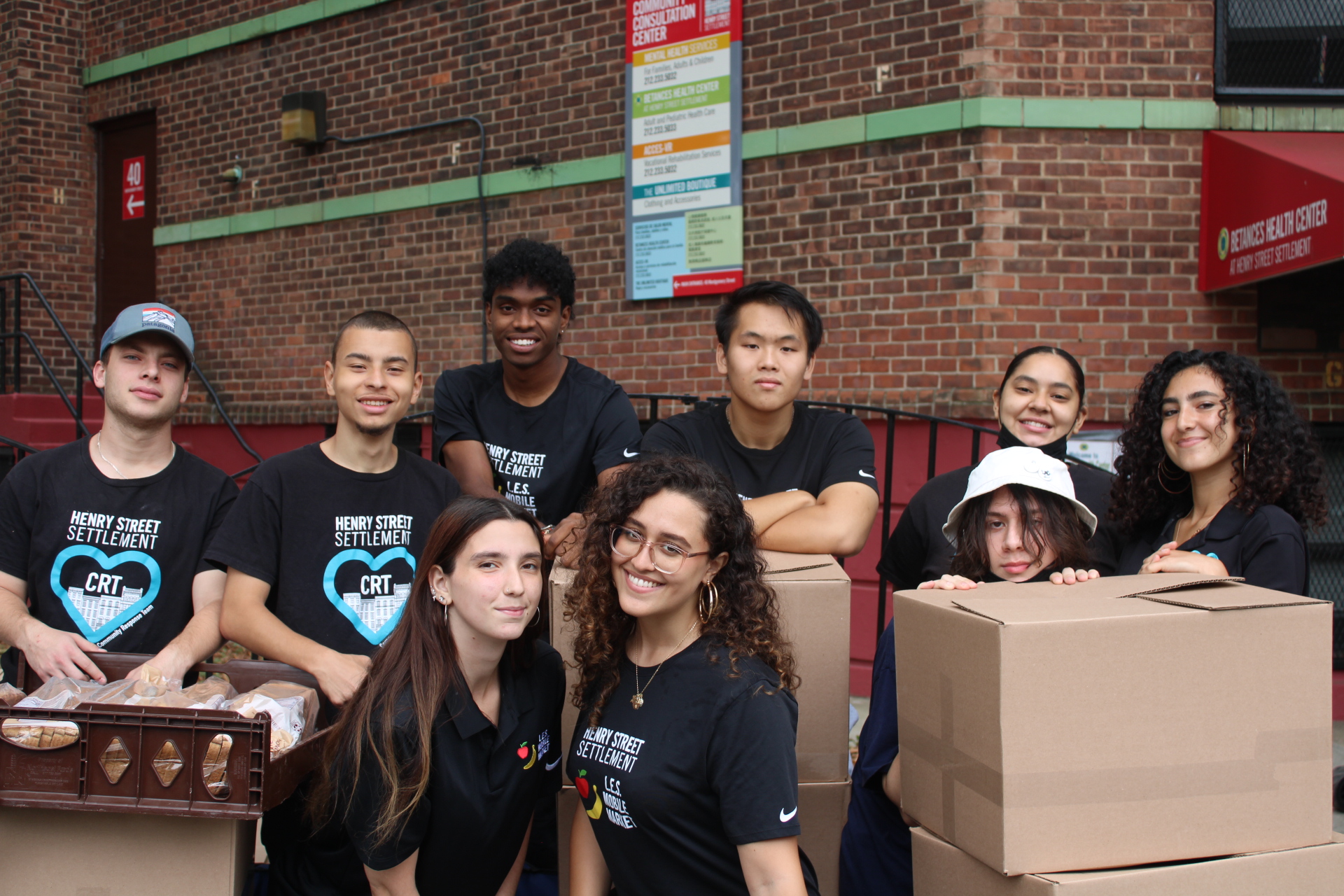 Each week, the Community Response Team delivers nutritious groceries to people facing food insecurity.
At the onset of the COVID-19 pandemic in March 2020, Henry Street Settlement listened attentively to its community and team while continually adjusting and building its responses to the immediate needs of the Lower East Side. Prevalent unemployment, difficulties accessing food, and a lack of resources for mental health counseling fed Henry Street's impetus to create several new programs. Among them was the Henry Street Settlement Community COVID Response Team—known today as the Community Response Team—which is a collective of young adults aged 18 to 24 whose mission is to meet LES resident needs.
A mix of generous donors helped Henry Street establish the team, which launched in summer 2020. The original 20 members played a substantial role in the Settlement's efforts to offset the food crisis and bolster youth employment; they packed and delivered meals on foot to about 1,000 households each week; they set up personal protective equipment distribution sites in public housing developments, providing residents with masks, gloves, and hand sanitizer; they registered prospective voters. Additionally, the team coached seniors on using the internet to stay connected with loved ones during the lockdown.
"This work is very rewarding for the CCRT," Carlos Montanez, Henry Street's CRT overseer since its creation, said. "A lot of people I hire are from the community and even know the people they are helping."
A Massive Heart for the Community
   Henry Street broadened the program September 2021, so members could support a wider range of the Settlement's work. Since the launch, more than 100 young adults have joined CRT and taken part in community outreach on the LES. Members work 20 hours per week among Henry Street's 18 sites ranging from reception at the Dale Jones Burch Neighborhood Center to supervision of Summer Youth Employment Program employees working at the Grand Street Guild and Vision Urbana food pantries.
Timothy Davis, 21, grew up on 14th Street in Manhattan. Montanez said that Davis has a massive heart for the community: he actively engages with the neighborhood kids and can be counted on. Living so close to Henry Street, Davis had observed the Settlement's community outreach through his own eyes.
"I've always been on the receiving end of community outreach, so I truly find it important that the opportunities I've had working at Henry Street are also shared to everyone else who makes the LES a home," he said.
Before joining, Davis completed two years at CUNY York College, but during the pandemic, his financial aid became less secure. He decided to postpone his remaining two years at York until his financial aid woes were settled. In January 2022, he completed a two-week boot camp at On Ramps to Opportunities, Henry Street's job-readiness program for people ages 18 to 24. The experience, which he said offered "a glass into what Henry Street Settlement provides," left him at a substantial crossroads. Davis joined the CRT the following March.
Davis said he couldn't ask for a better job. Not only does the CRT provide a steady income, but it gives him the pleasure of assisting his own community. In addition, he's learned new skills like food handling, gardening, and community outreach.
"CRT is important to me because the job is important to me," Davis said. "Not just because I get a paycheck, but because I'm helping my family and friends of my family."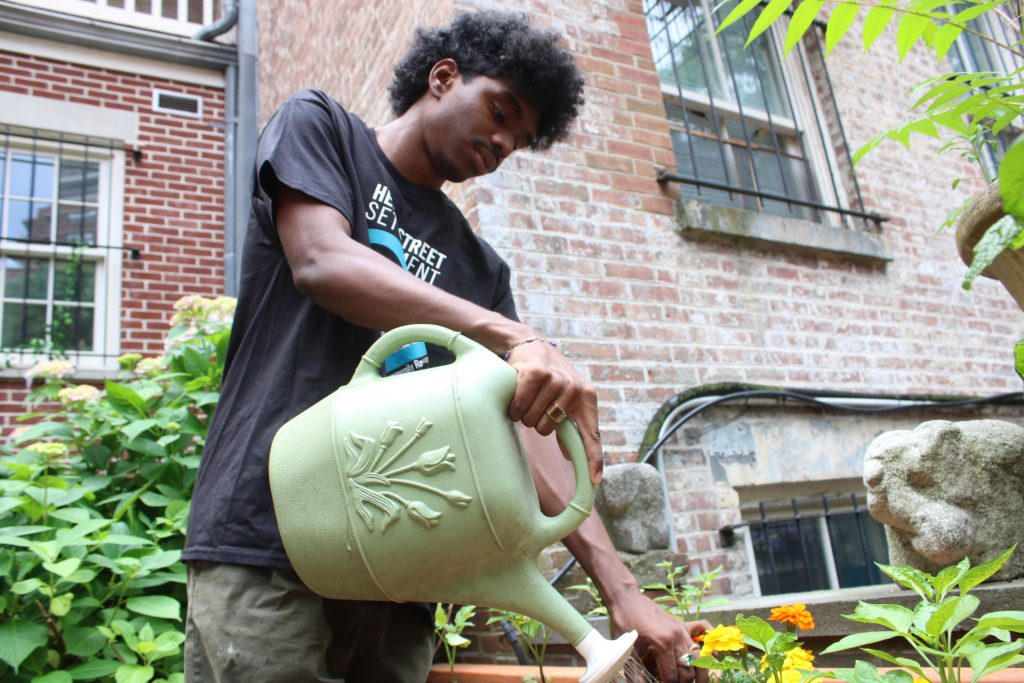 Community Response Team member Timothy Davis waters vegetables in the garden at Henry Street's headquarters.
Learning from Older Community Members
This sentiment is echoed among other CRT members such as Chanelis Gomez, 21, who said she loves her job. In November 2021, Gomez traveled from the Bronx to the Settlement's Workforce Development Center at 178 Broome Street. The center assists clients with their job searches by providing services like mock interviews and resume reviews by professional employment coordinators. Unsure about enrolling into college, she joined the Job Essentials Training program, where her coordinator helped her craft her resume. Two weeks later, the coordinator suggested she join the CRT.
Gomez, Davis, and the rest of the CRT work in different Settlement sites each day. Gomez and Davis are the only members working on Sundays at the Henry Street Settlement Older Adult Center. Their consistent presence had produced a rapport with the seniors, especially for Gomez whose job as receptionist entails greeting seniors as they sign in for meals.
"It's nice interacting with them. We've spoken one-on-one many times," Gomez said. "It's interesting hearing their different stories and how they've lived life."
Casual conversations and Bingo games took a deeper turn when the seniors' personal anecdotes started to resonate with Gomez. She recalls one instance when a senior insisted that "life gets rough, but you must keep going" after sharing a personal story.
"I've learned a few things from them," she said. "Some of them have been through rough times, but they just kept going."
Gomez is weighing her college options for the fall 2022 semester. Her first choice is John Jay College of Criminal Justice, in Manhattan, where she would study computer science.
Like Gomez, Rosalina Peña, 20, is happy to be a CRT member. After noticing a Henry Street poster advertising flexible hours for youths aged 18 to 24, she jumped on the opportunity. On Fridays, she assists the Dale Jones Burch Neighborhood Center receptionist by taking phone calls and directing clients to sites that best fit their needs from housing to legal assistance. Coincidentally, Peña is a second-year student at John Jay College of Criminal Justice.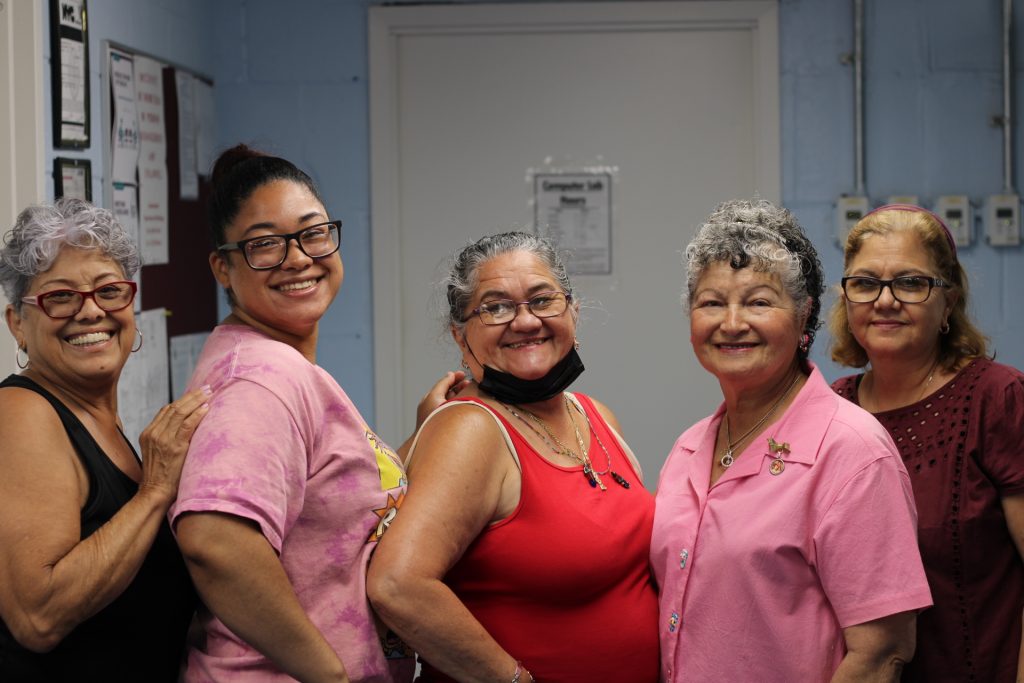 Chanelis Gomez draws inspiration from the participants at Henry Street's Older Adult Center.
Delivering Food…and Essential Resources
Food needs on the LES remain a top priority for the CRT and the LES Mobile Market, which is a Henry Street collaboration with NewYork-Presbyterian. Every Wednesday, team members meet at 40 Montgomery Street to unpack about 100 boxes of food — each containing healthy and nutritious items like fruits, vegetables, and eggs — from a delivery truck and re-pack them into shopping carts. They travel on foot, in teams, to 200 households. The team also assists with the food pantry run by CONNECT, a mental-health outreach program, supporting vulnerable residents with mental health services, housing, and employment needs.
While the sheer manual labor of CRT members is central to the program, Montanez underscored his team's importance as messengers, sharing with community residents what the Settlement offers. He said members promote other programs, such as preschool, social services, or CONNECT, to point residents in the right direction. Their work doesn't stop there.
In conjunction with the LES Ecology Center and designer Samuel Pressman, members built a community food garden, from scratch, in the 265 Henry Street courtyard. They planted lettuce, baby bok choy and dino kale that are all ready being used by the Settlement's Older Adult Center kitchen among other sites. Jennifer Bombardier, education manager of the LES Ecology Center, said the garden was part of a broader food-justice project that also helped youth understand the relationship between food and environmental health.
"The 15 to 20 members I have now are able to work sufficiently on their own," Montanez said. "They are growing into what they need to be. CRT prepares them for their next employer."