Creating Objects—and a Sense of Peace—at the Community Consultation Center
By Olivia Morgan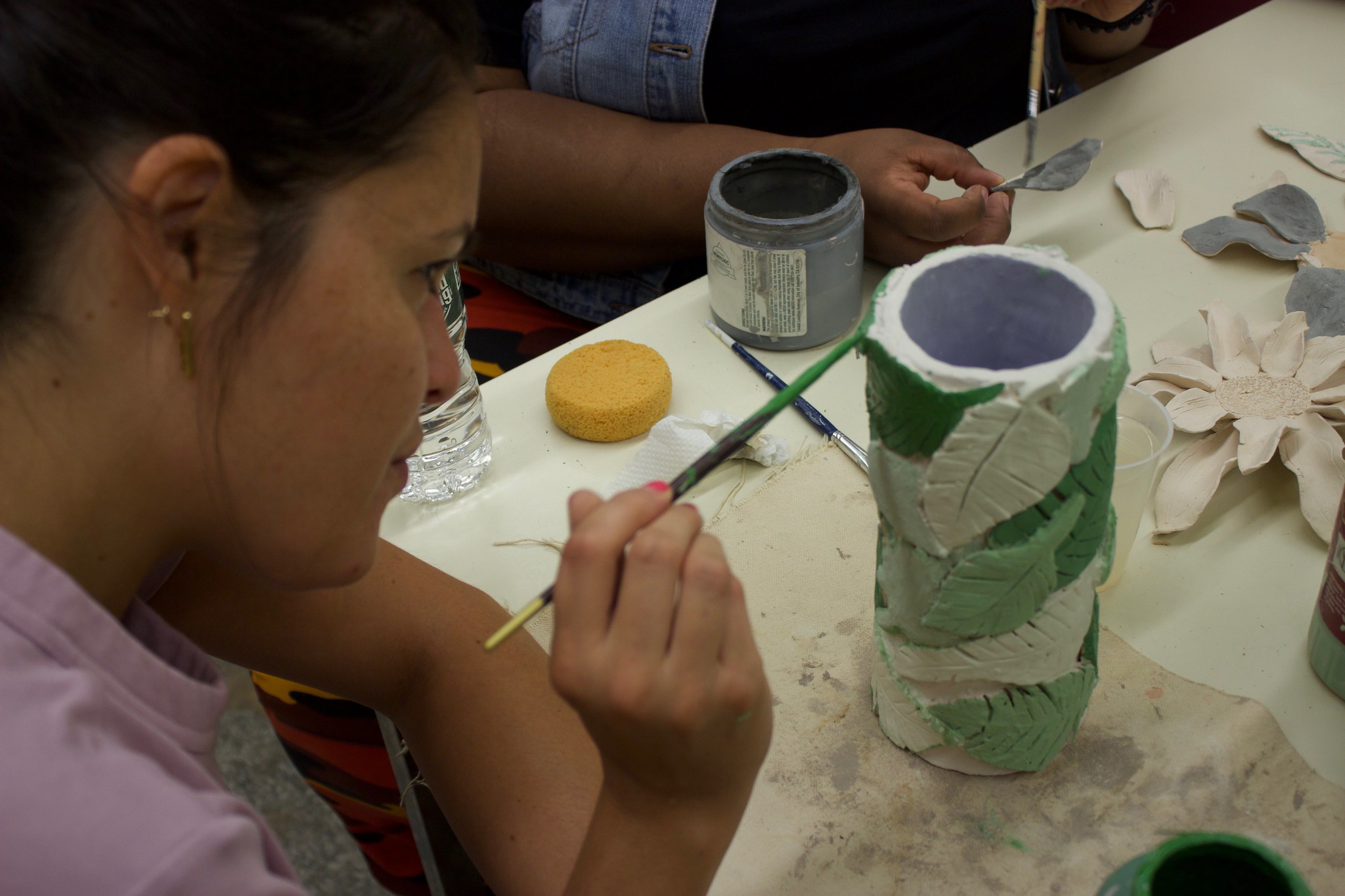 Above: Community Consultation Center attendee Gina applying the fishing touches to her leaf vase.
It's a Wednesday afternoon at Henry Street's Community Consultation Center, and everyone is preparing for an art exhibition to open August 14, 2019. Students are completing their ceramic masterpieces and making sure their art stands out.
One participant, Laura Anne, shows off her piece: "I had cats for at least 20 years. Cats appear in each one of my art pieces." She describes the ceramics class at the center, known as the CCC, as "heaven." This is a place where she can express herself freely.
"I have suffered from depression for most of my life and art has been my gateway out," Laura Anne says. She became an exhibiting artist in 1996, after graduate school, and still paints today.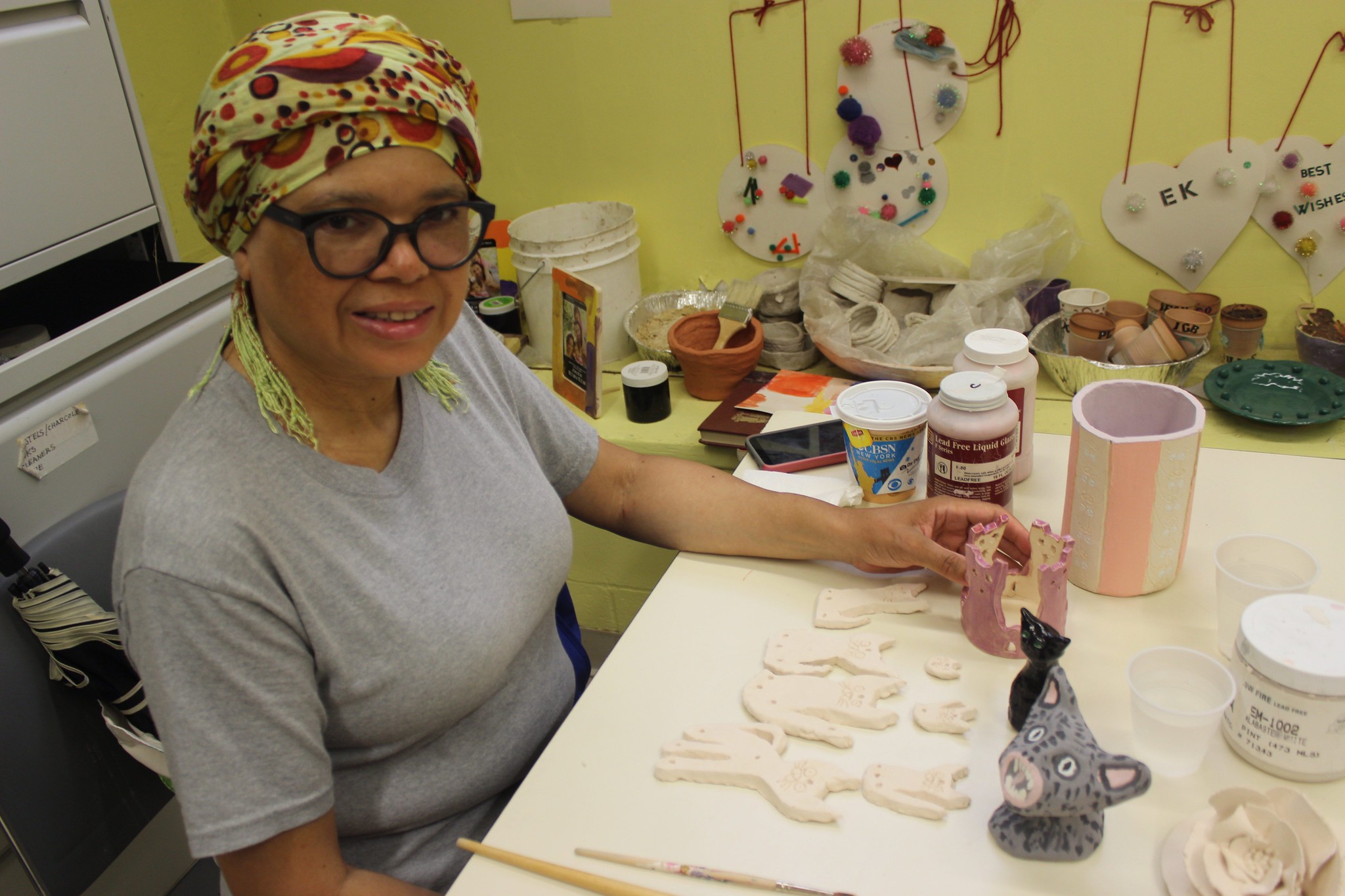 Above: Laura Anne creates a ceramic cat collection reminds her of her past cats.
The ceramics class is a collaborative effort between two Henry Street programs: Health and Wellness at the CCC and Abrons Arts Center, which connected instructor Christine Rebhuhn to the CCC to lead the class. It is part of the larger PATHS (Promoting Arts Through Henry Street) initiative, in which the Settlement works to ensure that the arts are integrated through its social services. Rebhuhn, a sculptor in wood, metal, and found objects, had taught at Abrons in 2017.
For Rebhuhn, the small, three-hour class provides the freedom to "meet students where they are," she says, giving each student individual attention and helping bring structure to their ideas.
Participants in the weekly ceramics class include those enrolled in the CCC's Personalized Recovery-Oriented Service (PROS) Express program and in outpatient behavioral health services. The class is a mix of gender, color, and ethnic groups, and all participants work on projects that make them feel confident and creative.
Articulating an artistic vision and bringing it to life can be especially rewarding for students who have faced challenges in bringing their goals to fruition in the past, Rebhuhn says. But the experience of working with clay—accepting the uncertainty of how a piece will turn out, addressing mistakes as they occur, and letting go when things don't work out perfectly—can also serve as a dress rehearsal for coping with emotions outside the classroom.
"The challenges that come up through these material processes are often mirrored in our lives," Rebhuhn says. "A student might believe a project is too ambitious at the beginning, but often what they end up making is even more dramatic and exciting than they had anticipated, and getting to that point is really satisfying."
Because ceramics is an activity that allows participants to drift in and out of conversations, the class creates an environment that encourages students to talk about what is going on in their lives. "We talk about everyday situations that are common to all of us, which could be sharing a humorous moment or talking about a first date," Rebhuhn says. "Everyone has a different reason for being in class, and it's pretty amazing for me to be in conversation with people who are entering art from so many angles."
Adds Jean LaGalia, who oversees the ceramics program at the CCC, "These projects are very calming and help people put aside their anxieties. Students love Christine because she is patient and accommodating. She gives instructions but helps our artists produce what they want to make. Everyone knows each other and shows support to one another."
In preparation for the upcoming show, Franklin, who is new to ceramics, displays a disc on which he painted the Batman logo. This is his first time entering an art show, but he says it's important to try new activities. "It takes time to get to the end result, and it's not exactly easy but it's worth it" he says.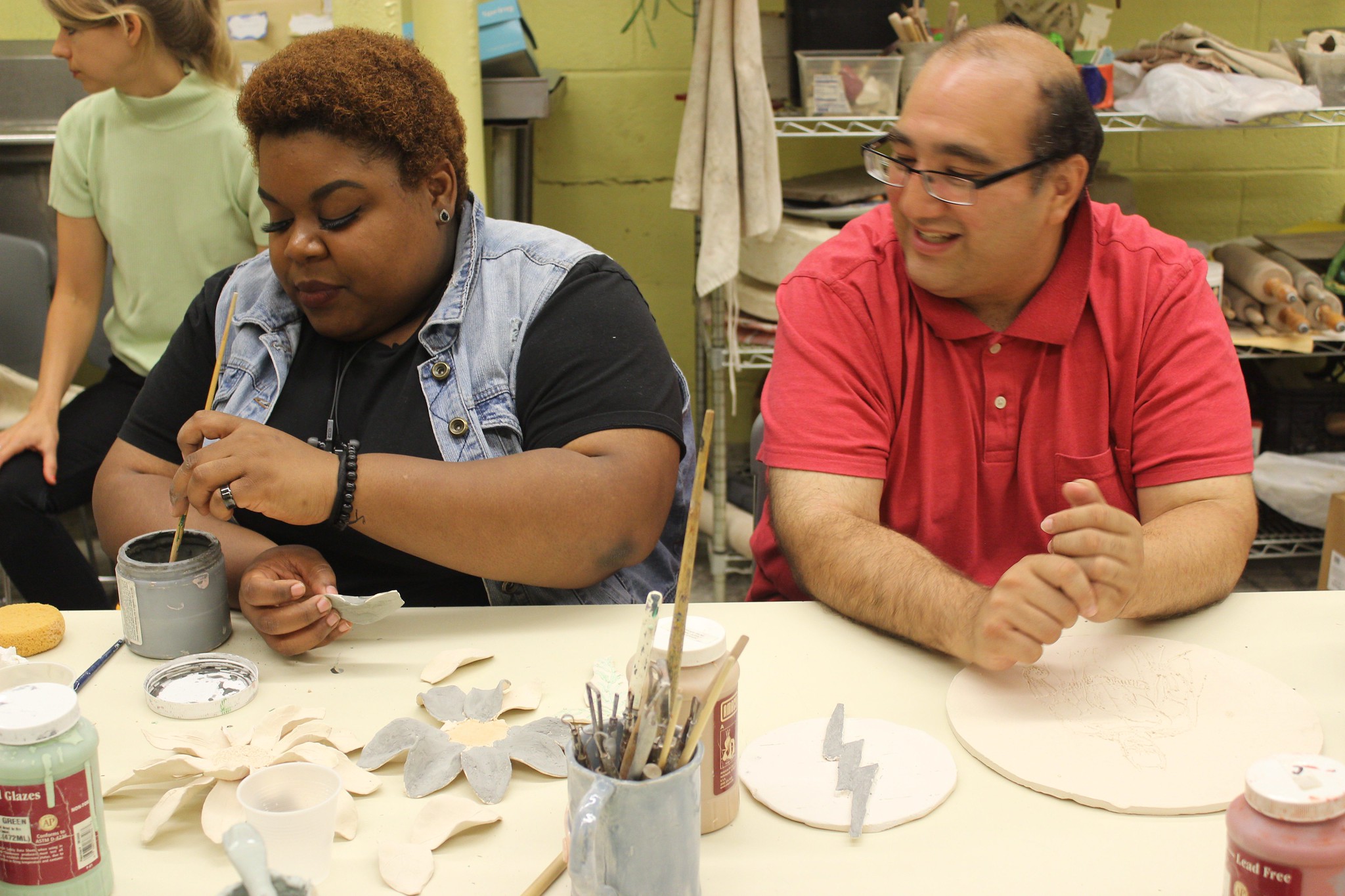 Above: Rahbonne and Franklin prepare for the art show.
For Bonnie, too, ceramics is her first formal art class, but she has been making art since she was a child. "I made a vase out of a Snapple bottle, with glue and wax paper. When we were evicted from our house when I was four, my mother saved it," she says. Now Bonnie sketches and makes abstract paintings. "This class helps me be comfortable; I'm making friends, and it's peaceful. If I feel stress this is a peaceful place."
Rebhuhn says that students often have pretty elaborate ideas before they arrive. "In this way, I can help facilitate something, or even better, we figure it out together. Usually the result is something more than we had imagined."
The ceramics show runs through September 11, 2019 in the Unlimited Boutique at 40 Montgomery Place.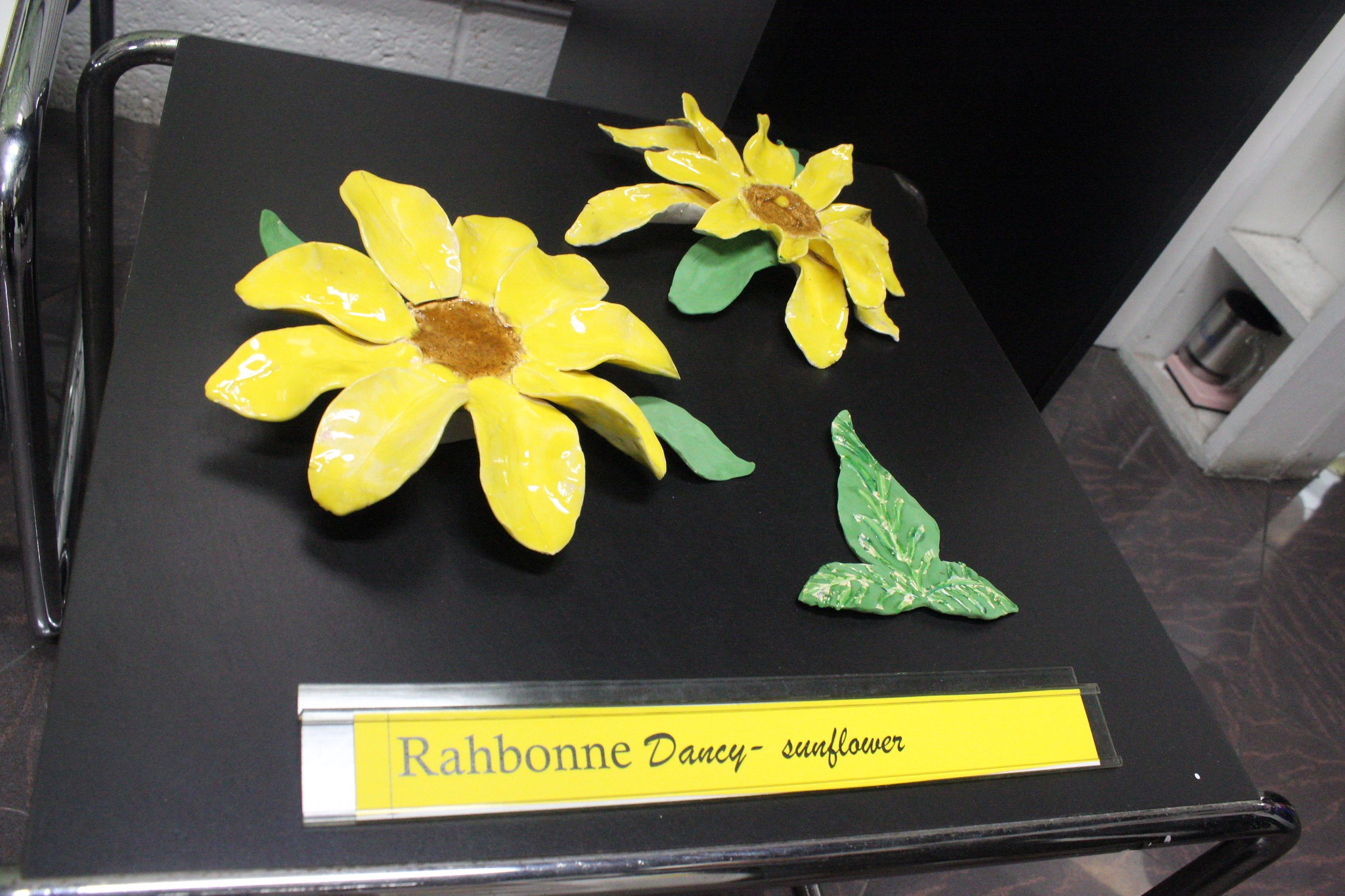 Above: Rahbonne's ceramic sunflower masterpiece