David Garza Appointed to Two COVID-19 Advisory Panels
By Henry Street Settlement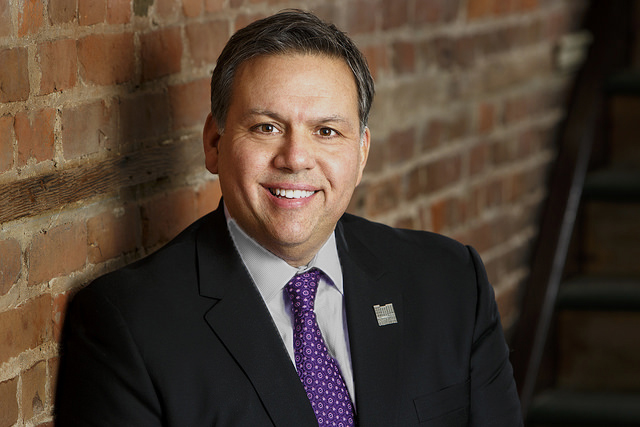 Henry Street Settlement President & CEO David Garza has been named to two new mayoral Sector Advisory Councils, established on May 8, 2020, to inform city government on efforts to help New York City stabilize, recover, reopen, and rebuild in the wake of the current trauma.
Garza was appointed to the Non-Profit and Social Services council and the Arts, Culture, and Entertainment council. The former appointment recognizes Henry Street's extensive provision of social and health care services to the Lower East Side and all of New York City both before and during the pandemic—ranging from transitional and supportive housing to Meals on Wheels and other food-outreach programs, seniors services, mental health, workforce development, and education programming. Garza's appointment to the Arts, Culture, and Entertainment council recognizes the Settlement's leadership in the arts through its Abrons Arts Center, which serves multiple roles in the community as a performance and exhibition space, arts education provider, and incubator of artistic talent.
Serving several of the city's lowest-income neighborhoods, Henry Street is witness to a mounting food-insecurity and unemployment crisis, which is driving several new initiatives. Those include food pantries providing home grocery delivery to the homebound and those who have lost their incomes, emergency cash assistance programs, and a Helpline, where neighbors can get answers to their urgent questions about accessing many types of benefits, food, and emergency cash assistance.
Says Garza "Henry Street Settlement is listening closely to our neighbors, many of whom were already facing severe economic hardship before this pandemic and are now facing unprecedented suffering. As we've pivoted to meet the greatest needs, Henry Street has maintained a unique vantage point on how this crisis is affecting low-income New Yorkers. By serving on two mayoral advisory councils, I look forward to bringing these essential voices from our community to the rebuilding process, at a level where action can be taken—as Henry Street has done for 127 years and counting."