Dinner with Danny: A Very Special Evening
By Henry Street Settlement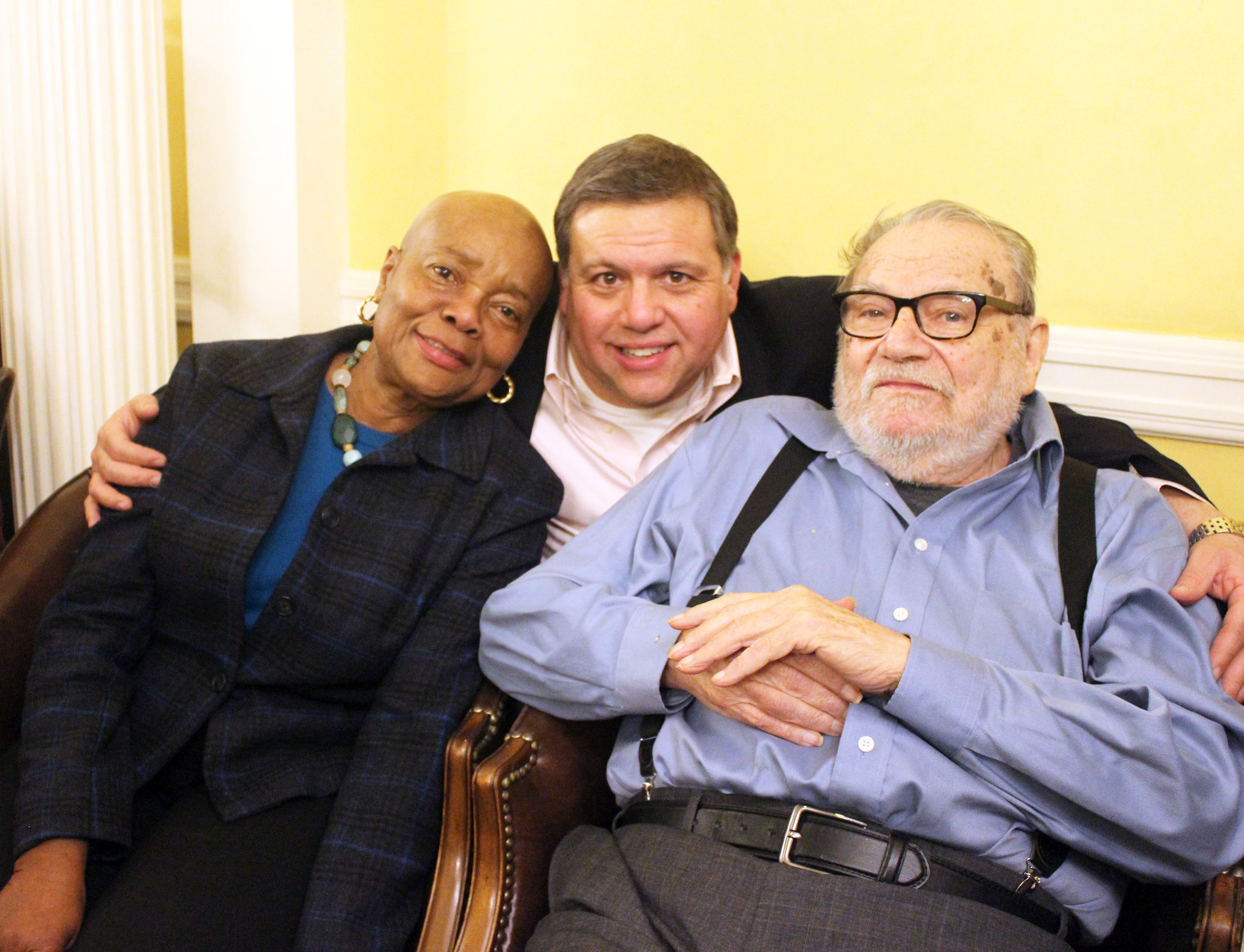 Above: Daniel Kronenfeld, right, with his successors Verona Middleton Jeter (left) and current Executive Director David Garza (center) at Dinner with Danny, February 8, 2018.
Friends, former colleagues and family gathered on February 8th to celebrate Daniel Kronenfeld, the beloved former Executive Director of Henry Street, at Dinner with Danny, a special event held to name the Henry Street Executive Office in his honor. Danny created the Settlement's Urban Family Center in 1972, America's first apartment-style family homeless shelter, and served as its director before being named Executive Director of the Settlement, where he served from 1985 until 2002.
As he held court in the Settlement's historic dining room, Danny (the last ED to live in the Settlement) received tributes from individuals who spanned the whole of his 30-year career at Henry Street.
Current Executive Director David Garza placed a crown on Danny's head before remarking, "There's as much love in this room tonight as there has ever been. Danny's contributions to the Settlement and the community have been extraordinary." David told the audience the story of his own hiring at Henry Street 17 years ago, a story that began by meeting Danny at a volunteer event.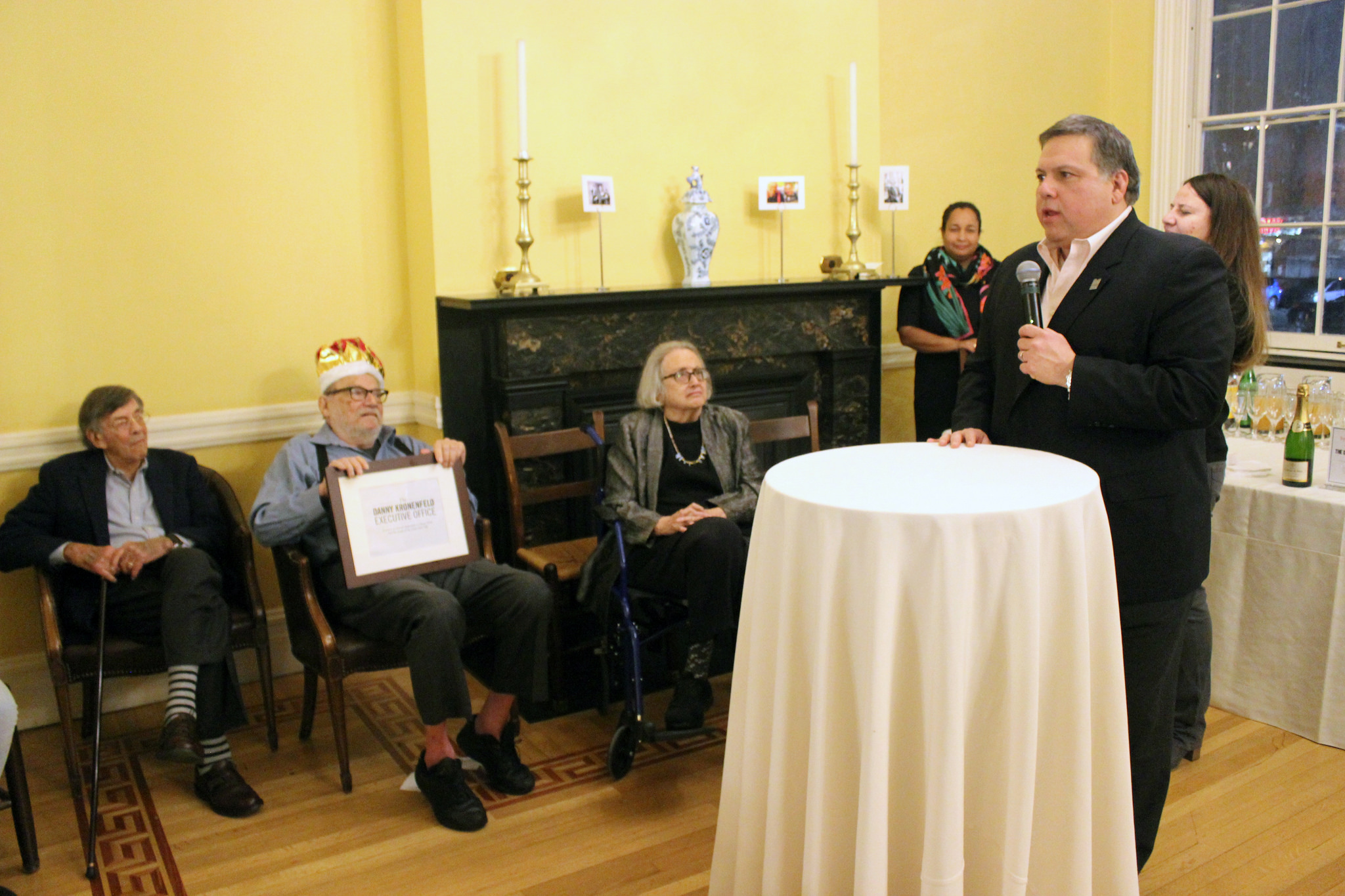 Above: Executive Director David Garza addresses the crowd, including the newly crowned Danny Kronenfeld.
Verona Middleton Jeter, the former Executive Director who succeeded Danny, traveled from her home in South Carolina to pay tribute. "Danny, you had so much confidence in me that I began to have confidence in myself," she said. The two worked together for many years at the agency's Urban Family Center shelter.
Former United Neighborhood Houses (UNH) Executive Director Nancy Wackstein, said, "In my long career, two men encouraged me to 'lean in' – [former mayor] David Dinkins and Danny. I thank you, Danny, and I love you." Susan Stamler, current Executive Director of UNH, also paid tribute to Danny.
Michael Zisser, former Executive Director of University Settlement, said that Danny served as his mentor and "he taught me many things, including how not to be politically correct!" David Stern, a longtime friend and colleague, noted that "Danny would treat a homeless mother with the same respect he'd treat a princess or a president. You were my hero before I met you and you're still my hero."
Richard Abrons, Vice-Chairman of the Board and who has known every Henry Street Executive (from 1893 through today), said, "When he was named Executive Director, Danny saved the Settlement, built its programs and insured its future. What did Danny do for Henry Street? I'll give you the answer: Everything."
Current Board Chairman Scott Swid presented Danny with a plaque, a facsimile of the plaque hanging outside the executive office: The Danny Kronenfeld Executive Office. "Danny was the first person I met at Henry Street 20 years ago. His impact and legacy are felt today, as is his sense of duty, justice and humor."
Above, left to right: Richard Abrons and Scott Swid address Danny Kronenfeld and the crowd at Dinner with Danny, February 8, 2018.
Danny's affiliation with Henry Street began in 1971 when he was asked to create a model for family shelter. Danny coauthored a seminal paper entitled An Alternative to Welfare Hotels: A Plan for the Creation of a Temporary Family Residence, that served as a blueprint for the Urban Family Center, America's first family shelter. The shelter opened at Henry Street in 1972, with Danny at its helm. He and other social workers lived onsite to provide 24-hour social service support to the families in residence. The Urban Family Center became the gold standard for housing homeless families, and was duplicated nationwide. In 1985, Danny was named Executive Director of Henry Street and moved into the Settlement's headquarters at 265 Henry Street. He was the last executive director to live in the building, a tradition that dated from its founding in 1893. Danny retired as Executive Director in 2002.
Born in the Bronx in 1932 to immigrant parents, Danny attended New York City public schools, where his exposure to diverse students helped inform his consciousness of race relations and social justice. Danny graduated cum laude from the City College of New York, where he was a member of Phi Beta Kappa. He pursued graduate studies at the University of Wisconsin-Madison, and earned a Master of Social Work degree from Columbia University.
Prior to joining the Settlement, Danny worked for New York City's Mobilization for Youth, the Ittleson Center for Child Research and Day Treatment and the Bronx YMHA, places where he practiced his calling to public service and social work. He was an instructor at the Columbia University School of Social Work. Among Danny's honors while at Henry Street was his selection as one of 53 Americans invited to attend President Bill Clinton's inaugural luncheon as a "Face of Hope." He was seated next to the President at that event.
Following his retirement from Henry Street, he served as a senior fellow at the Fund for the City of New York, evaluating and making recommendations for the City's Homeless Family Program. He also spent six post-retirement years on a project to help nonprofits work more effectively with interns.
Danny, who lives on the Lower East Side, is an adored father and grandfather.