Expanded Horizons Celebrates New Class of Scholars
By Nicole Fogarty
The Expanded Horizons Class of 2019 at the 17th Annual Scholarship Ceremony. 
Henry Street's Expanded Horizons College Success program held its 17th Annual Scholarship Ceremony on May 30 in the gym at 301 Henry Street. The event honored the achievements, hard work, and dedication of the program's current and former participants.
Cheers and smiles lit up the room as youth, Settlement team members, funders, family, friends, and community members celebrated the 136 students who received scholarships from the Abrons/Aranow Scholarship Fund, the Bernard Tannenbaum Memorial Scholarship Fund, the Sobie Family Scholarship Fund, and the Bloom-Margolies Scholarship Fund.
"You are the embodiment of hope for a better future," declared Henry Street Settlement Executive Director David Garza as he addressed a rapt audience of students. "Though we're living in crazy and unpredictable times, I am certain the world will be a better place when you make your mark on it."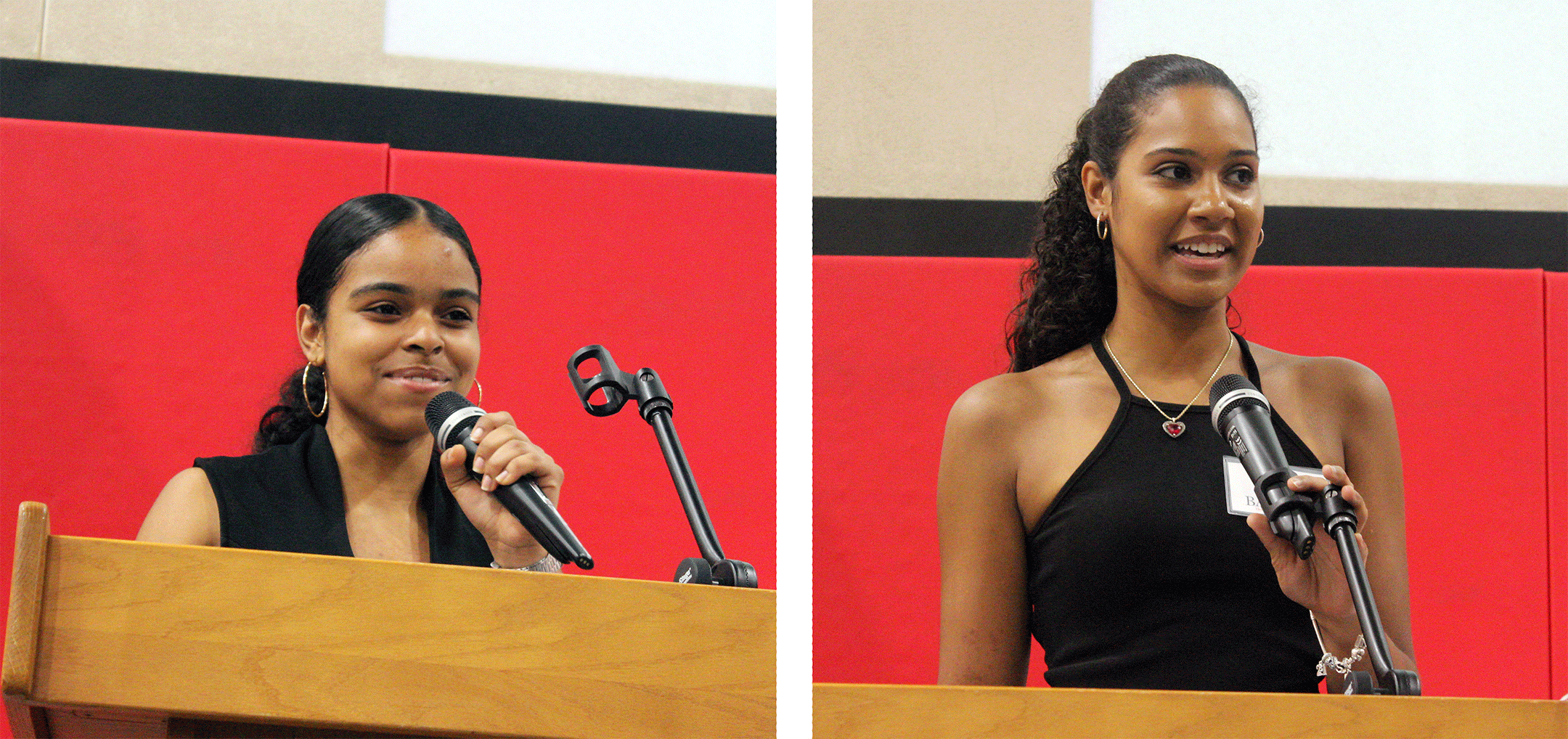 Nicole Gutierrez (left) and Sharice Alonzo (right) tell the crowd about their Expanded Horizons experiences.
Nicole Gutierrez, the graduating speaker headed for Syracuse University in the fall, described the tremendous impact that Expanded Horizons had on her, from helping with writing her resume to holding an "Undoing Racism" event that left a lasting impression. "Without Expanded Horizons, I'm not sure if we would have had the experiences we did," she said.
Expanded Horizons alumna Sharice Alonzo returned on the heels of her own graduation from Babson College in Wellesley, Mass., to address the graduating high school seniors. Alonzo is starting a new job on the risk advisory staff at Ernst & Young in Manhattan. Expanded Horizons, she said, helped her not only to prepare for the SATs and write her college essay; it helped her apply for and secure a four-year merit scholarship from the Posse Foundation.
The daughter of Dominican immigrants, Alonzo got involved in college with the Dominican students' and the Latin American students' associations. She also served as president of the Babson Accounting Club.
"Henry Street showed me the power of service and mentorship, so I wanted to pass that on," she said. Alonzo closed with a bit of advice for the Expanded Horizons high school graduates: "There are people who will close doors on you, but don't close doors on yourself."