Expanded Horizons Awards Scholarships to 2023 Cohort
By Henry Street Settlement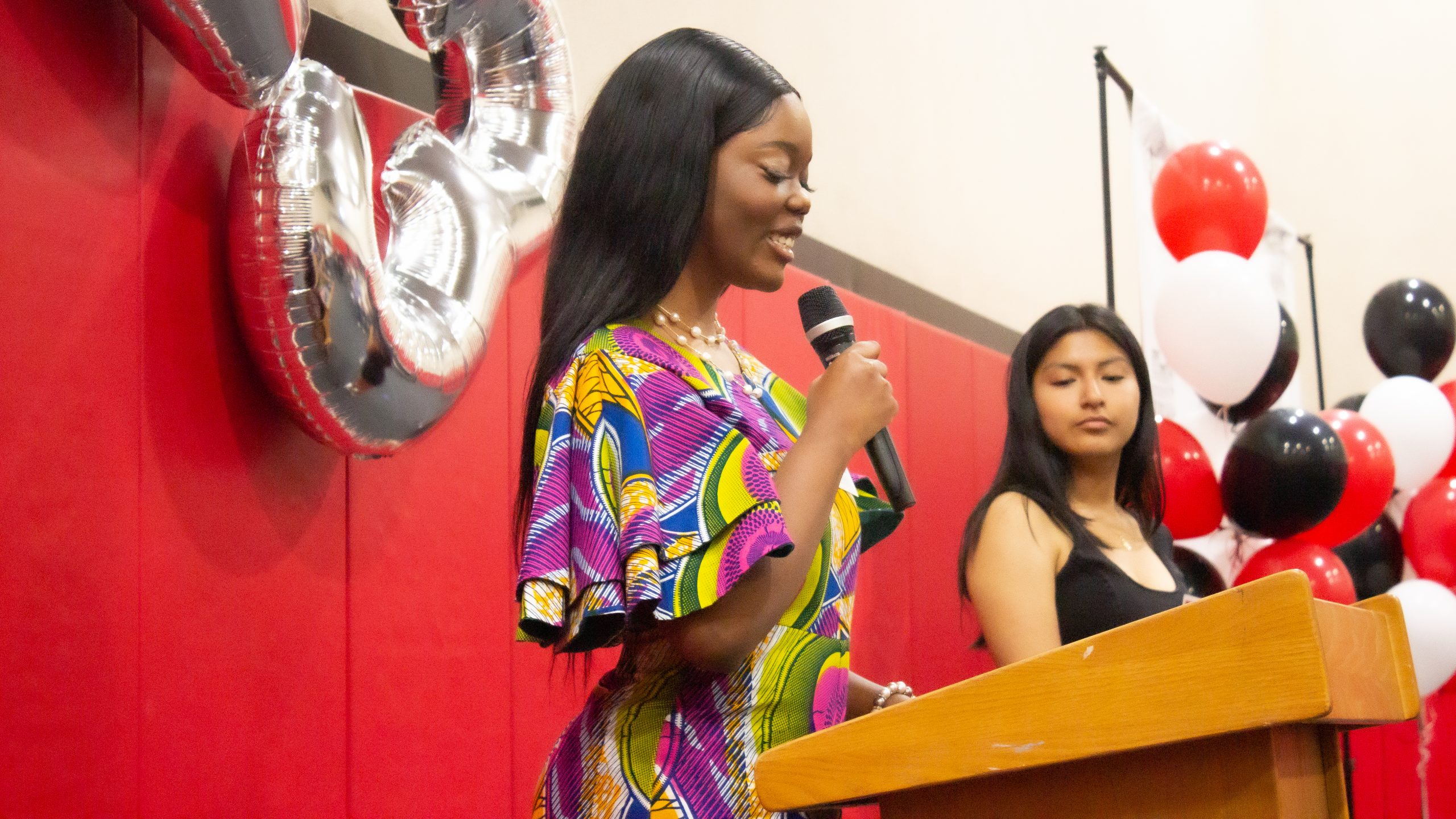 Senior co-speaker Phebe Kwarteng gives a speech to her peers.
The 2023 Expanded Horizons College Access & Success Program scholarship ceremony was particularly poignant, celebrating the successful completion of high school and college enrollment by a group of 34 persevering students whose experience has been profoundly disrupted by the pandemic.
This year, Henry Street awarded $252,500 in scholarship funds to Expanded Horizons graduating seniors and college students, and as well as to other Henry Street students.
"Class of '23, what a four years it has been for you," said Brian McCollam, senior director of education, "with all you've overcome and accomplished just to get to this point, congratulations!"
Matthew Phifer, vice president of education and employment, acknowledged the program team and thanked Henry Street's generous scholarship donors—the Louis & Anne Abrons Foundation (donors to the Abrons/Aranow scholarship), The Bloom-Margolies Scholarship Fund in Memory of Sylvia Bloom-Margolies, Raymond Margolies, and Ruth Bloom, Roxana and Bob Tetenbaum (donors to the Sobie Family Scholarship), Jeff and Nisa Tannenbaum (donors to the Bernard and Ellie Tannenbaum Technology Scholarship), and other generous supporters.
Phifer—who, as one of 15 people of color in a high school of 1,500 students, had at times felt his options were limited—shared that college had changed the trajectory of his life.
To add an artform to the ceremony, Phifer ended performed a rap, which included these words:
You could be a doctor 
You could be a dentist
You could be an lawyer
Or a studying apprentice 
Life is full of options 
But it's also full of fences
And to overcome the challenges
You gotta use your senses,
Along the road there'll be potholes, a whole lot of expenses,
But proper preparation is one of the best defenses 
See fear is just a choice though the dangers are real
But never stop using your voice 
To express what you feel
One hundred percent of Expanded Horizons graduates will be attending colleges of their choice throughout the United States and in Paris. Director Tachrina Ahmed said they had persevered through "debilitating social, educational, and financial hurdles," having spent more of their high school years within the pandemic than without. The program continued to offer its trademark courses in college and career readiness and in social justice topics when it had to move online.
Speakers from each grade, including ninth grader Raven Cruz and tenth grader Sonam Dawa, addressed the Expanded Horizons components that had been most influential to them, including classes in internship readiness and surviving high school.
Junior speaker Ninaya Pierre Louis said her most helpful Expanded Horizons class focused on the college process–financial aid applications; majors, minors, and concentrations; and what to look for in colleges, such as clubs including those that support student diversity. Pierre Louis attended two overnight college trips outside of New York with the program. "I started out with little knowledge of life outside of New York, but visiting 12 colleges in multiple states increased my options for where I want to attend college in just two years."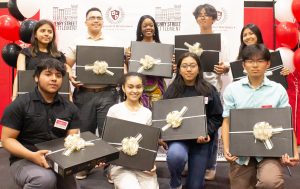 The Bernard and Ellie Tannenbaum Technology Scholarship provides laptop computers to 10 Expanded Horizons graduates.
Senior co-speaker Litzy Puma, who will be attending Cornell University with a major in human biology, health, and society, said that, as a first-generation college student, she gained new perspectives on the opportunities available to her and the courage to leave her comfort zone. And, though writing a shining college essay was daunting, she learned, with the help of Ahmed, she wasn't alone. "The greatest experience for me was learning that even if the world tells me I can't make it, I already have the traits needed to succeed within me. I just need the extra push from my peers, family, and programs like this to unpack those existing traits."
Senior co-speaker Phebe Kwarteng will be attending Syracuse University, majoring in graphic design. A highlight for her was taking Girls Who Code, which not only taught video-game-making skills, but about the history of women in the development of technology. She also took the Power, Privilege, and Oppression class, her favorite, "where we discussed being people of color in a world that is set on being bigoted" and how to care for oneself in the face of discrimination. "Being exposed to these conversations in high school prepared me for the real world outside."
Daniel Mendoza, college success manager, and Angel Tatis, college success coordinator, then awarded scholarships to each student. Those who complete the program each receive a minimum $1,000 annual four-year scholarship from Henry Street, and starting this year, students are receiving a $500 bonus scholarship to help with books, transportation, fees, and other college start-up expenses.
Alumni speaker Hasin Anik, a 2023 graduate of University of Rochester with a double major in business information systems and computer science, closed the ceremony by thanking Expanded Horizons for helping him enroll in a college that was just right for him and for continuing to stay connected throughout his college career. He will begin a job with 3M as a financial analyst in fall 2023.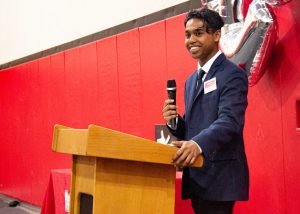 Expanded Horizons alumni speaker Hasin Anik shares his experience as a 2023 graduate of the University of Rochester.
Anik offered graduates a number of tips that have helped make his college path a success: Take advantage of the clubs, resources, and advising their universities offer. Seize the opportunity to study abroad (which he did in Sydney, Australia), and use this time to find out who you are, what you like, and what you want to do. He ended by quoting a professor, who helpfully told him, "You'll be the one living your life, not your parents or friends. So make sure you make decisions wisely."
Abrons/Aranow Scholarship Recipients
Beatrix Alevras, Roger Williams University
Karen Armas, SUNY Stony Brook University
Mia Casella, Ithaca College
Olivia De'okoro, SUNY University at Albany
Aissatou Doukoure, Cornell University
Waimen Duran, CUNY Hunter College
Jayla Eady, Hampton University
McKayla Etheridge, Emory University
Fabian Flores, CUNY Hunter College
Kennedy Gamble, Clark Atlanta University
Sundiata Gittens, The American University of Paris
Myah Goris, SUNY Stony Brook University
Alberto Hernandez, CUNY Hunter College
Nicole Hernandez, Wesleyan University
Tina Jiang, Bentley University
Hamidah Jimoh, CUNY Baruch College
Phebe Kwarteng, Syracuse University
Bloom-Margolies Scholarship Recipients
Gordon Lin, SUNY Binghamton University
Liana Martin-Peterson, Tulane University
Bethsaida Merino, SUNY Stony Brook University
Nowyshin Mridula, Yale University
Ricardo Nazario, CUNY Guttman Community College
Joshua Oleh, University of Connecticut
Litzy Puma, Cornell University
Cristal Rodriguez, SUNY University at Albany
Genesis Rodriguez, SUNY Binghamton University
Brittney Rosado, CUNY Hunter College
Isabella Schell, Cornell University
Ayush Sharma, CUNY City College
Galia Shkedi, McGill University
Liliana Sofia, Princeton University
Tenzin Sonam, Villanova University
Isabella Villanueva, University of Wisconsin – Madison
Hui Wang, Northeastern University
Bernard and Ellie Tannebaum Technology Scholarship
Jayla Eady, Hampton University
Myah Goris, SUNY Stony Brook University
Alberto Hernandez, CUNY Hunter College
Nicole Hernandez, Wesleyan University
Phebe Kwarteng, Syracuse University
Bethsaida Merino, SUNY Stony Brook University
Ricardo Nazario, CUNY Guttman Community College
Litzy Puma, Cornell University
Tenzin Sonam, Villanova University
Hui Wang, Northeastern University
Sobie Family Scholarship Fund Recipients
Jayla Eady, Hampton University
Kennedy Gamble, Clark Atlanta University