Fir Tree's Winter Wonderland
By Nicole Fogarty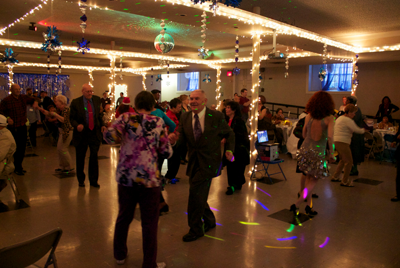 Click to see the photo gallery from this event »
The holiday season is in full swing at Henry Street, with everyone from our daycare students to our senior center clients getting into the spirit! Earlier this month volunteers from Fir Tree Partners, a New York-based private investment firm and valued supporter of the Settlement, hosted festive events for clients in two Settlement programs.
Seniors from Henry Street Settlement's Good Companions Senior Center were lined up down the block to participate in the annual gala created by Fir Tree Partners. This year's event featured a gourmet dinner, the musical stylings of DJ Mambo, and a packed dance floor. Professional dancers from Heather Berman Productions, and Fir Tree volunteers dressed as Frosty the Snowman and a penguin were on hand to entertain, and guests and volunteers alike danced the mambo, the Electric Slide, and the Macarena. The afternoon capped off with a lively raffle, where a ten lucky winners received $100 Visa gift cards. Additionally, each senior in attendance took home a holiday Panettone cake from Trader Joe's, a $75 Rite Aid gift card, and a framed photo of themselves posing with Frosty the Snowman.
While the seniors were dining and dancing the afternoon away, another group of Fir Tree volunteers treated children in the Settlement's Early Childhood Center to a Winter Wonderland Carnival complete with a photo booth featuring two real-live snowmen, professional face painting, a parachute activity, "snow-dough" crafting stations, and holiday storytelling—there was even a popcorn maker popping away!  Each child went home with their own copy of The Snowy Day.
Fir Tree Partners first came to Henry Street four years ago as volunteers, and has since committed to serving as a dedicated partner organization.  During that time, they donated a new computer lab with computer instructor's salary to the Good Companions Senior Center, replaced the gym floors at 301 Henry Street, and hosted several memorable holiday parties for Henry Street clients. Jeff Tannenbaum, President and founder of Fir Tree, also established the Bernard Tannenbaum Memorial Scholarship, which provides tuition assistance for college-bound Henry Street youth.  Fir Tree Partners was honored with a Corporate Leadership Award in 2014 at Henry Street's annual Gala Dinner Dance.