Henry Street Settlement Opens the Dale Jones Burch Neighborhood Center
By Henry Street Settlement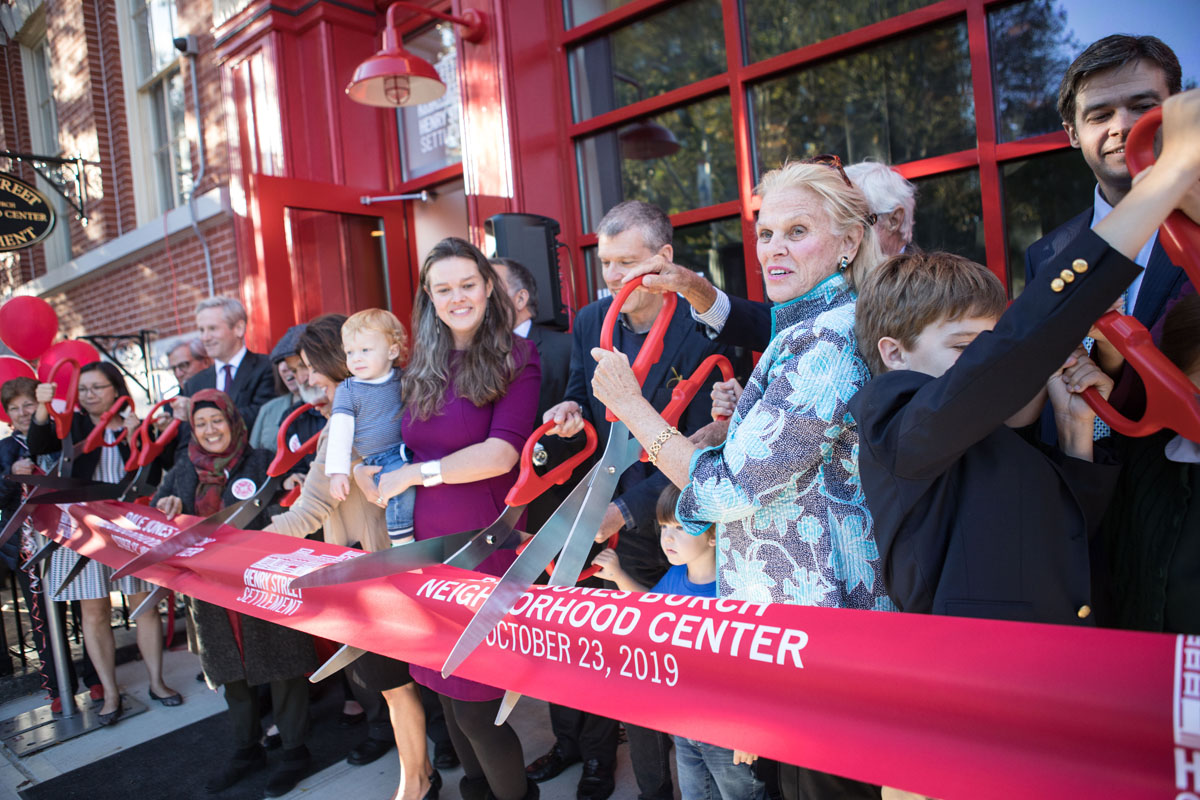 Restored 1883 Firehouse to Resume Role as "First Responder" to Lower East Side
Pictured above: Dale Jones Burch, third from right, and family join Henry Street supporters and community members at the ribbon-cutting on October 23, 2019. Photo by Marc Goldberg.
As the afternoon sun steamed down on Henry Street on October 23, 2019, Settlement team members, elected officials, and a very generous donor family, using giant scissors, cut a ribbon on the Dale Jones Burch Neighborhood Center. The center, located in the former Engine Company Unit No. 15 firehouse, will provide a wide array of free services to neighborhood residents such as employment services, parenting support, connections to financial and legal help, and referrals to mental health care, insurance, and more.
Special guests at the ribbon cutting included Lieutenant Governor Kathy Hochul, members of the NYPD 7th Precinct, representatives of Engine Co. 15, and other firefighters. The center is located at 269 Henry Street—a structure built in 1883 and adjacent to Henry Street's headquarters. It is named for Henry Street board member and lead capital campaign donor Dale Jones Burch, whose family has been involved with and supported the Settlement for generations.
In mid-November, the organization's Neighborhood Resource Center will move its services into the former firehouse from 281 East Broadway.
"The Settlement is thrilled to return this historic treasure to its former role as a 'first responder'—to provide essential resources for thousands of community residents," said David Garza, president & CEO of Henry Street Settlement. "We're grateful to all the supporters who made this transformation possible."
The firehouse had been vacant since Engine Company No. 15 relocated to 25 Pitt Street after 9/11. Henry Street collaborated with Community Board 3 and the Manhattan Borough President's Office to ensure that the firehouse would be preserved for community use. Then, it then worked for more than a decade to purchase the decommissioned firehouse from New York City, buying it for $1 in 2017. The building sits on the site of an even earlier firehouse, built in 1854 for the Americus Engine Company No. 6, whose first foreman (albeit in an earlier location) was William "Boss" Tweed
The Dale Jones Burch Neighborhood Center, designed by the architecture firm Beyer Blinder Belle, will provide a wide array of free services to neighborhood residents including screenings for benefits and income supports (such as Supplemental Security Income, Access-A-Ride, and affordable housing); SNAP (food stamps); employment services; health insurance enrollment; and legal and financial services. The onsite Parent Center will offer supportive and educational group sessions for parents-to be, parents, and guardians to help them address the challenges and celebrate the joys of raising children.
The Harry and Jeanette Weinberg Foundation, New York State Regional Economic Council's Empire State Development Grants Program, the Barker Welfare Foundation, Robert Mancuso, Russell Grinnell Memorial Trust, New York City Council, and Manhattan Borough President's Office also provided critical funding that enabled the purchase and renovation of the neighborhood center.
Click above or https://www.youtube.com/embed/Z9LvkmZ-i-0 to see video—including a rap from David Garza!—from the event.