A Statement from Henry Street
By David Garza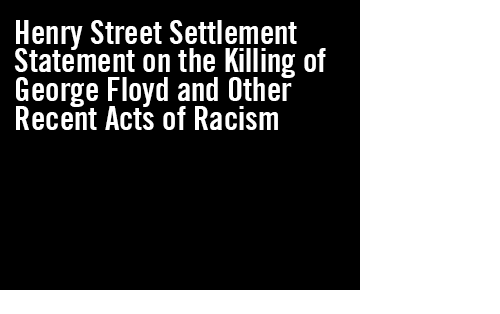 Henry Street Settlement condemns the recent deplorable racist actions perpetrated throughout the nation, from George Floyd in Minnesota, to Breonna Taylor in Kentucky, to Ahmaud Arbery in Georgia, to Christian Cooper in our own Central Park. We believe that Black people and all people of color must have the right to live safely, peacefully, and with assurance of equal legal protections that are afforded to all people in our society.
Many at Henry Street are hurting. The anger, sadness, fear, and exhaustion that we're feeling as we witness up close the effects of the COVID-19 pandemic on our communities of color are only exacerbated by these devastating blows to our collective sense of humanity. The crushing effects of racism can be seen in many ways on the Lower East Side—homelessness, unemployment, lack of educational opportunity, and insufficient nutrition. Racial disparities are on display and all too prominent in so many of our country's institutions, policies, and practices (mass incarceration, redlining, police brutality, governance) that to be silent is to deny their existence and to be complicit in their perpetuation.
As New Yorkers, we may pride ourselves on the strength of our diversity and our welcome of difference, but we are not immune from the forces of racism that pervade our entire society. Henry Street Settlement has a long and proud history of fighting back against these forces—both as a defender of racial justice at the highest levels where change can be made and as an advocate, champion, protector, and place of refuge for individuals of color in our community.
Challenging these affronts is rooted in Henry Street's founding and deepest principles. Lillian Wald, our founder and a fierce advocate of bridging racial divides, was called on to intercede in a case of police brutality against a Black child in the early 1900s. Understanding profound health disparities even then, she established the Stillman House Branch of the Settlement on the Upper West Side—home to the city's largest Black community—and hired some of the city's first Black nurses to staff it. She was a founder of the NAACP and hosted the organization's first reception in our dining room on Henry Street. And, during the 1960s, Henry Street was a leader in the Civil Rights Movement—understanding that racism and the poverty that accompanies it are key detriments to physical and mental health.
Fighting the twin scourges of racism and poverty are in our DNA and the fabric of our current configuration of programs. Our transitional and supportive housing programs are in a constant battle against the economic disparities that leave people without homes. In our Expanded Horizons college access and success program, we're making sure that children—mostly students of color—can reach their full potential despite the obstacles that racism has thrown in their path. Our employment-services clients are trying to overcome multigenerational educational deficits and a lack of confidence that grow directly from the impact of racism. All of our programs exist to create opportunity and serve communities of color where there is injustice.
But this is not enough. The powers that keep racism in place are both structural and individual. Yes, we need to tear down the systems that keep people poor, unhoused, and abused. And, white people need to do more in their daily lives—to demand justice, to speak out about disparities, and to recognize when their privilege is holding others back.
Henry Street is committed to acting on this issue. I'm proud that our new Diversity, Equity & Inclusion committee is leading the way in raising difficult but necessary discussions for our team and will point to future actions and behaviors for us to follow. I'm proud that our Youth Opportunity Hub is taking on issues of race, police brutality, and law enforcement. I'm proud that Expanded Horizons is preparing its high school and college students to understand how to navigate power structures that threaten to interfere with their success.
To quote Eldridge Cleaver: "There is no more neutrality in the world. You either have to be part of the solution, or you're going to be part of the problem." This goes for institutions as much as individuals. Henry Street recommits itself to being part of the solution, and I know and am deeply proud that our team is working together to find solutions to this crisis that hurts us all.
David Garza
President & CEO, Henry Street Settlement