Henry Street Youth Take Action in Albany
By Nicole Fogarty
Above: Henry Street youth at the rally for SYEP at Youth Action Day 2018. Photo courtesy of United Neighborhood Houses.
Students from Henry Street programs joined hundreds of other New York City youth in Albany this month to campaign for increased youth employment funding at Youth Action Day. The experience taught them how constituents can advocate for policy change.
Held each year and organized by United Neighborhood Houses (UNH), Youth Action Day organizes young people from settlement houses across the five boroughs to visit the New York State Capitol building for a rally and a day of lobbying. This year's goal was to increase both City and State funding for the Summer Youth Employment Program (SYEP), which provides New York City youth between the ages of 14 and 24 with paid summer employment.
The Henry Street group was comprised of members of the Youth Leadership Council, students from the Orchard Collegiate Academy Community School partnership, students from the Settlement's programs at Urban Assembly of Government and Law, and members of the Expanded Horizons College Success program. They had been preparing during the weeks leading up to the event, holding discussions and participating in trainings on lobbying, as well as role-playing as elected officials.
At the rally, both youth and elected officials were invited to deliver remarks. Henry Street's own Temitope Johnson, a Community Outreach Assistant and SYEP alum, spoke to the crowd about his experiences with advocacy and the event's importance.
"I made sure to say that this day was all about conviction and passion—this whole movement is all about them, after all. It can be nerve-wracking, but it also gave the kids a chance to speak freely and take control of the conversation, which they really responded to," Johnson explained.
After the rally, groups of young people met with elected officials and their staff members, gaining valuable experience in sharing their stories and advocating on a more personal level. For instance, the youth in Henry Street's group were able to talk about how important their previous SYEP positions had been to their education and development, and how they hope to grow into their future careers with the help of SYEP at Henry Street.
"It was an empowering day. When you actively participate in government, you realize it's accessible. Everyone felt really listened to, and it's so important to have that experience and know that your voice matters," added Henry Street's Advocacy and Community Engagement Coordinator Talia DeRogatis, who also accompanied the youth to Albany.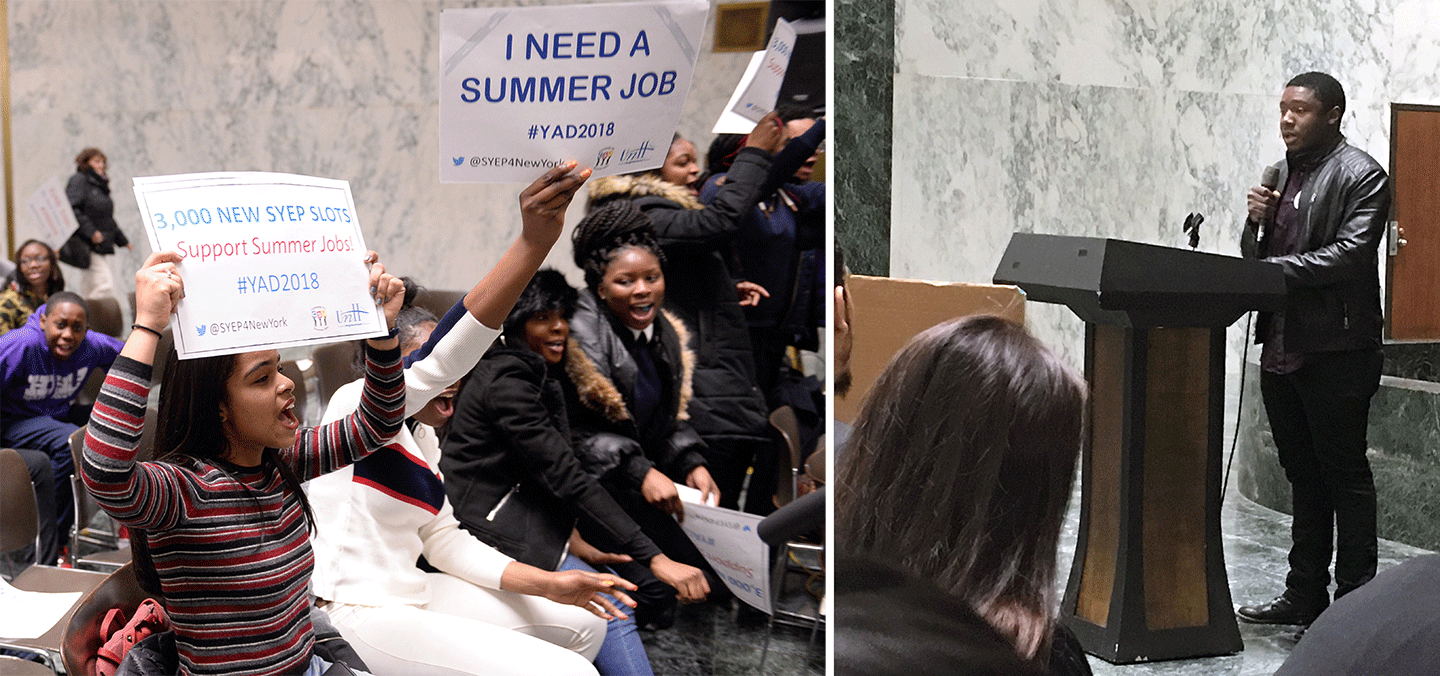 L to R: Henry Street youth participating in Youth Action Day; Settlement staffer Temitope Johnson delivering remarks at the rally.