Henry Streeters Advocate for Change
By Nicole Fogarty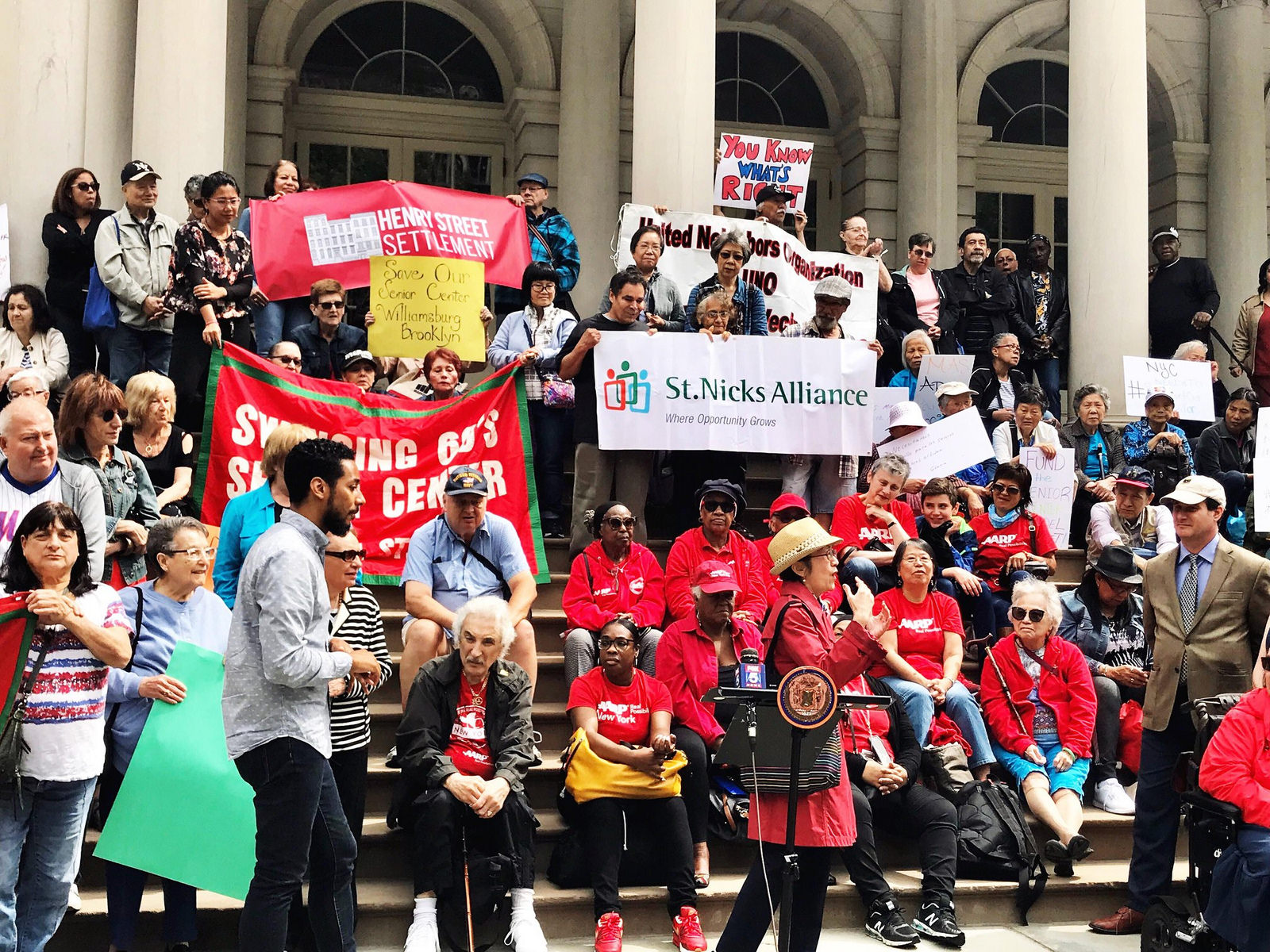 Henry Street seniors, top left, rally at City Hall with Council Member Margaret Chin, foreground, for adequate funding for programs for older adults. 
Participants in Henry Street programs raised their voices at New York City Hall in June, campaigning for causes close to our hearts.
Youth from Henry Street's Urban Family Center (UFC) shelter joined Coalition for the Homeless at the NY Kids Need Housing March, calling on Mayor de Blasio to build more permanent housing for homeless New Yorkers.
Groups from agencies across the five boroughs built toy houses and drew pictures of homes, before marching from Foley Square to City Hall to deliver their art projects to the Mayor.
Frances Beausejour-Meyers, a Youth Social Worker at UFC, accompanied a dozen of the shelter's youth to the march. Advocacy is not new to Frances; while at UFC, she's helped facilitate participation in events like Denim Day NYC to advocate for an end to sexual assault and violence, and the National School Walkout protesting gun violence.
"These marches are great, especially for our older kids. They can see there are other teens out there doing this, that it isn't just something for adults, and they can set an example for our younger kids," she said.

UFC youth at the NY Kids Need Housing March. Photo on the left courtesy of Coalition for the Homeless. 
A few days after the NY Kids Need Housing March, Henry Street constituents gathered once again at City Hall, this time to urge the Mayor and City Council to fund senior centers, meal delivery and other important programs for seniors.
Over a dozen members of the Henry Street Settlement Senior Center and Henry Street's NORC (Naturally Occurring Retirement Community) rallied with United Neighborhood Houses (UNH) and other agencies on day the 2019 New York City budget was announced.
Representatives from UNH spoke at the rally, along with New York City Council Member Margaret Chin and seniors from agencies around the city, sharing why this funding is so vital.
Additionally, Henry Street representatives—including Executive Director David Garza—joined UNH and other settlement houses at the March and Rally for Wage Parity for Unionized Center-Based Child Care Workers, fighting for equal pay for early childhood care.
Advocating for the community has been in Henry Street's DNA from the Settlement's founding. Through the years, this has taken many forms, from campaigning for labor reforms and women's suffrage in the early 20th century to conducting Town Hall meetings and focus groups today.
Issues on the Lower East Side have certainly changed over the past 125 years, but there continue to be parallels, like a lack of affordable housing and availability of jobs for those who need them most. That's why we're proud to stand in support of the New York City Employment & Training Coalition, who are working with member organizations like Henry Street to ensure that our city's most deserving get the support they need to get good jobs, and Council Member Chin, who recently led a rally to protect the Two Bridges neighborhood's legacy of affordability as if faces further gentrification.
Click here to read more about our advocacy work and learn how to get involved.