Henry Street's Neighborhood Center Grows as a "First Responder"
By Mataeo Smith
Front desk worker Tracy Wong welcomes visitors to the neighborhood center.
In 1854, the firehouse at 269 Henry Street on the Lower East Side of Manhattan was home to Engine Company No. 6. The company's first foreman (albeit in a different location) was the notorious William "Boss" Tweed. He was well known for getting his friends on the New York City Council to approve substantial Fire Department budgets so that he could use the money for himself through the numerous businesses he owned. Once the firehouse was reformed by the city in 1865, Engine Company No. 6 was replaced by No. 15, which became a reputable station on the Lower East Side.
Today, as one of the Settlement's 18 sites across the Lower East Side and named the Dales Jones Burch Neighborhood Center, the firehouse brings new meaning to its role as "first responder."
The DJBNC provides free services to neighborhood residents—from benefit screenings for SNAP (food stamps) and other cash and non-cash benefits and referrals to legal and financial counseling, and more. Services are offered in English, Spanish and Chinese (both Mandarin and Cantonese). The center also serves as a gateway to Henry Street's other divisions and programs. Clients are referred to Henry Street's mental health clinic, Workforce Development Center, educational services, and other resources, as needed. These services are set to expand in 2022, through a grant from NYCBenefits, an unprecedented city investment in public benefits outreach and enrollment.
Before the firehouse was repurposed by Henry Street, it had stood vacant since its closure in 2002. Henry Street worked with Community Board 3 and the Manhattan Borough President's Office to ensure the building was preserved for community use. David Garza, the Settlement's president and CEO, says, "Henry Street formed a consistent and sustained advocacy effort and spent more than a decade expressing to the city that a resource like the firehouse should continue to serve the community."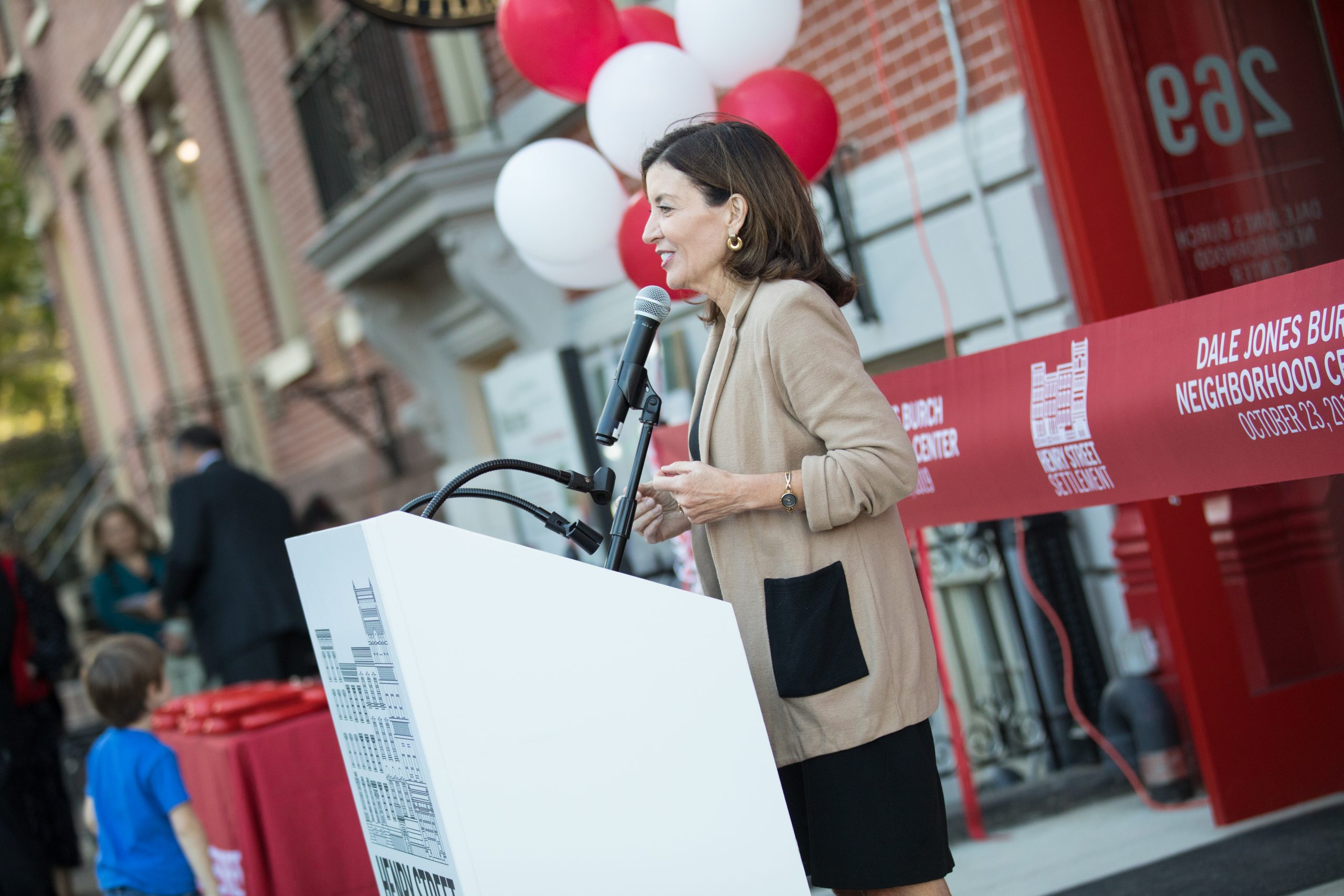 Henry Street Board Member Dale Jones Burch and her family get ready to cut the ribbon at the firehouse on October 23, 2019. (1)
Governor Kathy Hochul (at the time the lieutenant governor) speaks at the opening. (2)
The Settlement purchased the building from New York City for $1 in 2017. Garza had brought a single dollar bill to City Hall but was told the transaction had to be completed through a money order. On October 23, 2019, the 18th site of Henry Street Settlement was officially opened to the community. Dale Jones Burch, a longtime board member of the Settlement whose family provided substantial capital funding for the renovation, stood with family, friends, colleagues, and community members as they partook, with giant scissors, in the ceremonial ribbon-cutting.
The Settlement's former Neighborhood Resource Center, located at 281 East Broadway, moved to the restored firehouse in November 2019. It had originally opened in 2004 to serve clients impacted by 9/11, and its primary services included workforce development, mental health counseling, and benefit screenings.
"Post 9/11, there was a need and we acted," Garza says. "The original services we established at 281 East Broadway evolved and we began to understand where the needs were deeper."
Logistically, the firehouse proved to be a better location for the Settlement's neighborhood center. Prior to the Settlement's acquisition, Henry Street raised $12 million through a capital campaign for the building's renovation. The once chipped and dull red exterior is now coated in bright crimson. Two ebony medallions with flames erupting from behind them are perched on both sides of a new golden sign that reads Dale Jones Burch Neighborhood Center.  Whereas the previous center, Garza says, was a residential building that wasn't completely accessible to individuals with disabilities, the spacious, newly renovated firehouse, by design, provides easy ADA access. Furthermore, its location, connected to the headquarters, represents a symbolic embrace of the Settlement's mission to serve the Lower East Side. At 269 Henry Street, the center now faces the Vladeck Houses on Madison Street, which are adjacent to the LaGuardia Houses on Cherry Street. Residents of both housing complexes are clients of Henry Street along with New Yorkers from across the Lower East Side and all five boroughs.
The larger space accommodates additional initiatives including the Grand Street Guild Healthy Homes Connect and NewYork-Presbyterian community health worker programs and Creatives Rebuild New York (CRNY), a forward-thinking guaranteed income program for artists started in 2021. It also houses Henry Street's Department of Integration and Community Engagement (D.I.C.E.) and for two years was home to the Lower East Side Mobile Market, a food delivery program begun in collaboration with NewYork-Presbyterian in 2020.
"The firehouse represents a special and unique resource that the Settlement brings to the community," Garza says. "Its current purpose aligns with its historical purpose as a first responder."
More than 150 years earlier, Engine Company No. 15 was a symbol for heroism and bravery on the Lower East Side. Stationed within the tenement district, which housed some of the city's poorest migrant families, the brigade regularly risked their lives for community residents who, in return, adored them. They rescued about 50 individuals from a fire at the Heyward Brothers & Wakefield Company chair factory on Madison Street in Manhattan in 1903. They rescued a family of six along with four others after an arsonist set fire to a tenement building on 170 Clinton Street in 1910.
Today, one of the most sought-after programs at the DJBNC is its health insurance enrollment program, staffed with New York State Certified Navigators who assess client eligibility for affordable health insurance plans including public options such as Medicaid, Child Health Plus, and Essential Plans, or private Qualified Health Plans. Ashley Young, LCSW, the DJBNC program director, says the program enrolls about 2,500 individuals in New York City into health insurance plans every year.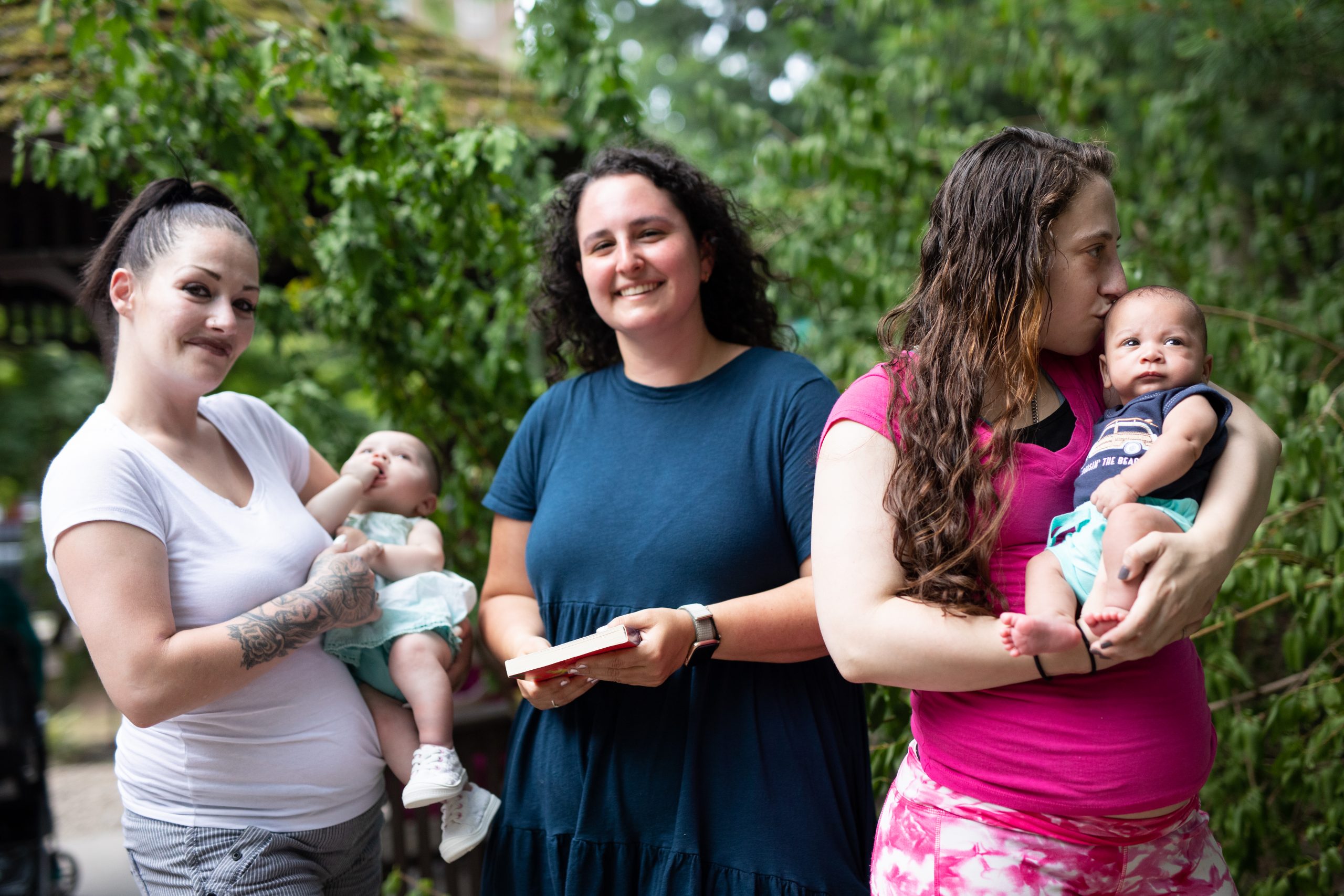 Annie Mudick (center), a Parent Center social worker, joins a summer picnic for moms and their babies. 
The DJBNC's third floor houses Henry Street's Parent Center, which offers parenting groups, workshops, 1-1 support services for parents of children ages 0-5. One of the only free parenting programs in New York City, the Parent Center helps individuals overcome the challenges and celebrate the joys of parenthood. Parents are offered a wide array of weekly and monthly workshops on topics such as effective communication and discipline techniques, the impact of domestic violence on child development, helping children cope with trauma, and more. The DJBNC receives referrals from providers across all five boroughs for parents to participate in its range of programs led by a team of licensed social workers and mental health professionals.
One of the center's vital services is helping people become more financially secure. Its eviction-protection program helps keep clients in their homes. When an individual who is facing financial trouble visits the center, they schedule a meeting with a caseworker for a benefits screening. The assessment includes the client's type of housing, rent or mortgage expenses, sources of earned or unearned income, and whether they are in arrears. This interview may lead to referrals for rental assistance, affordable housing, access to food stamps, and/or other benefits.
For those with rent arrears, caseworkers assess a client's eligibility for rental assistance, taking into account the total amount of arrears and the client's future ability to pay. The latter, Young says, is one of the most important factors because funders will likely deny requests for financial assistance if they cannot show proof of ability to make future payments. Clients may be initially referred to the Human Resources Administration to apply for a One Shot Deal, which provides emergency rent, utility, and other assistance, or other funding from groups like the Coalition for the Homeless, which provide homelessness prevention and housing crisis services. Additionally, DJBNC case managers can advocate on a client's behalf to help negotiate bureaucracies they apply for other types of financial assistance. In the case of a pending eviction, individuals are referred for legal assistance at the center's monthly housing law clinic and/or provided counseling regarding steps to enter the Department for Homeless Services shelter system.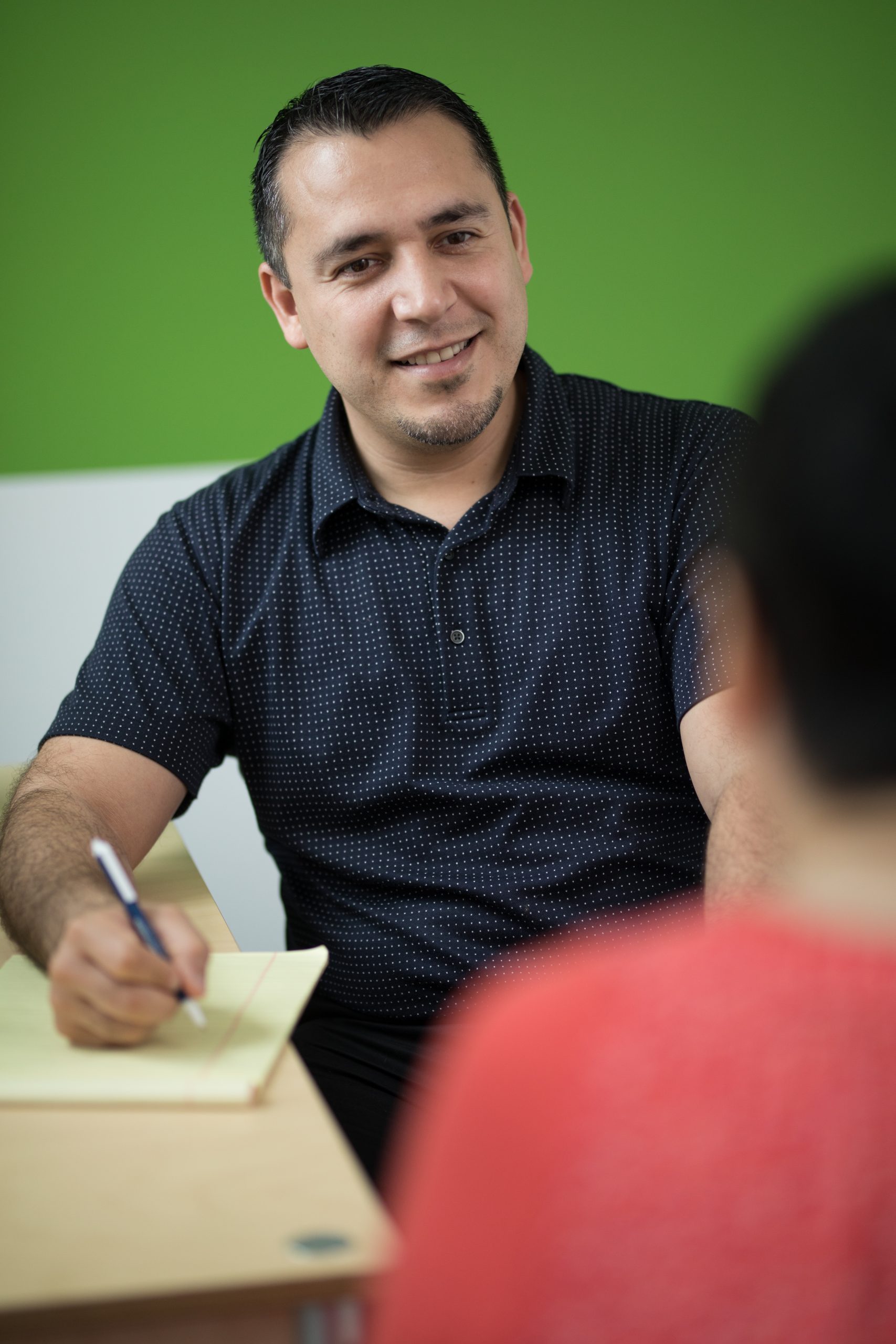 Caseworker Felix Marquez provides benefits counseling at the Dale Jones Burch Neighborhood Center.
In recent months, Young says, together with a team of CRNY benefits counselors, she's also counseled scores of New York state artists through the CRNY guaranteed income program. Out of 24,000 artists who applied, 2,400 were selected through an open lottery to receive $1,000 a month in guaranteed income for a year and a half, provided they show proof that they are artists. In September 2022, a 70-year-old retired drummer who receives Social Security Retirement benefits, lives in NYCHA public housing, and receives food stamps visited the center for a benefits counseling session. Young took him into an interviewing room on the center's ground floor to discuss his options and whether or not to accept the guaranteed income. An increase in his income, she counseled, from $1,031 to 2,031 per month, would increase his NYCHA rent substantially and lead to a discontinuation of his SNAP benefits. Young helped him calculate that, with these losses (often called the benefits cliff), the additional income would net only an additional $175. Together they determined that it was still worth it to accept the extra income. Had he enrolled in CRNY without proper advice about reporting income changes and the resulting loss of benefits, Young says, he could have imploded his financial well-being and been subject to complicated rent issues.
"The lord giveth and the devil take away," the drummer joked.
Young also helped the drummer pay rent arrears with the center's limited United Way COVID Relief Funds.
Much like the engine company that preceded it, the DJBNC is a vital site on Henry Street. The key to running any settlement house, Garza says, is always having a door open for community members.
"There's a commitment to open a door," David says. "It stays open and good things happen on the other side for the people you serve."