Honoring and Celebrating our Scholars
By Henry Street Settlement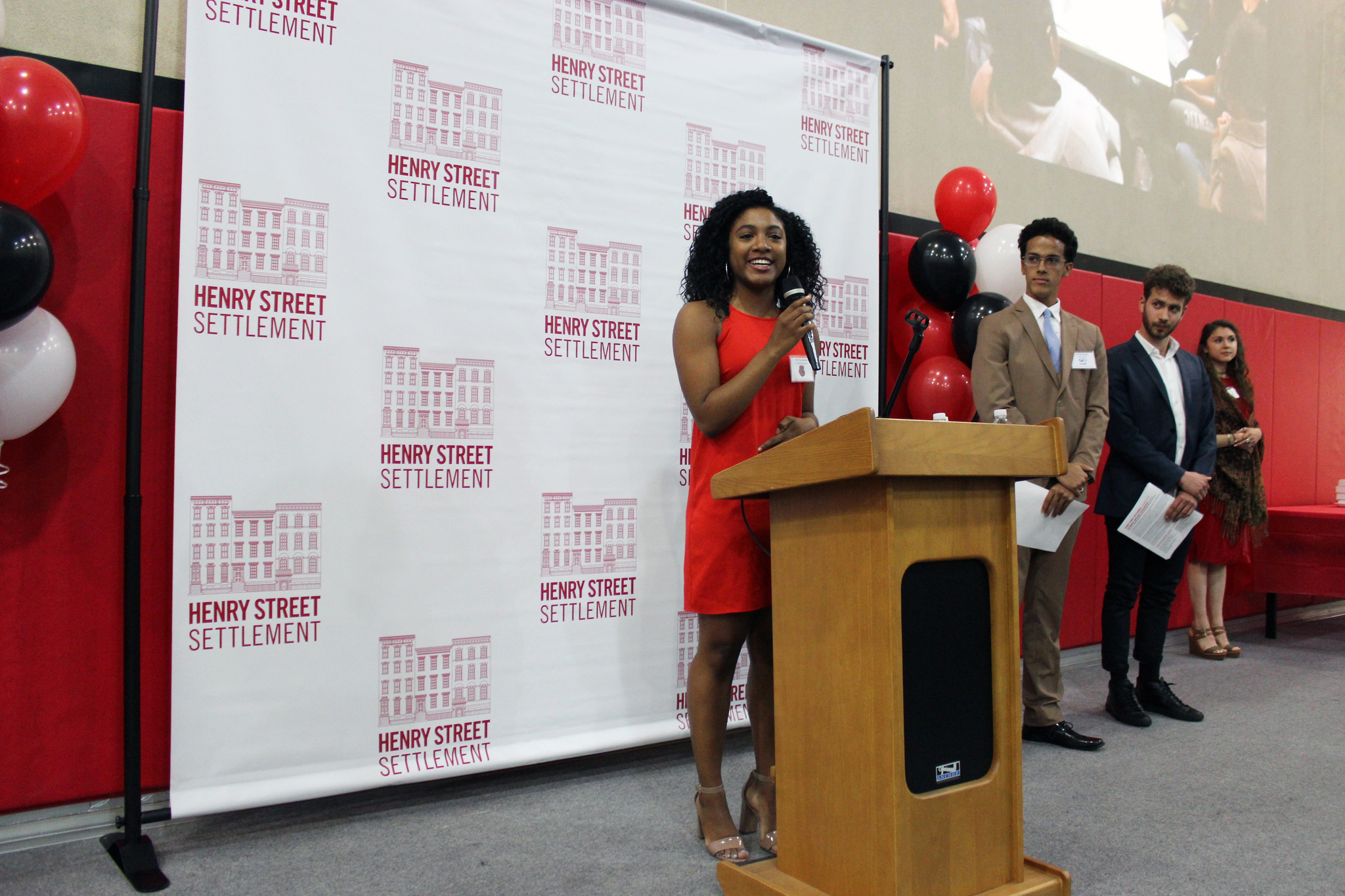 Above, L-R: Scholars Tyler Correawhite, Derek Hernandez and Alexander Torbov, with counselor Rhea Corson-Higgs.
Over 120 scholarship recipients were honored at the 15th annual Youth Scholarship Awards Ceremony on Wednesday, June 7. The rising and current college students, along with their proud families, gathered at 301 Henry Street to celebrate their impressive academic achievements. Scholarships were awarded from the Abrons/Aranow Scholarship Fund, the Tannenbaum Scholarship Fund and the Sobie Scholarship Fund.
Matt Phifer, Deputy Program Officer for Youth Services and Workforce Development, welcomed the students and guests. He acknowledged that the scholars were attending college during a tumultuous time, but said, "younger generations have always initiated change in our society. I'm very encouraged to see what you will do."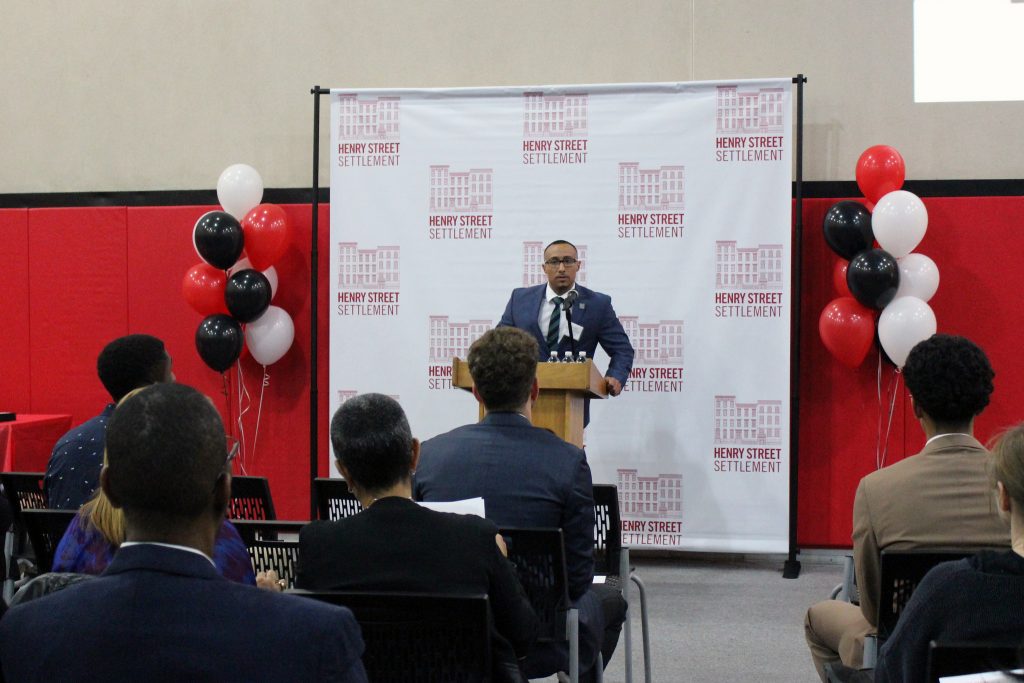 Above: Matt Phifer addresses the crowd.
David Garza, Executive Director of Henry Street, said to the crowd, "Our scholarship ceremony is very special – a place where our past meets the present meets the future." The past, he explained, refers to the Settlement's rich 124-year history, particularly evident in the story of Louis and Anne Abrons, lifelong Henry Street supporters and the namesakes of the Abrons/Aranow Scholarship Fund. The present refers to our funders, who are currently providing the support for our scholars. The future, Garza said, are our scholars. "Henry Street's mission is to open doors of opportunity. Tonight, we are opening doors to college."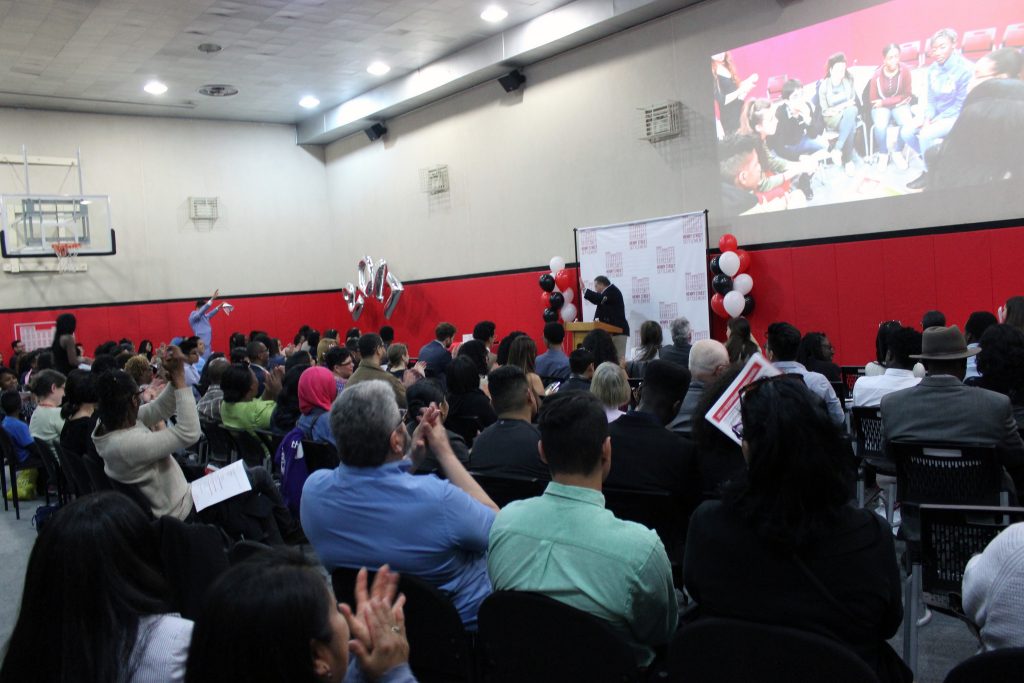 Above: David Garza leads the audience in a round of applause.
"You can certain that if you give me a microphone, I'm going to light it up a little!" said Garza, before diving into one of his signature raps, inspired by the scholarship ceremony*. (See below!)
The Settlement's Expanded Horizons College Success Program works with 9th through 12th grade students to get them into college, and with college students to ensure graduation in four years. Students from all levels of the program's eight-year model spoke about their experiences. The first two years focus on issues of social justice Ninth grader Makai Bryan said it "has broadened my horizons to real world problems and thoughts about solutions to change society. Topics like income inequality, gender roles, and racism allowed me to debate, engage and have deep conversations with others in hopes of teaching my peers about the system that surrounds us."
Tenth grader Nicole Gutierrez echoed the sentiment, saying that Expanded Horizons gave her the ability "to brainstorm solutions and imagine a future where justice and fairness are true.  This program has given me great advice about how to solve problems with family and friends and how to navigate the world as a young Latina woman."
In 11th grade, the program focuses on the college application process with campus visits and SAT preparation. Iyayi Aiyevbomwan, a junior, said "I am grateful for the chance to dig deep to think about the type of college that would best fit for me."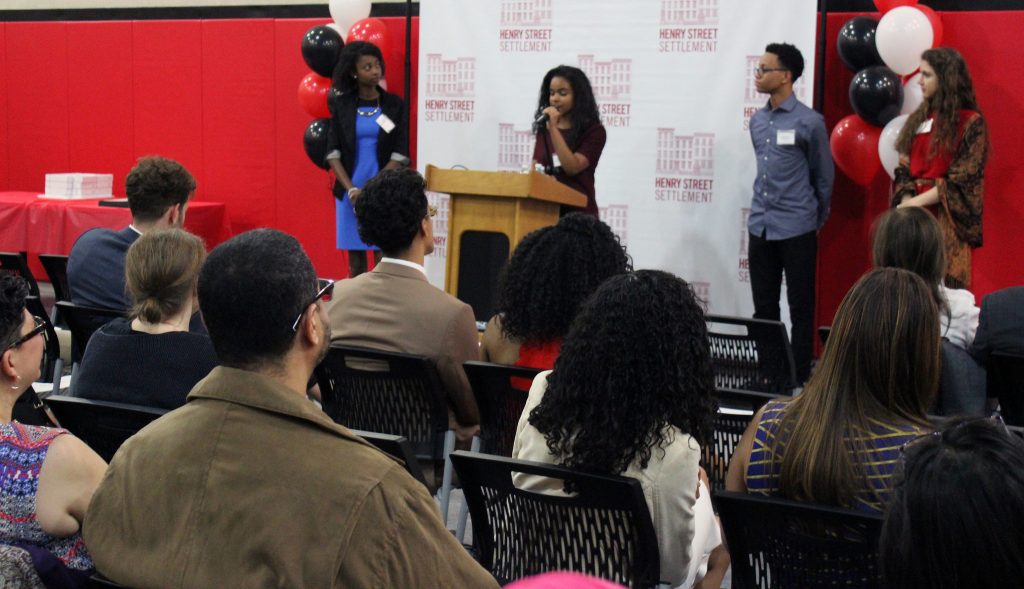 Above: Tenth grader Nicole Gutierrez, addresses the crowd; 9th grader Makai Bryan looks on.
The class of 2017 lauded the program's impact on their high school career and role in getting them into college. Tyler Correawhite, a rising freshman at Cornell University, said, "After all this support, I can say that I am now a woman who will continue to expand her horizons even after I graduate from Cornell University in four years. I cannot find words to express how grateful I am for the time you all have invested in us. All of your collective love and support has made this program feel like a second home."
Derek Hernandez, who will attend Colby College in the fall, told his peers, "I believe that we all deserve a round of applause for completing the college process and getting into college. For me, and for many of us, this would not have been possible without Expanded Horizons; they held our hand and, at times, dragged us to the finish line."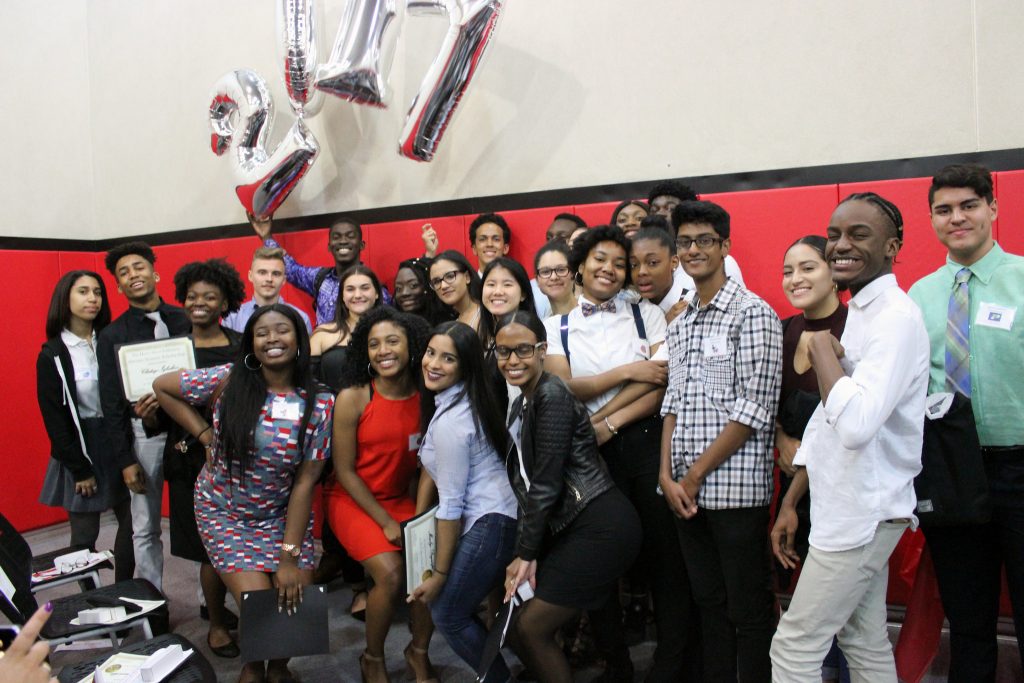 Throughout the scholars' college careers, Expanded Horizons maintains one-on-one contact to ensure that our scholars are thriving in their new environment. Alexander Torbov, who graduated this year from CUNY Baruch College, said, "I am so happy that I have had Henry Street Settlement by my side. I can easily call Henry Street my second home. Finding Henry Street Settlement was a blessing for my academic, career, and personal development."
*From the one to the two to the three to the four,
Tonight you'll get a scholarship to open up the door
Expanding your horizons to beyond what you can see:
College, grad school … universi-ty.
School's out for summer and that's a fact
But class ain't over, so don't sit back.
On your toes, head up, make sure you stay woke,
If you don't apply yourself, just might end up broke.
Life's a million dollar check, and you have the pen
Just for hitting the books again and again.
And it's not just measured by your back account
Integrity and compassion are paramount
To a life well-lived and to be considered wealthy,
So keep your body, mind, soul, and your spirit healthy.
This verse is from the heart, it's not just talk,
I spit it, don't forget it, I walk the walk.
The world is your oyster so open it up.
Life can be hard … but don't give up.
Lean in, lean out, lean on me ,
Ask for help…. because that's the key.
Success is a path, not a destination,
So congratulations, on your graduation.
A-B-C as easy as 1-2-3
You are tomorrow as far as I can see.
So get up, stand up and take a bow
Because you are the future and the future is now!