Hope and Heart Reigned at the Dinner Under the Stars
By Chelsea Jupin
The stars shone brightly both above and inside the elegant tented 125th Anniversary Gala Dinner on Henry Street the evening of September 13. Dear friends of Henry Street, supporters, community ambassadors, and even hip hop recording artist and activist yasiin bey gathered for a magical evening to celebrate the Settlement's milestone birthday.
"To the constellation of stakeholders in the room tonight, thank you!" Executive Director David Garza extolled to the packed tent. "It is you who makes Henry Street what it is."
True to our motto "keep the 'street' in Henry Street," the stylish, hyperlocal party unfolded in Sol Lain Playground, adjacent to the Settlement's historic headquarters. It began with custom signature cocktails from East Village hot spot Death & Co, as guests snapped photos against the "Humans of Henry Street" backdrop—a wall honoring people with long-time, deep connections to the Henry Street family.

Above: attendees take in the Humans of Henry Street.
Garza welcomed more than 275 guests—making sure to snap a selfie with the crowd and #FlatLillian—and thanked everyone for their efforts in keeping the Settlement open for the past 45,600 days. The majority of those days have included support from the Abrons-Aranow family, who received the Lillian Wald Legacy Award. The family's history with the Settlement dates back 122 years and continues today: their many contributions include the Abrons Arts Center and Abrons/Aranow Scholarship Fund. Accepting the award was Richard Abrons, vice chairman of our Board of Directors, who honored his parents—who met at Henry Street Settlement—saying that he takes this award "in the loving memory of Anne and Louis Abrons."
The Heart of Henry Street Awards were presented to longtime supporters Dale Burch and Pilar Crespi Robert. Garza called Board of Directors President Emeritus Dale Burch "the Cal Rikpen of Henry Street" for her presence, commitment, and consistent and outstanding support, which includes her family's generous gift toward transforming the firehouse adjacent to our headquarters into the Dale Jones Burch Neighborhood Center at Henry Street in 2020.

Above: Richard Abrons and Dale Burch receive awards.
Board of Directors Vice President Pilar Crespi Robert and husband Stephen Robert were honored for their support and leadership. Crespi Robert said, "Henry Street has always been at the heart of our work. Like many of you, we have seen their impacts firsthand. This is a time of great need to aid organizations like Henry Street." Stephen Robert received enthusiastic applause for his sentiments, "Henry Street is about hope and about empathy. Every day when I read the paper I see people killing hope and empathy, and that is not a world we want to live in. Organizations like Henry Street are the only antidote to that."
Board Chairman Scott L. Swid presented more Heart of Henry Street awards to longtime partners JP Morgan Chase & Co., Credit Suisse, UPS, The Clark Foundation, and Tiger Foundation, all of whom have provided decades of consistent support, reaching more than one million Henry Street program participants.
"Henry Street, our city, and our community would not be the same without these five partners," Swid said. Representatives from each partner organization each signed a new silver tray—a replica of the one that Lillian Wald received for her 70th birthday in 1937 and that is etched with signatures by Eleanor and Franklin Roosevelt among many other social reformers and friends of Henry Street.

Above: Heart of Henry Street awardees Stephen Robert and Pilar Crespi Robert; David and Heart of Henry Street awardees from partner organizations raise a glass.
Highlights of the evening included performances by the multigenerational Voices of Henry Street Chorus, a sneak peek at the return engagement of Jack & The Beanstalk, and hip hop dance from Rajé and Rajé Reborn Dance Troops, featuring Abrons students and performers.

Above: Voices of Henry Street Chorus and performers from Jack & The Beanstalk.
Legendary recording artist, activist and actor yasiin bey capped the evening with an intimate performance.

Above: Rajé and Rajé Reborn Dance Troops and yasiin bey.
Canard Inc. delivered a delicious evening with appetizers and dinner honoring the Lower East Side's rich food traditions and East Village favorite Death & Co created a signature cocktail for the event.
Happy birthday, Henry Street!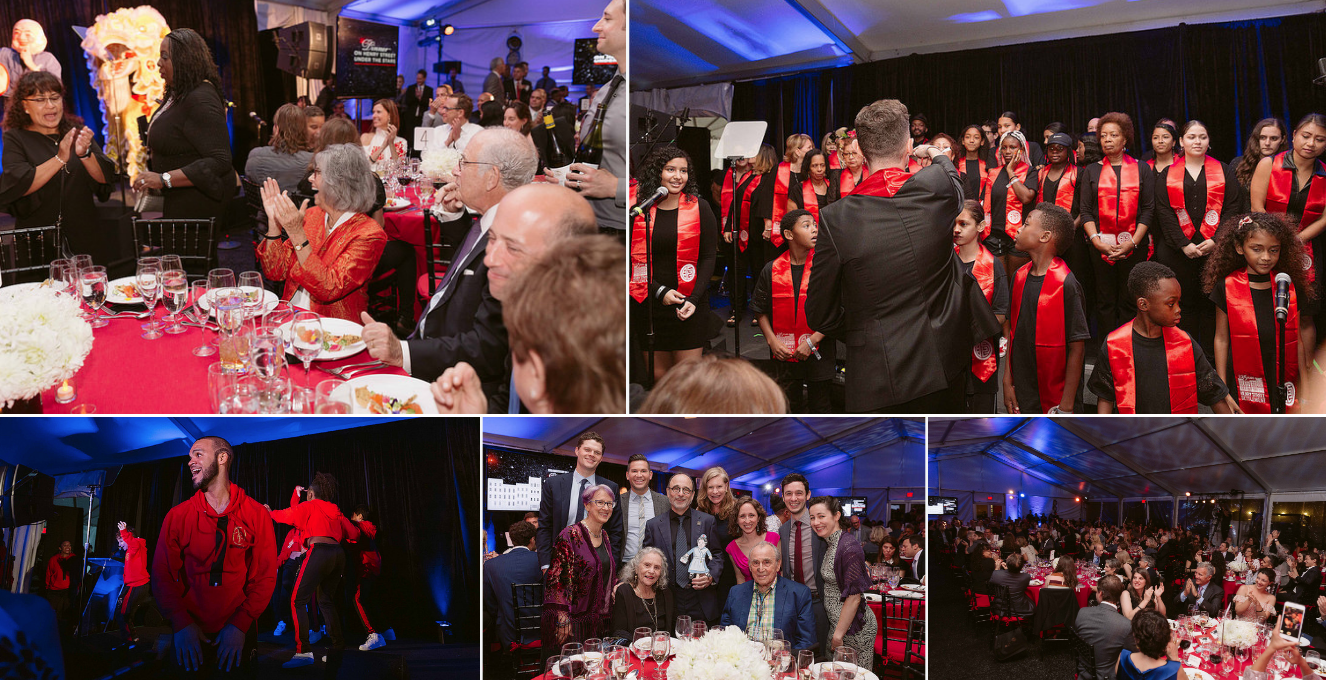 Click above or here for more photos.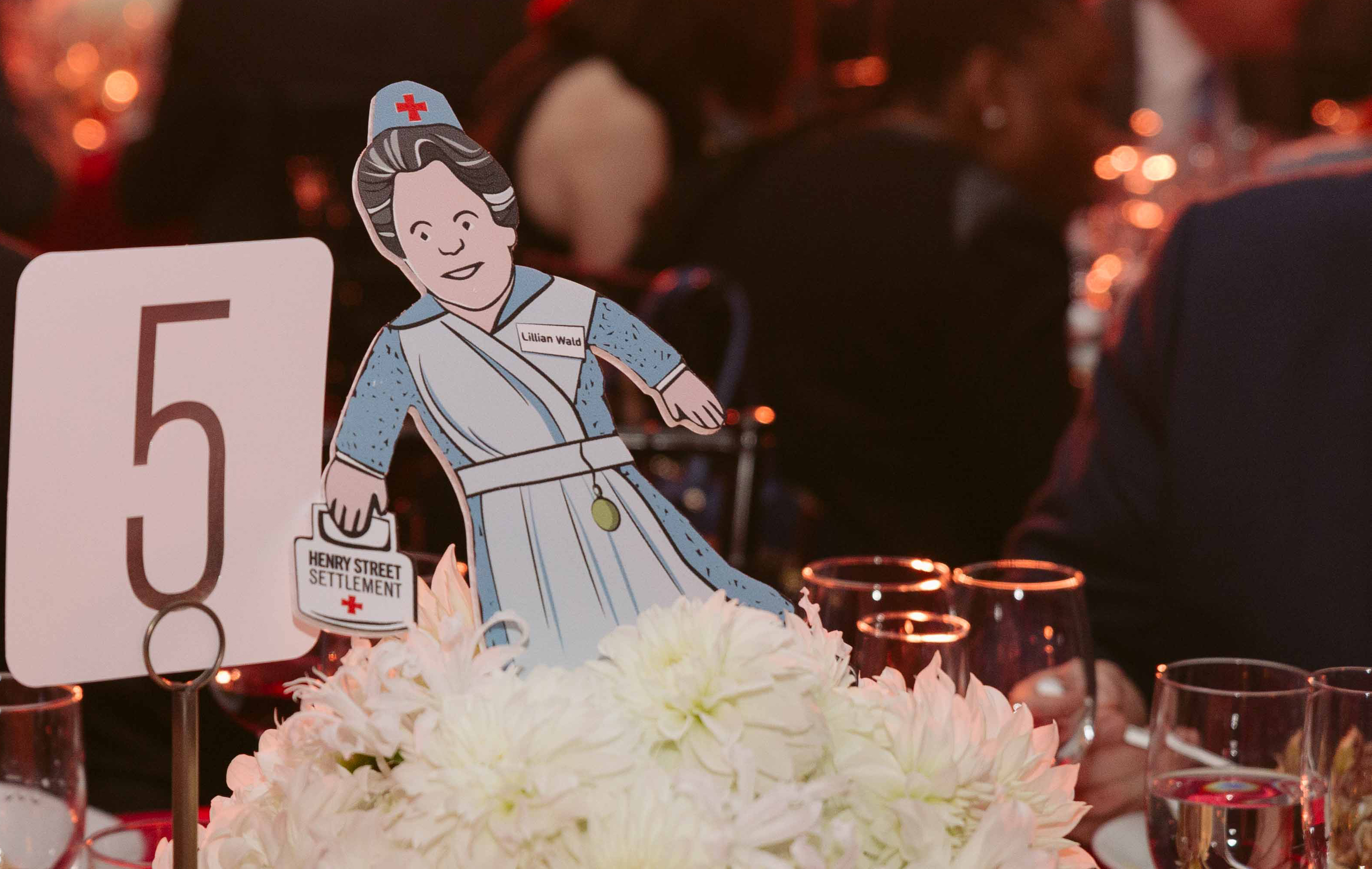 (All photos by Cesarin Mateo.)