How Do You Spell Success? W-D-C!
By Henry Street Settlement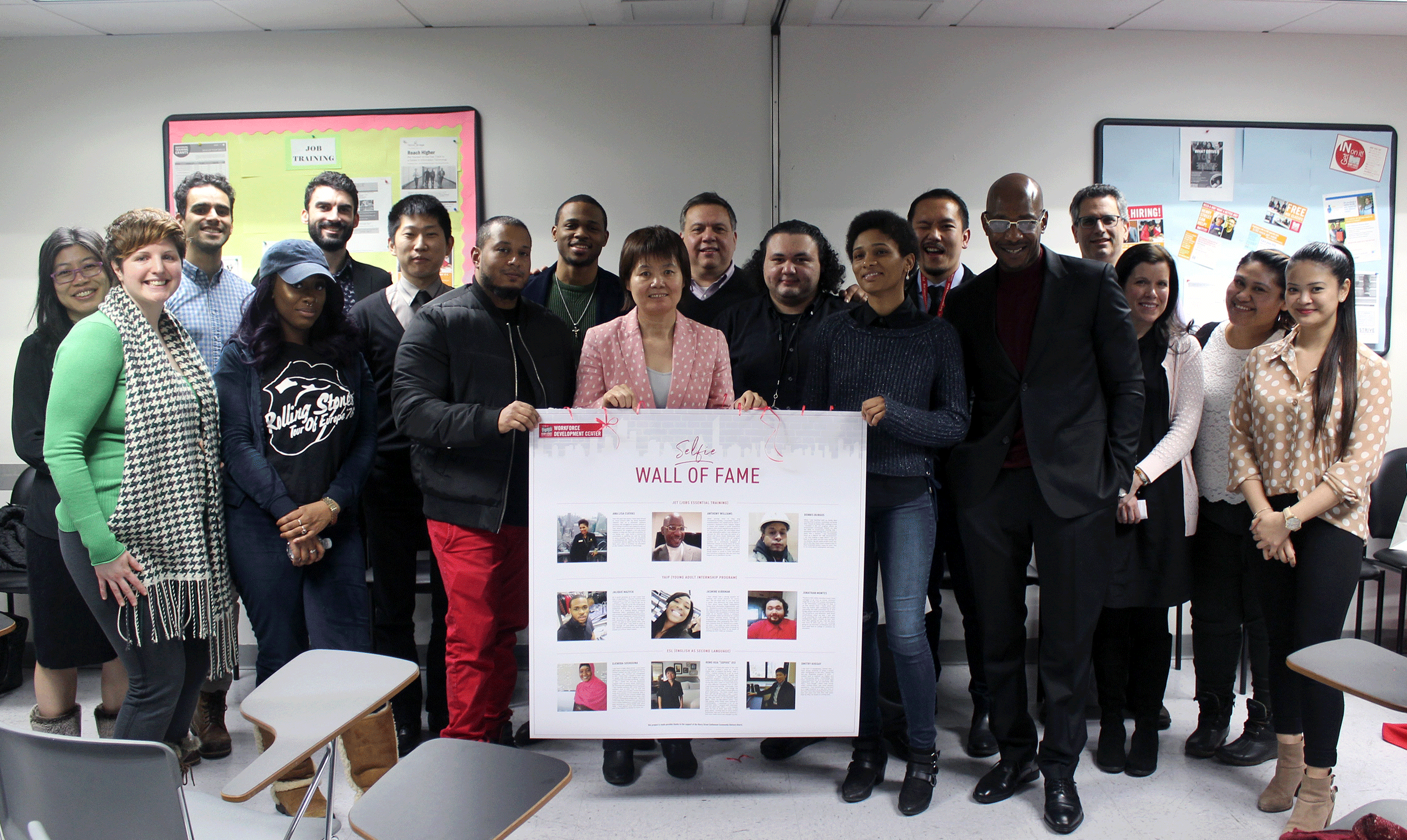 Attendees and honorees pose with the inaugural Wall of Fame banner. 
For many, the road to economic stability is fraught with challenges. But nine individuals – all participants at Henry Street's Workforce Development Center (WDC) – overcame obstacles and were inducted to the division's Wall of Fame. The ceremony – the first of its kind – was held on March 8, 2018, where the "wall" which features the photographs and stories of each honoree was unveiled. It will be permanently mounted in the division's lobby at 99 Essex Street.
All of the honorees have poignant stories of struggle and success. Two were formerly incarcerated; one was a gang member; three others, all immigrants, struggled to learn English to secure employment; one survived domestic violence; a few were disconnected youths – not in school or working – when they came to Henry Street.
Today, these individuals have transformed their lives. Those who didn't speak English now do, and all are employed in jobs they like (and even love). They shared their stories with those gathered at the ceremony, and all credited the support at Henry Street for making it possible. Please see below for all of honoree's individual stories.
"Henry Street opens doors of opportunity," said David Garza, Executive Director of the Settlement. "Your mission is to make sure that something happens on the other side, and it's clear that you've achieved your mission." Other speakers included Lisa Tomanelli, Director of Employment Services; Dan McKenzie, Program Director for YAIP and JET; Richard Verner, ESOL instructor; Caton McFadden, ESL Employment Coordinator; and Gaspar Caro, LES Employment Network Coordinator.
Jay Koo, Lead JET Employment Coordinator, who organized the event, said it best. "Walls are often meant to keep us apart," he said. "But this Wall of Fame is designed to connect us."
It is hoped that this inaugural Wall of Fame will be joined by subsequent ones featuring future success stories. The project was made possible by Henry Street's Community Advisory Board which awarded funds to bring the project to fruition.
Special thanks to JET Employment Coordinators Agnes Luna, Jessica Mendoza and Letitia Akens and YAIP Case Manager Maria Scazzero for helping to make the project possible.
The Workforce Development Center's programs include Job Essentials Training (JET), the Young Adult Internship Program, ESL, Jobs Plus and the Summer Youth Employment Program. For more information, click here.
View more photos from the event here.

L to R: Ana Luisa Cuevas, Anthony Small, Dennis Burgos, Jalique Mazyck, Jasmine Kirkman, John Montes, Djeneba Soukouna, Rong Hua "Sophie" Xiu and Dmitry Khegay
Ana Luisa Cuevas (JET)
Over the past two years, I have been forced to move around with my three beautiful children due to a domestic violence situation. We struggled to survive without a job to bring in income and a place to call our own. When I got connected to Henry Street Settlement's JET program, I not only found support to help me find a job to provide for my family, but I also found a community committed to uplifting me and my family in every possible way, from my emotional to professional life. Today I am working as a customer Service agent for the Top of the Rock and I plan to continue my education at the Fashion Institute of Technology.
Anthony Small (JET)
While serving a 30 year sentence in Sing Sing Correctional Facility, I committed myself to transformation—for myself and for others. I acquired a Bachelor's and a Master Degree in prison and created a youth awareness program that would expose young adults to the realities of prison life and inspire them to take alternative paths. I was released on January 26, 2017, and took the advice of a friend and Henry Street Settlement staff, Rafael Jaquez to enroll in the JET program where I learned the tools to acquire a position as a community navigator at Silberman School of Social Work at Hunter College. I now travel throughout the state, to different communities and prisons, giving presentations to inspire adults and young adults to enroll in CUNY education and workforce programs, like the ones that helped me to transform my life.
Dennis Burgos (JET)
When I was reunited with my family after serving time in prison, I promised my family that I would do better. With nothing to lose, I enrolled in the JET program where my employment coordinator helped me take the skills in construction training that I developed while serving time and translate them into a resume. I was immediately hired as a laborer for L&M Development. I am now making a wage where I can put food on the table and put away savings for my children. My job starts at 6am every day, and to this day I have never missed a kiss on their foreheads before I leave for work. This is my story about redemption and hope.
Jalique Mazyck (YAIP)
As a youth growing up in the Lower East Side of Manhattan, I became involved with street crews in order to survive, but I knew I needed a way out. I was facing potentially 30 years in prison. As a way to get out of the streets, I signed up for the Young Adult Internship Program (YAIP) at Henry Street Settlement which led to an opportunity to intern at a leading fabrics company, Fabtrends. After I graduated from YAIP, I was arrested, potentially facing prison time. Then a miracle happened: church members paid for my bail and JET connected me with resources to fight my case so that I would not have to serve prison time. Less than a month later, I was hired to work at Zara through JET and within six months, I was offered a promotion, and soon will be trained as a future Team Leader.
Jasmine Kirkman (YAIP)
I have always had a strong passion for makeup and would practice for hours, but I did not know how to turn that into a career. One afternoon my uncle shared a flyer about Henry Street Settlement's Young Adult Internship Program(YAIP), and so I decided to enroll. YAIP trained me with the skills to help me find an internship that was aligned with my passion in fashion and make up at Fashion Diaries, a company that provides make-up services for models on fashion runaway shows. Through my internship, I was mentored by top makeup professionals. After graduating from YAIP, I was instantly hired by Sephora as a makeup artist. I now wake up every morning to get ready for something I enjoy, knowing my work is bringing my closer to my dream of starting my own make up company.
John Montes (YAIP)
Thanks to YAIP, within less than a year, I have managed to go from an hourly, minimum wage job, to a job with a salary and benefits in the information technology (IT) field. It all first started when I heard about YAIP from my mother. After completing my YAIP internship, the staff connected me to Tech Bridge where I earned my two certifications, the CompTIA A+ and Network+. With those certifications under my belt, I was able to go searching for a job using the career development skills I picked up from YAIP. Even after getting the job, I felt like there was more to learn and so I am currently going for my Security+ certification and will soon head back to college to continue my education.
Djeneba Soukouna (ESL)
I was born in Mali, West Africa. I was never able to go to school as a little girl because my mother needed my help around our home. Eventually I got married and immigrated to NYC. I knew that I needed to learn how to speak, read and write English so that I could find a job and help my family. Luckily, in 2013 I joined the ESL-Job Readiness program here at Henry Street Settlement. My listening and speaking improved quickly. I also started working with some volunteer teachers here to learn how to read and write. In just a few months I could read and write short stories—it was amazing! After a while, I decided to join a Home Health Aide training class. At the end of the class, I had to pass a challenging written test. Because of the help that I received from everyone at Henry Street Settlement, I passed and have been working as a Home Health Aide since 2016. I have gained more self-confidence and it has helped my family so much too.
Rong Hua "Sophie" Xiu (ESL)
I came to the USA in 2008 from China. I worked 7 years as a Home Health Aide to support my family. After a while, I started looking for a job as hotel housekeeper, but my limited English was a problem. In 2015, I joined the ESL-Job Readiness program. I learned many new words and improved my interviewing skills. During this time I went on many interviews, but no offer. I kept trying and eventually, I was hired by a small hotel. Even though the salary was very low, I knew it would give me good experience. The hotel closed down less than a year. I came back to the ESL-Job Readiness program to get help and work on my interview skills again. Then, my big chance came. Two high-paying union hotels were looking for housekeepers. I practiced a lot and I passed both interviews and was given two offers. I now happily work for one of them and make a very good salary. Coming here to Henry Street Settlement was one of the best decisions I have ever made and it has changed my life.
Dmitry Khegay (ESL)
I was born in Kazakhstan, Central Asia. I have always dreamed of being a lawyer. After immigrating to the USA, I joined the ESL-Job Readiness program in 2015. I worked hard to improve my English and my interviewing skills. Fortunately, the team introduced me to a non-profit legal organization and I got an internship with them. Even though I didn't make money while I worked there, I got some valuable experience. Four months later, I was hired as a Legal Assistant at a law firm here in NYC and I have been working there for more than two years now (this time with pay!). Step by step, my dream is coming true.