HSS Shelter Employment Program Wins NYCETC Award
By Henry Street Settlement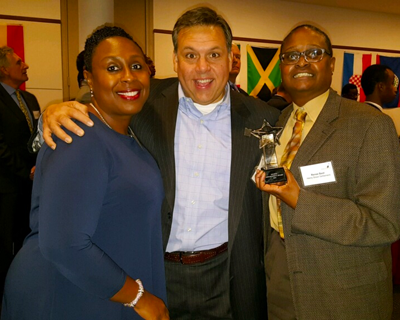 Henry Street Settlement's Shelter-Based Employment Program received a 2015 Opportunity Award from the  New York City Employment and Training Coalition (NYCETC) at the organization's award reception held last night in Manhattan.
The NYCETC Serving Special Populations Award was accepted by Renee Best, Employment Program Manager, along with Geniria Armstrong, Deputy Program Officer for Transitional and Supportive Housing, Diane Rubin, Chief Program Officer, and David Garza, Executive Director.
The Shelter Based Employment Program, launched in 2012 with seed funding from the Oak Foundation, is based at the Settlement's Urban Family Center shelter. Its employment counselors connect shelter residents to high quality jobs and educational and training opportunities. Using a collaborative, place-based approach for some of New York's most vulnerable homeless residents – disconnected youth, survivors of domestic violence and single mothers – Henry Street helps them find employment, a critical step on their journey to self-sufficiency and permanent housing.
"We are grateful to the NYCETC for recognizing our effective work in this area, and to the Oak Foundation to providing the support needed to improve the lives of our residents," said David Garza.