Jobs Plus So Much More
By Henry Street Settlement
Above: Kianna Flowers
As a 10-year-old, Kianna Flowers took cooking lessons at Henry Street's Boys & Girls Republic taught by local legends Debbie and Theresa Cox. "Their cooking helped to inspire the inner chef in me," Flowers says.
Fast forward to 2019: Flowers, now 27, is the sole weekday chef at the Kaplan House residential treatment home, operated by the Jewish Board, where she cooks three meals a day for 45 boys ages 17 to 21. It is the third job she has secured through Jobs Plus, Henry Street's workforce-development program for people who live in or near the Jacob Riis II and Lillian Wald Houses.
"I have complete control over the menus, so I have the freedom to explore and experiment and to hone my skills," says Flowers, whose favorite meal to cook is breakfast, which typically includes a fruit spread, eggs, waffles, and chicken.
She is among 610 workers that Jobs Plus placed in positions over the past three years, far surpassing its contracted goal. Top occupations include maintenance, human services, hospitality, construction, and retail—as well as a variety of positions at Henry Street Settlement itself.
Jobs Plus is a central component of the Settlement's workforce development program. Located at 24 Avenue D in the Riis II houses, where Flowers grew up, it makes essential connections between those who wish to work (but may lack the skills or confidence to do so) and employers who are hiring. Many of the program's participants face substantial barriers to employment—such as obtaining affordable child care, earning a high school equivalency diploma, addressing a past criminal record, securing stable housing, or having enough to eat.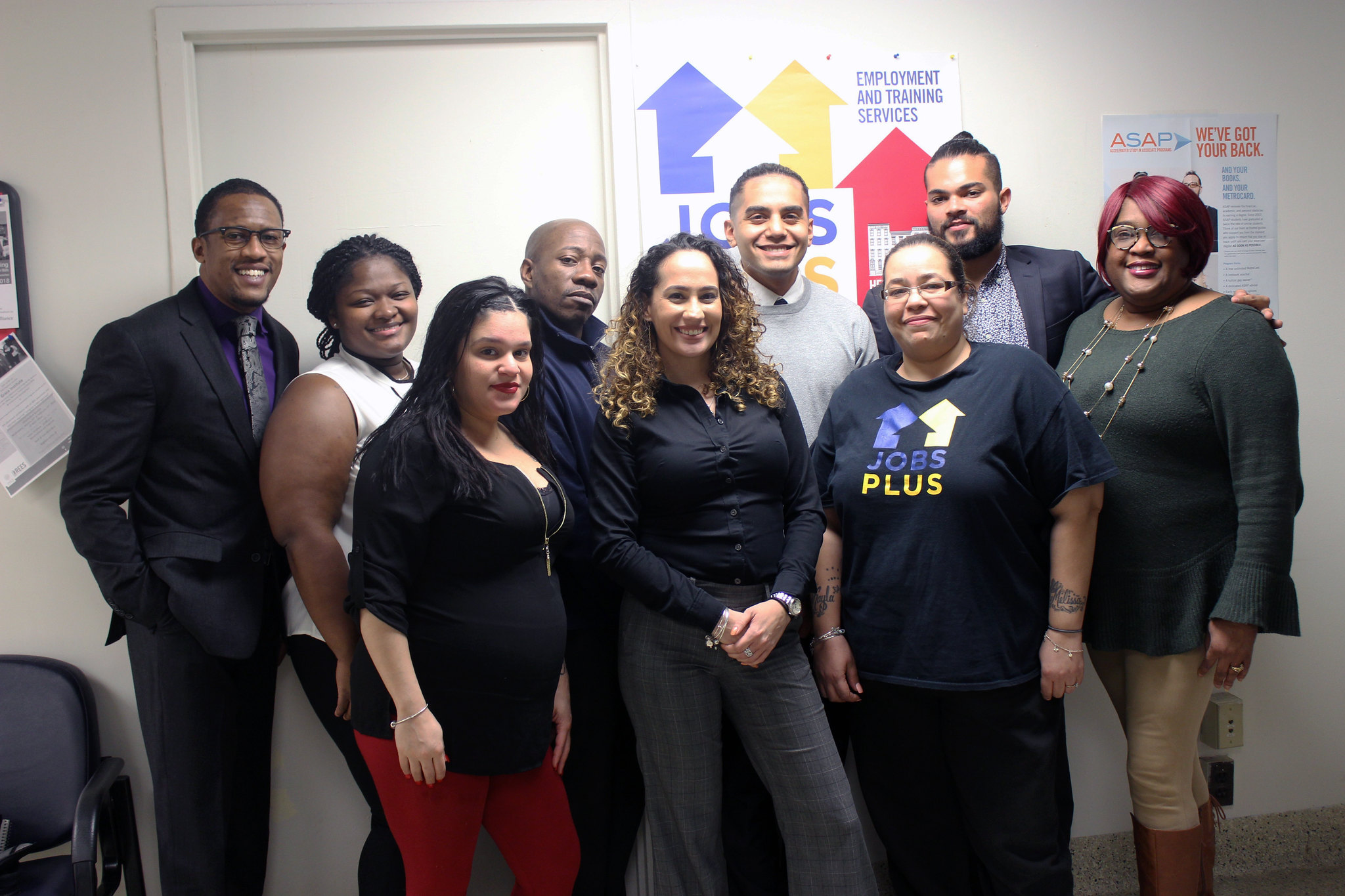 Above: Jobs Plus team members.
That is where the "Plus" comes in, according to Program Director Connie Mendez. "In a supportive environment, our dedicated staff and close community partners work one-on-one with participants, providing job training, career counseling, educational opportunities such as HSE classes, help with financial literacy and tax prep, and connections to needed social services, as well as job placement," Mendez says.
To top its job-placement goal, Jobs Plus widened its reach, says Assistant Director Doris Bell-Francis. An outreach coordinator and two community coaches, all Lower East Siders, pound the pavement—tabling, knocking on doors, and interfacing with other organizations—bringing the message of Jobs Plus directly to potential members and listening to their needs. Other team members network with employers throughout the city and at Henry Street to identify jobs. Often, their first step in connecting with potential members is to ask one crucial question:  "Will you have a cup of coffee and chat with us about your needs?"
To deepen its presence in the neighborhood, Jobs Plus established a community advisory board made up of families involved in Boys & Girls Republic (BGR) and Jacob Riis Cornerstone Community Center, both Henry Street youth programs on Avenue D. The advisory board organizes events beyond Jobs Plus's standard offerings—such as a project to make community members aware of the soup kitchens and food pantries in the area. The advisory board also helps host a back-to-school festival, where neighborhood students receive backpacks and other school supplies.
Before Flowers came to Jobs Plus, she was a lifetime Henry Streeter, though she didn't know of the program until a friend referred her to Raven David, a senior employment counselor. (It turned out she and David had been in the same cohort of interns in the Young Adult Internship Program!) In elementary school, Flowers had participated in afterschool and girls softball at BGR. She entered Double Dutch competitions, joined the Explorer Program with NYPD, and then interned at Duane Reade through YAIP.
While attending the New York City College of Technology, Flowers supported herself as a baker and restaurant worker. But after a particularly difficult restaurant job left her feeling burned out, Flowers knew she needed a change. A chief obstacle to applying for jobs was anxiety. "I felt like I was a terrible interviewer because I panic," she says.
David helped Flowers update her resume and then moved on to interview preparation. David insisted Ms. Flowers do mock interviews with Jobs Plus employees with whom she was not well acquainted so she could get used to responding confidently to questions from "strangers." Flowers went to the Jobs Plus office every day for a week to have Q&A sessions with various team members. When Flowers was sent on an interview to join the wait staff at Columbia University's Events & Catering department, she was hired on the spot!  To balance her irregular hours at Columbia, she also attained a steady job working at BGR in the afternoons.
"Every time I go to Jobs Plus, I get what I need," Flowers says. "Raven is always nudging me to do more. When I was scared, she pushed me and motivated me.  Honestly, it's such a good connective service; I've sent people there, too."
After several years working for Columbia and BGR, Flowers was ready for a job with room for growth, better pay, and a consistent schedule. Again she turned to Jobs Plus, which connected her to the Kaplan House. Though the work is difficult, Flowers enjoys the chance to serve as a teacher and social worker for the young men, especially when they get frustrated and lose their tempers.
For Flowers—whose father and uncle had attended BGR before it was a part of Henry Street—Jobs Plus was a logical step in a lifetime shaped by the organization. "The community changes, but Henry Street stays the same," she says.
To join Jobs Plus, call 212.254.4333.