Learning a High-Tech Building Trade in a "System" of Support
By Henry Street Settlement
[Image] The inaugural building automation class learned to program lighting systems for large, modern buildings.
When Nathanseth Cruz, 19, walks around town with friends, he sometimes finds himself saying things like, "Wow, I see a split system! I would have thought it was a boiler or cooling tower."
Like most people, Cruz never thought about how buildings worked until he became one of 21 students who graduated in September 2021 from Henry Street's 10-week intensive Building Automation Systems Training program. "It's been eye-opening," he says.
The inaugural class, selected from a cross-section of New Yorkers, enrolled in the program to prepare them with skills that will help them launch careers in the increasingly high-tech world of facilities lighting, air conditioning, heating, and ventilation.
This fall, the entire class received certification in automated lighting controls, and two-thirds have received the federal Environmental Protection Agency certification for handling refrigerant.
The program was led at Henry Street's Workforce Development Center by Stacks+Joules, a nonprofit organization that bridges opportunity gaps in the tech field. It was one of two job-training programs that the Settlement began in response to rapid changes in workforce needs (the other is a certified medical assistant program).
The partnership came about through a grant from NYSERDA—the New York State Energy Research & Development Agency—intended to bring under-served workers into the high-tech world of building efficiency. Students began by learning the coding language and logic of automated lighting systems. They then moved on to heating, air conditioning, and ventilation systems, with a particular focus on heat pumps, refrigeration, and split systems—taught by leading industry representatives who brought equipment into the classroom.
"The program is centered on automation, because the pandemic has accelerated automation across industries," says Mike Conway, executive director of Stacks+Joules and an instructor in the program. "Workers couldn't be in offices together and were beginning to control building heating, lighting, AC, and ventilation from offsite." Recent legislation mandating increased building efficiency has also created a need for workers skilled in these technical positions.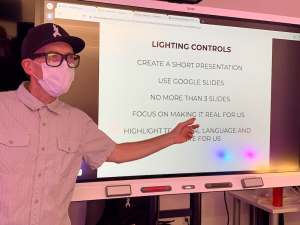 [Image] Mike Conway points to a slideshow with guidelines for a class project. 
The first cohort of students, who met daily, were of varied ages, abilities, and education levels; some were college educated, and some had not finished high school. Half were unemployed.
What they had in common was perseverance.
"We had an extremely high student retention rate, which is pretty amazing for a program that took place during the pandemic," says Migna Taveras, project manager of community employment opportunities.
Tavares attributes the students' success not to chance but to several interlocking factors, including the wraparound services Henry Street provided, ensuring that students could overcome obstacles they encountered. This was essential as some students had experienced significant recent traumas and losses, as well as family obligations, which Henry Street helped them navigate. Henry Street employment coordinators and caseworkers helped students address many of the barriers that might have kept them from keeping their commitment to the program.
"The students we brought in were those who wanted to develop a profession and career track," Taveras says. "We set expectations and created a safe place for them to share their personal struggles. Very early on we said that if any issues came up, we could help troubleshoot and resolve them."
Like Learning a New Language
When Nathanseth Cruz graduated from high school in 2020, he didn't have a career path. After learning from a friend about the buildings training program, he worried that his math skills were not strong enough. "But honestly, coding is not about learning math," he discovered. "You're getting an understanding of a new language, and you learn how the software is talking to components of the system."
Just two weeks after graduation, Cruz became the program's first student to land a position, with the Bronx-based Dual Fuel, combining digital work and hands-on maintenance.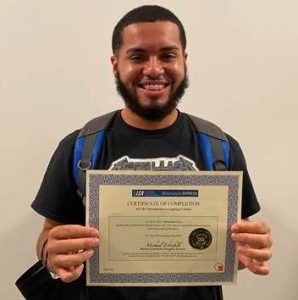 [Image] Nathanseth poses with his certification of completion for the Building Automation Systems Training program.
Conway notes that the people who are newly certified through Henry Street's program were those most likely to be left out of jobs in automation. "One of our core values is that talent exists in the communities that Henry Street is serving but is too often overlooked and underappreciated," he says. "We saw a validation of that value. When you get the educational delivery and support right, people's talent becomes obvious, and it becomes obvious to employers."
There remains a hands-on component to modern HVAC systems, and workers are needed to replace parts, update the software in person, and install or deconstruct systems. To teach the hands-on training components—and provide tours of their buildings' HVAC systems—Stacks+Joules brought in executives and technicians from several corporations, such as Enhanced Building Solutions, TEC Systems, Gil-Bar, SB Building Solutions, and MIH Systems Group, which had already expressed interest in hiring graduates of the program.  Those who complete the program may choose to focus on automated controls or equipment maintenance, depending on their interests and aptitudes.
Technical projects in the classroom were peppered with exercises to build much-needed confidence among students. Cruz describes an activity in which each student took turns facing the wall while the rest of the class provided positive feedback about them. "It was the first time I'd been in a teaching environment where they really focused on making you feel good," he says, adding, "The way the teachers taught the program, they made me want to be there every day. I would get there early."