LES Mobile Market to Bring Food Directly to New Yorkers
By Nicole Fogarty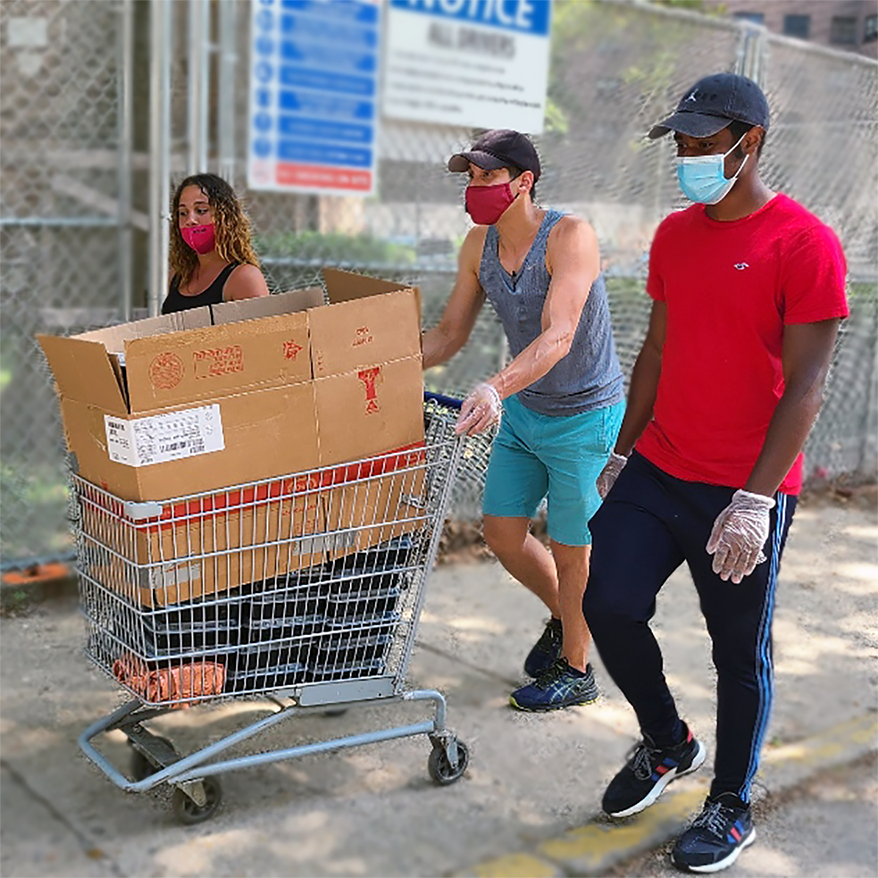 A new food-delivery program, launched on July 29, 2020, will help feed 200 Lower East Side families for a year. Henry Street Settlement, working with NewYork-Presbyterian, will operate the LES Mobile Market, which features biweekly grocery deliveries to bring healthy food to those experiencing food insecurity. The mobile market will also employ local youth as delivery staff and help connect families to all Henry Street services. The program builds on the Settlement's existing Community Health Worker collaboration with NewYork-Presbyterian, where an individual from the community works within their own neighborhood to advocate for and support the health needs of residents.
When the COVID-19 pandemic hit, food insecurity quickly emerged as one of the most pressing issues facing New Yorkers. Calls to Henry Street's Helpline confirmed this, with 90% of callers inquiring about how to attain healthy food without having to leave their homes and potentially exposing themselves to the virus. Henry Street rapidly expanded its Meals on Wheels delivery capacity and created several additional food programs under the umbrella Food Access Initiative, providing meals to its shelter residents and opening several food pantries delivering grocery items directly to community members each week.
Through the LES Mobile Market, Henry Street expands the reach of these initiatives. In coordination with NewYork-Presbyterian (which operates this effort citywide with several other service providers), the mobile market will deliver 40 pounds of food every other week to 200 families with children living in New York City Housing Authority (NYCHA) developments on the Lower East Side. Boxes include grains, lean proteins, fruit and vegetables, and shelf-safe milk.
Additionally, the mobile market will serve as a bridge to Henry Street's constellation of services, helping to connect recipients to opportunities most relevant to their needs, coordinated by a community health worker. NewYork-Presbyterian's aim is to address the factors that lead to poor health among lower-income families, and it will follow each family for 12 months to assess the effectiveness of the program.
A cohort of young people who live on the Lower East Side and participate in Henry Street programs are serving as delivery staff—an aspect unique to Henry Street's mobile market. With the city's summer youth employment landscape significantly altered due to budget cuts, paid opportunities for young people are more vital than ever.
In addition to the mobile market, the Settlement aims to bridge the gap in job opportunities for youth with several other initiatives: Community COVID Response Team (paid opportunities helping with Henry Street's COVID-19 response efforts), the ATTAIN Lab Summer Institute (paid computer training), and NYC Rambler (paid fashion design internships). ­
"The LES Mobile Market is an exceptional approach to the increased food insecurity we're seeing in our community. The fact that this initiative will not only serve as a sustained food source for hundreds of our neighbors, but also an employment vehicle for our young people, makes it a very meaningful endeavor. We are thrilled to work with NewYork-Presbyterian," says Jeremy Reiss, Henry Street's vice president for public policy and external relations.
"NewYork-Presbyterian is committed to working in collaboration with community-based organizations to address the needs of the communities we both serve," says Andres Nieto, director of Community Health Education and Outreach, Division of Community and Population Health at NewYork-Presbyterian. "Together with Henry Street Settlement, we are working to reduce health disparities and to address social determinants of health. With the fresh food delivery and Community Health Worker programs, we can reach the most vulnerable populations and help empower our residents to become self-sufficient. "
If you live in a NYCHA development on the Lower East Side with children and are experiencing food insecurity, you may be eligible to participate. Call the Henry Street Helpline at 347.493.2787 to get started—or to get connected to the Settlement's summer youth employment opportunities.