Lillian Wald Symposium Asks: Can New York City's Affordable Housing Crisis Be Resolved?
By Henry Street Settlement
Above: Henry Street Settlement Executive Director David Garza introduces the panel.
"We have no choice but to solve it," was the opening line from City Comptroller Scott Stringer at Henry Street Settlement's April 10, 2019, Lillian Wald Symposium, "The answer to the housing crisis is in the history of New York City itself."
Five expert panelists spent the next two hours debating ways to increase access to housing for low-income New Yorkers—many of these methods requiring new ways of thinking and significant new funding sources. Speakers including a city planning expert, historian, government staff member, community activist, and housing developer.
Stringer kicked off the fourth annual event, moderated by New York Times architecture critic Michael Kimmelman, with a stinging critique of current housing policy. New York once pioneered a successful form of housing for the middle class, Stringer said—the Mitchell-Lama program of the 1950s. The current administration, he says, has a worthy goal of building 300,000 new affordable units, but he lamented that for many of them, the income threshold is too high, leading to gentrification and homelessness.
Stringer has proposed that 85,000 units for people with an AMI [average median income] of $75,000 to $150,000 in the mayor's housing plan be shifted to those who make under $30,000, including the homeless.
Paying for this plan would require a progressive tax package, a revolving fund of $400 million to lower the AMIs, management of city-owned properties by nonprofits, and a fund to maintain the buildings.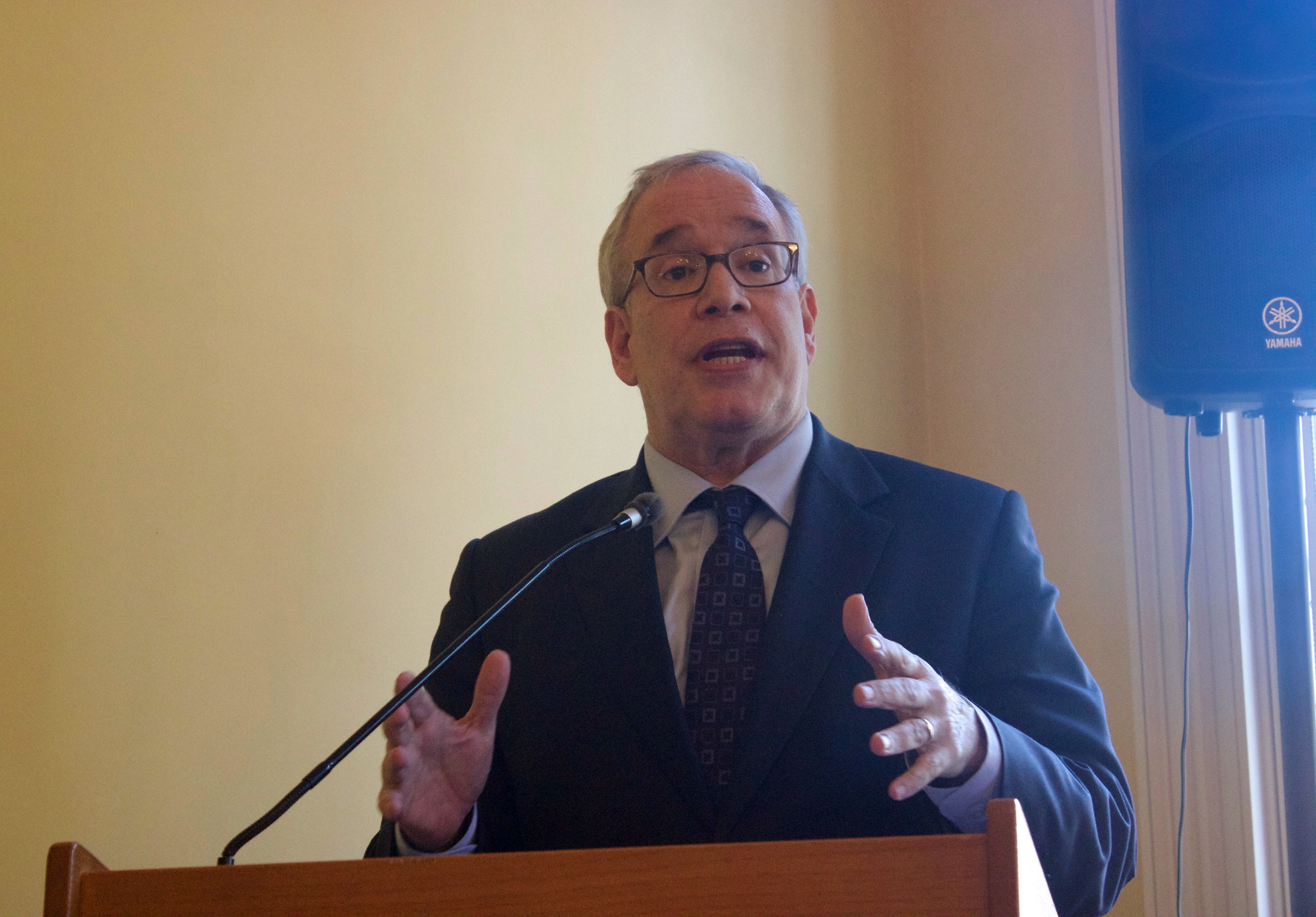 Above: City Comptroller Scott Stringer addresses the crowd.
Speaker Julia Duranti-Martinez of the New Economy Project explained that the model of community land trusts reimagines land ownership by considering housing a human right and a fundamental component of racial justice. CLTs are owned collectively by groups of people who then rent their own units. New York City has one such development, Cooper Square, comprising 400 units of housing created in the 1970s in resistance to Robert Moses's development plans.
Jaclyn Sachs of the Office of Neighborhood Strategies in the New York City Department of Housing Preservation and Development (HPD), noted that 20% of New Yorkers live under the poverty line, and one-third of New Yorkers pay more than half of their incomes to rent. "You would need to earn $35 an hour to have a market-rate two-bedroom unit," she said.
Sachs presented several strategies in the city's Housing New York 2.0 plan, including refinancing tools to better serve low-income New Yorkers, enabling more senior supportive housing, committing resources to protect tenants' rights, and promoting partnerships between city agencies and community stakeholders to identify affordable housing opportunities.
Sachs added that New York has the most progressive mandatory program in the country to ensure that a share of new housing is permanently affordable, and has financed more than 129,000 affordable housing units.
The Past Informs the Present
New York City was able to build a great deal of affordable housing from the 1930s to 60s because of a confluence of factors, according to historian Nicholas Dagan Bloom: Powerful city figures agreed that tenements had to be cleared for apartment buildings that would house low-income people. New, powerful agencies were built with the support of Robert Moses and wealthy financiers such as Nelson Rockefeller, and with deep federal and state subsidies. Architectural consensus that towers were better than tenements combined with neighborhoods that were not prepared to fight these changes made way for the changes. "A total of 180,000 units were built on the ruins of old neighborhoods," he said.
Then, during the 1960s and 70s, said Bloom, those conditions broke down. Tenements were acknowledged to promote vibrant neighborhoods, and there was greater recognition that the very poor and homeless needed housing.
At the same time, NYCHA and the state Housing Finance Agency faced financial difficulties. (Today, he said, the federal government's capital funding for the system is about $250 million a year, a number equal to the average need of one NYCHA housing development.) Federal and state housing funds were replaced with complicated credit programs, bonds, and incentives; and there was no longer architectural consensus that these types of buildings make sense. Moreover, neighborhoods gained more of a voice in what was happening around them.
A new paradigm for solving the housing crisis would require powerful new agencies, massive new taxes, and deeper subsidies, Bloom says.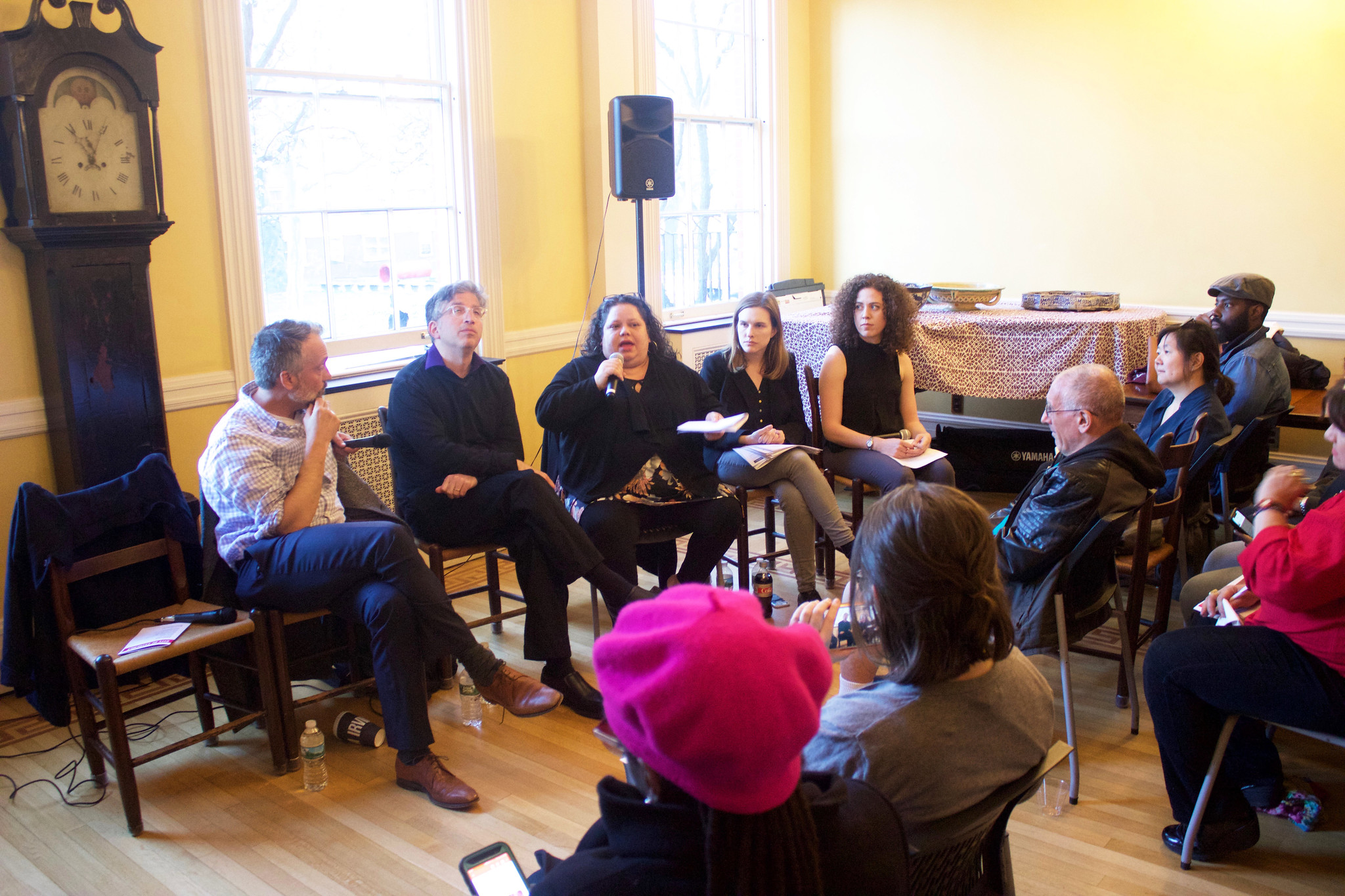 Above: panelists discuss housing.
Viewing Local Residents as Experts
"We describe our community as being under siege," said Damaris Reyes, executive director of Good Old Lower East Side (GOLES), "and a lot of that is tied up in the fight for housing and land use." The priority, said Reyes, is comprehensive neighborhood involvement in planning for the future, including the future of large developments. GOLES promotes housing that incorporates diversity of income and race and tries to make sure developers don't use the building of affordable housing as leverage to gentrify and displace the community.
"I think we can solve it, but what has to be at the core is the people. We are the experts, we know the living conditions," Reyes said.
She encourages developers to seek local expertise from the beginning of planning processes. "This is about comprehensive community and neighborhood planning….You can have affordable housing, but then no way for people to get their groceries."
As moderator, Kimmelman noted that every rezoning effort the city has released has met with resistance, because it seems these plans are often presented as a fait accompli as opposed to shared project of the community and City Hall.
Isaac Henderson, a director with L + M Development Partners, represented the builder that is overseeing Essex Crossing, a new nine-site development at Essex and Delancey—an area that was designated an urban renewal area in 1967, displacing thousands of people. When complete, the project will include over 1,000 units of housing, of which over 500 will be permanently affordable. In addition, the complex includes over 150,000 square feet of community space, including a new space for Henry Street Settlement's Workforce Development Center and other social service agencies in addition to major community and cultural sites such as a new Essex Market and International Center for Photography.
Henderson says the complex has been a partnership from the start, involving many people from local communities and government. "This shows what you do when you engage with community, plan ahead of time, and build that trust—that's what Essex is," he says. He noted that, in response to community input, Essex Crossing includes 200 units at 60% of AMI (as low as zero to $40,000 in income) and 100 units at 110% of AMI.
Kimmelman asked whether this model—one that preserves profitability–can apply to less gentrifying neighborhoods. "With smart planning, community engagement, and capital investments, you can take this model to other areas," Henderson said. "Still, you need to attract private equity, you need government subsidies and other mechanisms….What's wonderful about New York is the need for housing here is so tremendous…if you engage with the community and do smart planning, you can attract the capital to build it."
Seeking Novel Solutions
Sachs emphasized that city government has created a strategies beyond housing to address the crisis. For example, its program of universal access to legal assistance has led to a 27% decrease in evictions citywide since 2014.
Reyes believes that one of the problems plaguing public housing is a public-relations one. "The stigma erodes public trust in public housing and makes people not want to spend their taxes on it. In my opinion it's one of the most successful housing programs ever," she said to applause.
Kimmelman cited a new public housing program in Chicago, where proximity to libraries and affordable transportation broadens the appeal. "The words 'public housing' had become so toxic that people didn't want to live in it," he said, but having a library in its midst integrates people in public housing with the community as a whole.
Kimmelman asked whether CLTs are the solution, to which Martinez-Duranti noted that the challenges they face are similar to those of other affordable housing solutions: "In both cases, public subsidies are needed. It's an incredible amount of work to set one up, and it's still an emerging concept," she said.
To Bloom, a city of 8 million within a region of 80 million people requires a regional solution—that's where transportation policy comes in. "Deeply subsidized mass transit is part of the key," he says. "If we upgraded Metro North to be a low-cost system like the French system, places like Poughkeepsie and Newburgh could really grow and benefit from the overspill in New York. It's not talked about in affordable housing, but it should be."
Bloom added that collapsing transportation systems maintain exclusion. In Canada and Europe, he said, buses run everywhere, so there is greater access to various types of housing, jobs, and education. A new affordable rail line in London, noted Kimmelman, connects neighborhoods and disconnected jobseekers to the city.
Yet transportation improvements can lead to gentrification, Reyes added, as do other fixes, such as potted plants on a street. "How do you bring something good in and be mindful of the unintended consequences?"
That question guided the rest of the discussion. Kimmelman said that he's bothered by the word "gentrification" precisely because it is a positive to some, and yet to many people it's seen as a threat.
"I don't care what you call it," Reyes mused. "It's not just about the diversity of goods you can find affordably; it's about political power, services, and amenities you don't want. The affluent come in and don't like the things we have," she said. "They want the high-priced gym with a pool; they don't think the library should be there. Call it what you like, they all lead to displacement in the end."
Henderson described the unusual initiative by Essex Crossing to enable "right of return"—26 people so far—for those who had been displaced from the same site many years ago.
Yet ultimately, Reyes said, she does not believe that the best approach to affordable housing is through tradeoffs with development, because larger structural issues remain. "It's a good start," she said, referring to Essex Crossing, but emphasized that the community had to fight for the concessions given. "I hope we all take stock and learn from the mistakes so the next round will be even better."