Lillian Wald Symposium Asks: What Is a Living Wage?
By Henry Street Settlement
The 7th annual Lillian Wald Symposium, held Wednesday, April 13, 2022, brought together a panel of experts with divergent perspectives, including labor history, the arts, human services, and economics. Henry Street Settlement CEO David Garza kicked off the virtual event, emphasizing that this offering reflects the ethos of Henry Street founder Lillian Wald, who was known for bringing people from various walks of life around the table (her actual dining room table) to discuss important issues around public health, civil rights, and ways to fight poverty.
The living wage discussion, Garza said, has become particularly important since the pandemic laid bare the truth that people who had to keep coming to work were among the lowest paid workers. "Two-thirds of the people who work in human services are people of color," he said. "This is an issue of race, an issue of class, and an issue of social justice." Garza noted that Henry Street will raise its wage floor for its team to $22/hour starting in July 2022.
Moderator Paul Sonn, the state policy program director of the National Employment Law Project, introduced the four panelists:
– Raysa Rodriguez, chief program & policy officer, Federation of Protestant Welfare Agencies
– Maura Cuffie, director of strategic initiatives, guaranteed income, Creatives Rebuild New York
– Tsedeye Gebreselassie, director of work quality, National Employment Law Project
– Samir Sonti, assistant professor & historian, CUNY School of Labor & Urban Studies
Sonn set the stage, noting that the costs of meeting basic human needs—food, shelter, health care, and necessities like a cell phone—are out of reach for many New Yorkers. "The world has changed enormously since Wald's time," he said, adding, "Yet, a lot of the questions we're confronting right now are the ones she confronted more than 100 years ago…Lillian would recognize a lot of our work." 
Henry Street was part of a broad movement for social reform during the early 1900s known as the Progressive Era. In cities all over the country, reformers settled in communities affected by the "traumas of industrial capitalism," according to historian Sonti. Wald was active in a number of workers' struggles—particularly in the garment industry. There were no employment laws, including child labor laws, or union rights. Wald and her contemporaries' victories were sometimes struck down by the courts, but over the long term, things changed.
"A lesson is that all that effort ultimately did yield fruit in the 1930s with the New Deal and its basic worker protections, social security act, and fair labor standards act," Sonti said. 
Yet still, many of these laws excluded workers, including agricultural workers, who were often Black women.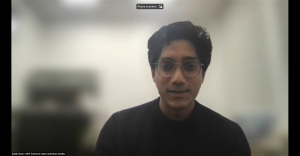 Above: Samir Sonti shares the historical background of the movement for labor rights.
To Rodriguez, of FPWA, a century after Lillian Wald many people still do not live a life of dignity. FPWA advocates for policy and provides support for human services organizations and emergency assistance for New Yorkers in need.
Looking at the history of the social welfare system, Rodriguez said, there has been much evidence that the social welfare system is organized around weeding out those who exploit the system. "We need to focus on shifting the narrative to the fact that the system does most of the exploiting." 
To Rodriguez, it is impossible to talk about living wages without looking at the full benefit system structure "and how it fails us and keeps people in an unbreakable cycle of poverty." 
When FPWA fought to raise the minimum wage, its leaders were warned of benefit cliffs—the idea that raising wages might make people lose benefits. The organization launched a benefits cliff research project that culminated in the report Pushed to the Precipice. Some highlights: In New York, there are some protections around the benefits cliff for SNAP (food stamps) and Medicaid, for example, but many detrimental regulations persist in the area of childcare. For families who reach 200% of poverty level or just above $40,000 annually for a family of three can lose critical childcare benefits. FPWA's research showed how the benefit system falls short in addressing the true needs of families, whether through eligibility gaps, administrative burdens, or hardship gaps. In the city's voucher system, for instance, there are people who are eligible for the city's housing voucher who still can't find housing security.
"Our system is not designed to allow for a dignified life," Rodriguez says, adding that her definition of "dignified" means the ability to provide a roof over your head, make sure there's food on the table, and to prioritize your child's health without loss of wages. 
Rodriguez summarized a quote from Nelson Mandela: Poverty isn't an accident. It's manmade and can be reversed.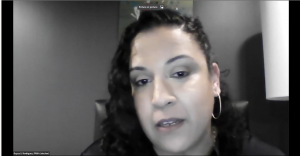 Above: Raysa Rodriguez of FPWA elaborates on a potential consequence of higher earnings: the benefits cliff.
A Rise in Worker Activism
Gebreselassie's organization, NELP, works toward enforcement of laws in the face of blatant employer abuse and wage theft.
Even today, she noted, restaurant workers receive two-thirds minimum wage so they have to rely on tips. Until recently, farm workers in New York were not entitled to overtime. 
"Violations are just rampant," Gebreselassie said. A recent study found that one-fifth of New Yorkers face significant minimum wage violations. "Because penalties are so insufficient, and enforcement so difficult, employers decide they're better off violating workers' rights."
A major factor in this system is that workers' voices are suppressed, she added. "The Amazon win [on Staten Island] was so stunning because it beat back all the legal ways employers can coerce and suppress voices."
New York City has seen a stunning number of worker victories, Gebreselassie said. Those include state laws around paid sick days and "Just Cause" legislation to ensure employers cannot fire people without a reason. Gebreselassie notes that if one is not in a union, they can be fired for any reason, which prevents workers from speaking up around wages and conditions. 
Gebrelassie added that what is particularly striking about the Amazon warehouse success is that workers were raising issues not only of wages: their demands were around surveillance, health issues in the time of COVID, and childcare accommodations. "This makes other people start to ask whether they should be in a union," she says.
Today, merely 6 percent of private-sector workers and 10 percent of all workers are unionized, Sonn noted. The fact that today's union organizing is happening at the grassroots level is inspiring, he said, and we have to take advantage of it. Moments like this don't come often and don't last forever. Sonn notes that people from low-wage fast food workers to journalists have been fighting for "just cause" protections.
The "federal government has completely abdicated its responsibility to raise the minimum wage," Gebreselassie said. That wage has been set at $7.25 an hour since 2009—the longest stretch since it was adopted in 1938. Now, 30 states and Washington, D.C., have raised it well above that, and 40 percent of the workforce is covered by $15/hour. But southern states, where a majority of Black workers live, are not among them. 
Guaranteeing Income for Artists and Gig Workers
Cuffie expanded on the theme of living with dignity, specifically for artists struggling to live in New York City. 
"Artists are vital to New York's civic identity; they are our neighbors, parents, caregivers," she said. Artists in particular face the precarity of the gig economy and wage theft. Creatives Rebuild New York is testing several strategies that relate to living wages for artists.
One of two programs is called the Artists Employment Program, which will employ 300 artists at $65,000 per year with benefits for two years. The program harkens back to SEATA—which funded employment of artists in the 1970s —in New York, California, and other states. 
The second program is Guaranteed Income for Artists, which will support 2,400 artists all over New York state, providing $1,000 per month for 18 months. Says Cuffie, a number of other guaranteed income pilots are taking place around the world; one, called the Bridge Project, provides salaries for mothers in New York City. 
"They give evidence of the power of regular cash payments to ensure wellbeing and financial stability." Cuffie says. One debate, she adds, is over whether guaranteed income could replace the safety net. 
Cuffie adds that there needs to be a shift in power in how artists' work is organized. For example, Creatives Build New York is experimenting with programs that let artists dictate what they need to spend their money on. They can use it to pay off debt, get supplies, or buy gas—whatever they need. 
One option for paying artists, she says, is a "3-2 model" where artists spend three days a week working for an organization and two working in their artistic practice.
Seeking Solutions in Wages—and Other Supports
Sonn asked the panelists, amid the highest inflation in 40 years and rents going through the roof, what other solutions could address the cost-of-living side of the equation—solutions like rent controls and "just cause" protections for evictions.
"Twenty-two [dollars per hour] is a significant step," said Rodriguez, referring to Henry Street's decision to raise its wage floor. "We need continued assessment of the true cost of living. And we need to be committed to a range of worker supports. It's childcare, housing vouchers, tax tools. It's raising wages and making sure worker supports are also in place."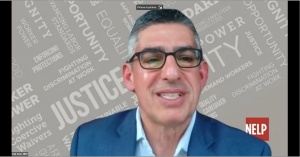 Above: Paul Sonn draws out similarities of today's gig workers and farm workers.
Shifting the discussion to gig (freelance) work, Sonn noted that New York City has begun to adopt some protections for gig workers, such as rideshare drivers being slammed by gas prices increasing. New York City has adopted minimum compensation standards for Uber drivers and also adopted the Freelance Isn't Free law, which supports fair payments as a first step toward making sure freelancers are not exploited. 
"This idea that some people are workers and others aren't isn't new," Sonti said, adding that farm workers have not historically been entitled to basic protections, enabling southern farmers to exploit their workforce. "Everyone who works is a worker, and there is power in that….however you are classified." 
Additional Strategies to Level the Playing Field
Speakers answered questions including one about the relevance of the 40-hour work week, a standard that Gebreselassie says came about in the move to ensure overtime for people who work above those hours. Bills have been introduced in Congress to shorten the workweek.
Rodriguez noted that schools are open from 9-3—a schedule that doesn't match most childcare needs. "It's part of the question of what's a dignified workplace, which COVID has enhanced," she said. "Maybe the solution is fewer hours; maybe it's more control over your schedule. It's all part of a package of giving workers control over how they work, which we can do in many more industries." 
Sonn noted that Governor Kathy Hochul's administration adjusted the upstate minimum wage as of 2022 [from $12.50 to $13.20], to keep up with rising prices and take into account greater worker productivity. In a similar vein, Gebreselassie noted, there is advocacy to rein in stock buybacks. Companies used to invest more in worker wages if they had a surplus; and now they tend to buy back their stock, leaving workers out.
The issue of tax policy as a leveling solution came up, with Rodriguez noting that the child tax credit available during pandemic was a lifeline that should be permanent, along with the Earned Income Tax Credit. Since a living wage does not address family size, tax credits for people with larger families is one way of leveling the playing field.
Prices are growing, said Sonti, but so is profit growth. "Excess profit taxes and controls on what businesses can charge for vital goods could go a long way toward controlling costs," he added, saying: Profits, taxes, and costs need to be viewed together.
To view the panel discussion, click here.