Lillian Wald Symposium Discusses Who Gets to Vote
By Nicole Fogarty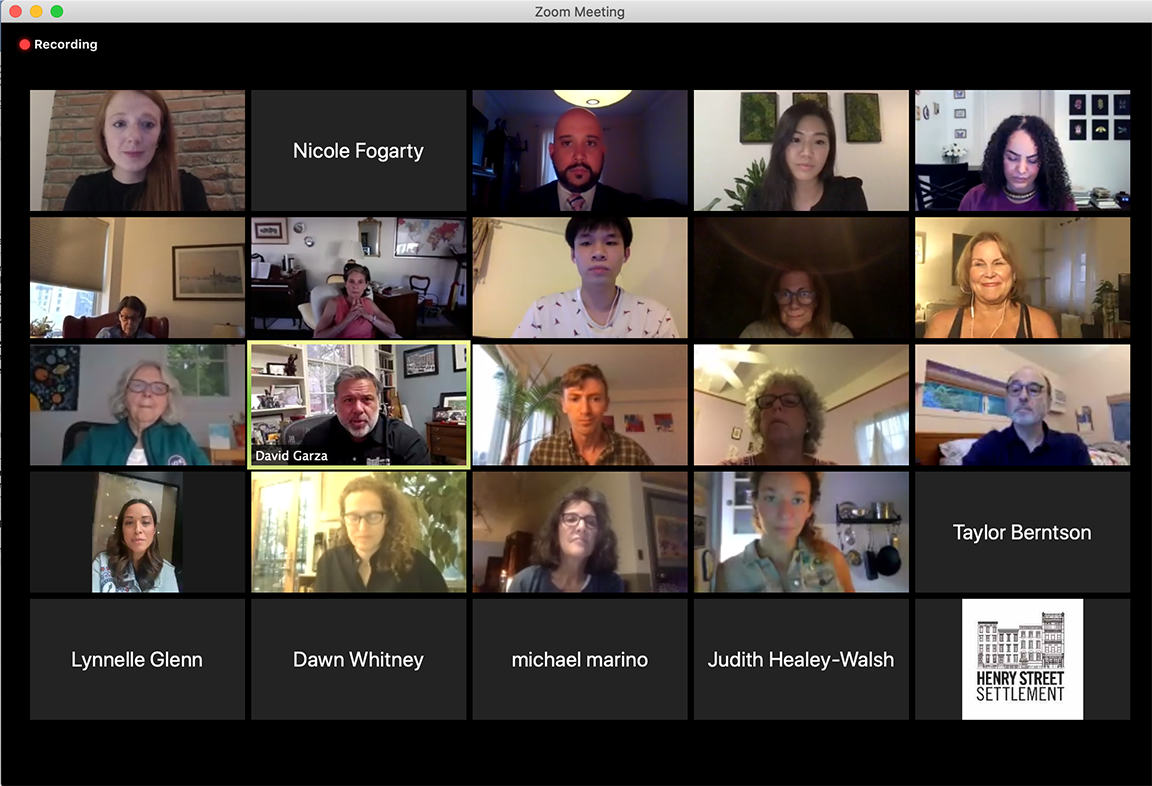 Henry Street Settlement President & CEO David Garza gives opening remarks at the fifth annual Lillian Wald Symposium, held over Zoom on September 24, 2020.
In the midst of a critical election year, heated discourse surrounding mail-in voting and voter access, and the coronavirus pandemic, Henry Street Settlement held the fifth annual Lillian Wald Symposium, titled, "Who Gets to Vote," over Zoom on Thursday, September 24. This virtual discussion saw past and present collide as panelists discussed the implications of the 19th Amendment, which celebrates its centennial this year, and the modern-day voting landscape.
The Symposium featured Sean Morales-Doyle, deputy director of the Brennan Center for Justice; public historian Dominique Jean-Louis; Wennie Chin, senior manager of civic engagement with the New York Immigration Coalition; and moderator Katie Vogel, the Settlement's public historian. Henry Street President & CEO David Garza gave introductory remarks, along with New York City Council Member Carlina Rivera.
Vogel provided a historical perspective, acknowledging that the narrative of women's suffrage disproportionally skews toward white women's organizing efforts and often erases the contributions of women of color. She then introduced Jean-Louis, who explained that women have always been politically influential, even before the 19th Amendment.
"Women have only been voting for a century, but have been politically active for much longer. It's important to think of all of us as political beings, regardless of the emphasis on who is allowed to engage in electoral politics," she said. Issues like temperance, public education, and racial violence often galvanized women into political activism, she added, citing Ida B. Wells as an example of the latter.
Jean-Louis, a firm believer in the power of biographical stories to illustrate history, gave inspiring examples of women of color overlooked by history who were full-blown, politically influential activists before they had full access to the vote: writer and journalist , writer and musician Zitkála-Šá (also known as Gertrude Simmons Bonnin), educator Sarah J. Garnet Thompson, and lecturer and journalist Maria W. Stewart.
Describing the various facets of civic engagement, Chin shifted the conversation to the present, citing examples like the recent surge in mutual-aid efforts around New York City as ways for those who cannot vote to become involved in their communities. Still, she explained, expanding access to the ballot box is a crucial step in ensuring everyone's voice is heard.
"It's a short list," she clarified of who can vote in America today, made up of the following eligibilities: you have to be a U.S. citizen, 18 years or older, live at your present address, not in prison or on parole for a felony, and not judged mentally incompetent. "These are man-made constructs—barriers built intentionally to keep people from voting."
Morales-Doyle added that we need to reframe how we think about barriers to voting. Obstacles are not limited to the poll taxes and literacy tests of pre-Voting Rights Act America or the voter ID laws of today. For example, the onus is on the voter to keep up their registration, and there are language barriers, age and citizenship requirements, and laws barring convicted felons or people currently incarcerated from voting. In addition, there are long lead times to register and accidental voter purges. The general public, he said, has been conditioned to accept these, when in reality these are just more creative suppression tactics that have evolved over the years.
"And, of course, we have a new barrier to voting in 2020: the pandemic, he said. One effect, Morales-Doyle explained, has been drops in voter registration this year, because people aren't going to the DMV, a common avenue for registration for New Yorkers. In addition, people are not out and about, getting registered by street teams.
An ideal world, he continued, would see widespread automatic voter registration—a move already approved in 19 states and the District of Columbia—where every time an eligible citizen interacted with any government agency, they would be automatically registered to vote or have their registration updated. A bill establishing automatic voter registration recently passed in the New York State Legislature, and awaits Governor Cuomo's signature.
In response to the pandemic, New York—along with many other states—has introduced widespread mail-in absentee voting. Chin acknowledged this advance and challenged the symposium Zoom room no longer to think of November 3 as Election Day; rather, "November 3 is the last day to vote. You can vote early; you can vote absentee right now. Your closest poll site is your mailbox."
Looking Toward the Future
Jean-Louis reflected on the power of momentum and its importance in movements like voting rights. "We're celebrating 100 years of women's suffrage, but so much had to take place before then to get it done," she noted, "And so much still has to happen. It's not about who led the movement or who got the most done; it's about who passed it forward."
The embodiment of "passing it forward," the closing speaker of the night was Lower East Side Youth Opportunity Hub participant Jeffrey Liao, who is working with Vogel and the panelists to organize a sequel to the symposium: a youth voter engagement event, also titled "Who Gets to Vote," to be held on October 3, 2020.
"I've already learned there are so many other ways to engage," he said, after inviting symposium attendees to join the youth discussion. "We're going to lay it all out for young people in a way they're familiar, but everyone is welcome."
RSVP for "Who Gets to Vote" October 3 at henrystreet.org/youthvote