Lillian Wald's Guest Book: The Many Faces of Progressive Era Activism
By Anna Schiff
Above: The method acting pioneer Constantin Stanislavski was just one of many fascinating visitors who signed Lillian Wald's guest book. 
Henry Street Settlement founder Lillian Wald's guest book was found in a dusty trunk at the Neighborhood Playhouse during the spring of 2019. The delicate binding of this unassuming floral guest book protects the notes and signatures of social reformers, artists, intellectuals, and nurses who might never have been connected to the Settlement had it not been for the book's discovery by the playhouse's archivist, Whit Waterbury. Some of the most famous signatures include the likes of Amelia Earhart and Eleanor Roosevelt. But other names—some largely forgotten to history—underscore the extremely lively and dynamic role the Settlement played as a hub for progressive thinking and thinkers in the early twentieth century.
Lillian Wald possessed a unique aptitude for creating community, and she was famous for the dinners she held in her dining room at 265 Henry Street, the same room where the NAACP held an opening reception prior to its first meeting in 1909. Wald hosted glamorous international guests around the same table as community members whom the Settlement served. Lillian Wald believed in the importance of forming connections between people from different backgrounds; it was one of her many methods of creating progressive action. Some guests came only for a short visit, and others stayed at Henry Street for weeks. This guest book offers a window into those historic dinners and meetings that took place during Wald's time at Henry Street Settlement.
At first glance, Wald's book contains many figures whom one would expect, given the Settlement's history: suffragists, nurses, educators, bankers. But buried within these pages of signatures is the truth of how varied Wald's visitors were, and how activism in the Progressive Era took on different and unexpected forms. Wald was visited by women activists known at the time for their same-sex relationships, Indian intellectuals who advocated for independence from Britain, the pioneers of method acting at The Moscow Art Theater, and even a radical Russian assassin who escaped from Siberia. The names of well over 100 signatories represent the multiple voices that informed and contributed to her work at Henry Street.
Wald was part of a vibrant community of Progressive Era women activists who would today be considered queer, lesbian or bisexual, though we cannot know for sure how they identified or thought of themselves. Wald herself had romantic relationships with women including Helen Arthur, a lawyer who was involved with Henry Street Settlement's arts center, and Mabel Hyde Kittredge, who worked with Wald to build the public school lunch system.  These women lived in a time when they would not have openly used these labels to describe themselves; yet, it would be a historical omission to ignore the importance of what would now be called queer activists in Wald's circle and the Progressive movement at large.
Among these activists were Lida Gustava Heymann and Anita Augspurg, who were partners and companions for over 40 years, from their meeting in 1896 until they both died in 1943. Augspurg was a lawyer trained in Zurich; she met Heymann (a women's rights activist) at the International Conference of Women. The two women worked in tandem as radical feminists, advocating against legal forms of prostitution in which women were exploited. The two were deeply involved in the German women's movement throughout their lives. They signed the guest book together in March 1924. Augspurg and Heymann unsuccessfully pushed for Hitler to be expelled from Germany in 1923, and they left Germany in 1933 when he seized power. They moved to Zurich where they lived together until the end of their lives.

"How I love this house with its splendid spirits and its splendid women, with its hospitality, kindness and activity in peace & freedom!"
Anita Augspurg wrote this note in Lillian Wald's guest book. She, like many, connected with Wald's deeply supportive network of women at Henry Street whom Wald called "the Family."
Another notable woman to sign Wald's book was Mary Rozet Smith, who was in a relationship with notable Progressive activist Jane Addams. Both Addams and Smith corresponded with Lillian Wald; they were close friends. Smith was born into a wealthy family and became an important progressive philanthropist; she acted as Addams's benefactor, enabling Addams to found Hull House in Chicago, where Smith later taught music. The two women were companions for the majority of their lives, and Jane Addams brought a portrait of Mary Rozet Smith with her everywhere she travelled. Addams and Smith were an essential part of Wald's community of women progressives who had same-sex relationships and remain an example of how romantic companionship took place between women at the turn of the century.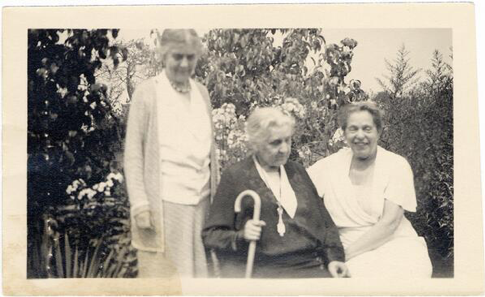 From left, Mary Rozet Smith, Jane Addams, and Lillian Wald.
Photo: TriCollege Libraries Digital Collection, ca. 1932
Several signatures were left by academics and activists from India who visited Henry Street Settlement in the 1920s. Although no literature explicitly links Wald to the Indian independence movement, the signatures of Rabindranath Tagore, V.S. Srinivasa Sastri, Basiswar Sen, and Christina Greenstidel—suggest that she was on some level interested in or supportive of the cause. These signatures also highlight the internationalism of the Progressive movement.
Rabindranath Tagore was one of the most influential intellectuals in India at the turn of the century. He was a philosopher, author, and poet who was close friends with Gandhi and intimately involved in the movement for Indian independence from Britain. Tagore was knighted in England in 1915 and later renounced his title to protest British policies in India. Tagore performed at Henry Street's Neighborhood Playhouse (presumably reading poetry) and signed Wald's guest book in 1920.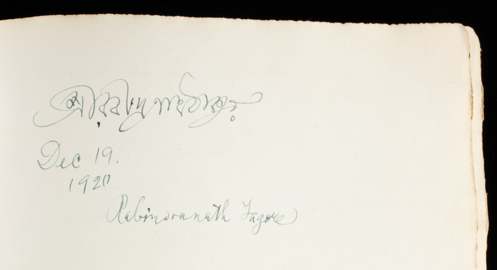 Rabindranath Tagore's signature
One of the unique characteristics of social work during the Progressive Era was that, in addition to attacking problems such as health care and housing access, activists supported arts movements and cultural projects.  Henry Street Settlement embodied this promotion of the arts through its work at the Neighborhood Playhouse, now Abrons Arts Center, where the legendary actor Constantin Stanislavski visited with his Moscow Art Theater. Stanislavski was the founder of what we now know as "method acting." He is widely recognized as one of the most influential actors and directors of his time. Henry Street's work in promoting the arts–and tying artistic opportunity to the full expression of humanity–continues today.
Lillian Wald's influence on nursing and nursing education is internationally recognized, so it does not come as a surprise that she was connected with several influential nurses and nursing educators. Two such nurses who signed the guest book were Charlotte Munck and Sophie Mannerheim. Both women were Scandinavian pioneers of nursing education. Charlotte Munck, who trained in New York under renowned nurse Anna Maxwell, helped to restructure Denmark's entire health care system. Sophie Mannerheim, who signed below Munck, is credited with transforming Finland's nurse training program. Mannerheim also advocated for unionization and workers' rights in the profession of nursing, serving as president of the International Council of Nurses from 1922 to 1925.
Lillian Wald was extremely well connected among philanthropists and high society in New York, but she was just as involved with radicals on the frontlines of the fight for social progress. Wald corresponded with and welcomed some notable radical figures into Henry Street, including the famous Communist Anna Louise Strong (who was a close friend of Mao Zedong) and the self-identified terrorist Marie Sukloff Yarros.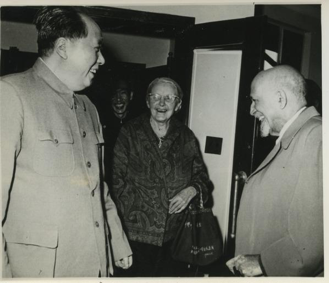 Mao Zedong, Anna Louise Strong, and W. E. B. Du Bois, ca. 1959.
Photo: W. E. B. Du Bois Papers (MS 312). Special Collections and University Archives,
University of Massachusetts Amherst Libraries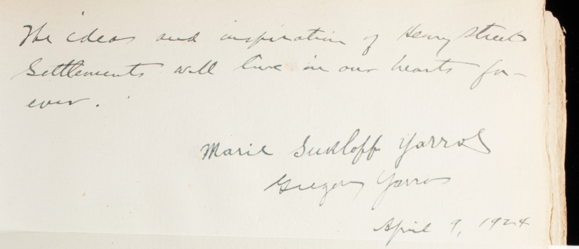 "The idea and inspiration of Henry Street Settlement will live in our hearts forever."
Marie Sukloff Yarros's note and signature
In 1914, Sukloff Yarros, an outspoken activist against antisemitism, bombed General Fyodor Dubasov, a Russian governor who was well known for leading pogroms against Russian Jews. Yarros was then arrested and sent to Siberia where she later escaped. She evaded the Russian authorities, travelling the world, and eventually visiting Henry Street Settlement–where she signed Lillian Wald's guest book–in 1924.
These signatures are more than just a collection of names; they resurrect the memory of the people who made Henry Street Settlement the legendary place that it was during the Progressive Era. Lillian Wald's famous dinners were fascinating in their day; now this book has breathed color into our vision of them. Instead of a vague, hypothetical network of progressives, we now have the penmanship of a Russian assassin, an Indian pacifist, a lesbian couple from Chicago, and so many more to help us craft our understanding of the scale and impact of Wald's community. These stories illuminate myriad perspectives that were vital to the foundation of Henry Street; they shaped the work that Henry Street Settlement began in 1893 and that it continues today.
Anna Schiff is an American Studies student at Georgetown University. She is the great-great-great granddaughter of Jacob Schiff, the most prominent initial supporter of Henry Street Settlement and close personal, lifelong confidant of Lillian Wald, who signed the first page of Wald's guest book in 1909. He wrote: "I have never been as proud, never been as happy concerning anything that has come into my life, than the cooperation it has been my good fortune and privilege to render the self sacrificing constructive work done in the Henry Street Nurses Settlement under the intelligent and efficient guidance of Miss Lillian D. Wald, God bless her!"