New Jobs Plus Program Director Brings Passion for Community
By Henry Street Settlement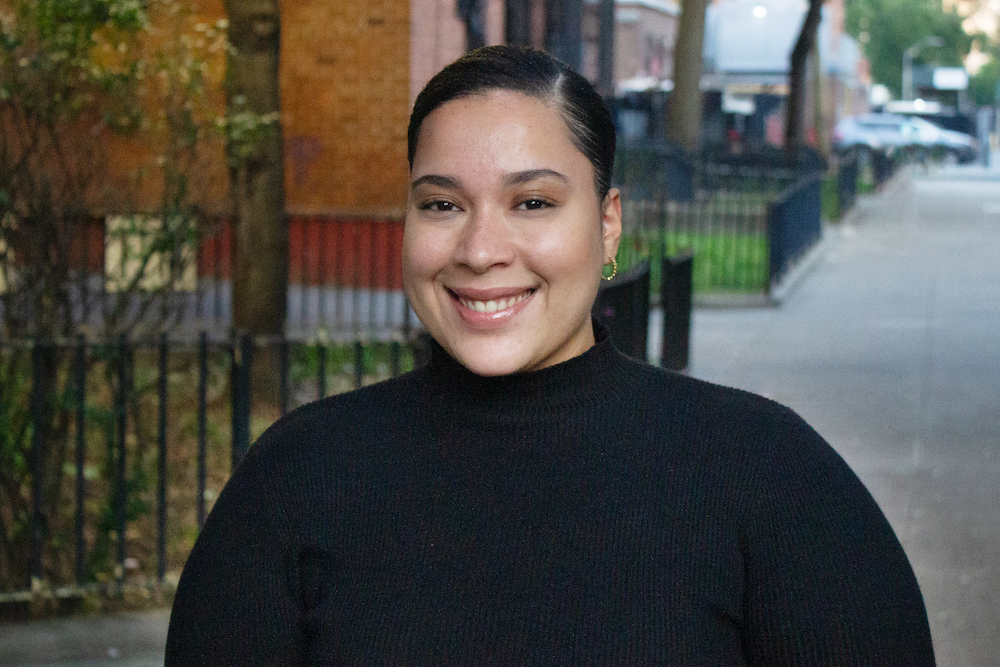 Maria Santana joined Henry Street in September 2023 as director of Jobs Plus Lower East Side, the Settlement's employment program for residents of the Lillian Wald and Jacob Riis Houses. Maria brings both a passion for and a track record of connecting jobseekers to meaningful employment to this program.
"What's really important to me is to support my community and communities alike through workforce development," says Maria, the daughter of Dominican immigrants from Haitian and African descent, who describes herself as a "proud Afro-Latina."    
Jobs Plus is a citywide workforce collaboration between the New York City Housing Authority and Human Resources Administration with 13 sites across 44 NYCHA developments. The program provides not only job-readiness services, such as resume and interview assistance, but wraparound support to help participants overcome barriers with the workforce, including financial literacy education and mental health services. 
"What's really important to me is to support my community and communities alike through workforce development."
A career in workforce development is something Maria says she fell into. Encouraged by her parents to set her sights high, volunteer in her community, and attend college, Maria enrolled as a pre-med student at the City University of New York. "I decided to study medicine because I thought it was one of the only ways to support my community. But ultimately, I fell in love with law and advocacy, which led me to workforce development."  
It was during her sophomore year as an America Needs You fellow when she was placed in a social services internship at the Resiliency Advocacy Project, an organization that trains youth to become social-justice leaders, when things clicked for Maria. Starting as a group facilitator and rising to acting executive director of the organization, Maria was exposed to a wide range of options in nonprofit work. She then went on to oversee a career development division at General Assembly, an international tech bootcamp and staffing organization as the North American outcomes manager.
"Maria brings a wealth of knowledge, from managing a highly technical and skill-oriented workforce training program, to Jobs Plus Lower East Side," says Connie Mendez, MSW, senior director of employment services at the Settlement. "We are confident in her team-oriented and outcome-driven work ethic to bring life-changing resources and opportunities to communities that need it the most."
Maria says Henry Street's culture of neighbor helping neighbor aligns with her goals as a program leader. "There's a difference between a manager and a leader," she says. "I aspire to lead a team that places a high value on nurturing interpersonal relationships, all while facilitating meaningful connections and success for clients."   
Outside of work, Maria is pursuing her master of public administration degree through John Jay College, and she aims to visit a new country every year—whenever she can.