New Ramp at Good Companions Senior Center
By Chelsea Jupin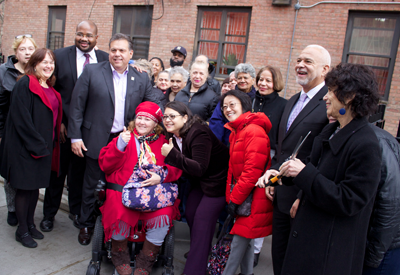 The Good Companions Senior Center received a holiday gift they've been hoping for- a brand new entrance ramp! The ramp was open for business at a ribbon cutting ceremony on Friday, December 18 at the Senior Center.
On hand to celebrate were New York City Councilwoman Rosie Mendez, NYC Councilwoman Margaret Chin, Deputy Manhattan Borough President Matthew Washington, and representatives from NYCHA, as well as the Center's devoted senior population.
"Providing a safe means of access to the seniors we serve is vital," said David Garza, Executive Director. "This new ramp accomplishes this, allowing seniors to safely enter the Center to enjoy the myriad of exciting programs and delicious meals offered there."
Good Companions Senior Center is a multi-lingual and multi-cultural center that has been serving the needs of the Lower East Side's senior community for over 60 years by offering a variety of activities and social services.