New York City is Back With an Exciting Return to The Art Show
By Henry Street Settlement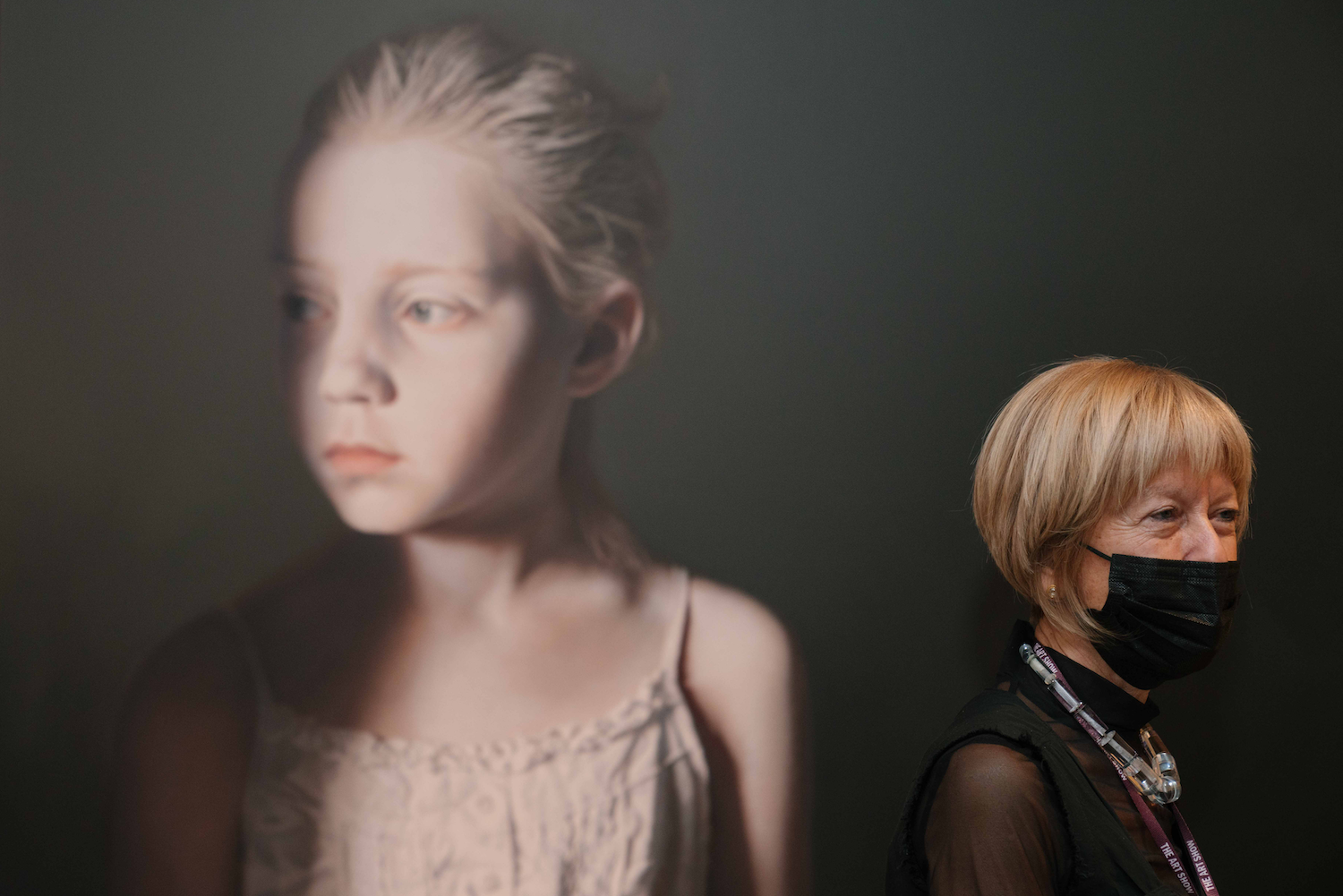 Above: Guest stands in front of  Gottfried Helwein's Midnight in the Garden of Good and Evil (2021) at The Art Show 2021 Benefit Preview. Photo by Cesarin Mateo.
The Art Show 2021 Benefit Preview, Henry Street Settlement's largest annual fundraiser, opened on Wednesday, November 3, inaugurating new fall dates on the calendar and creating a joyous return for 1,500 artists, collectors, celebrities, philanthropists, and long-time Settlement supporters who filled the elegant Park Avenue Armory for the 33rd annual event. The Preview allows guests to experience the nation's longest-running and most important art show before doors open to the general public from November 4–7. View the full BFA photo album from the Preview here. 
Above: Actors Fran Lebowitz and David Cross served on The Art Show Host Committee. Photos by Brendon Cook for BFA. 
The festive celebration at the nexus of art and philanthropy, organized by the Art Dealers Association of America with support from lead partner AXA XL, a division of AXA Group, raised more than $1 million in unrestricted support for Henry Street's programs through ticket sales and contributions that will provide vital support for Henry Street's transformative programs. 
Additional funds will be raised through an auction featuring two extraordinary works–an Henri Matisse drawing generously donated by The Pierre and Tana Matisse Foundation and a Rudolf Stingel painting generously donated by the artist. Works are on view at The Art Show and will be sold at auction in the Sotheby's November Day sales on November 17 and 19.

Above, left: Board member Pete Ruegger and wife Becky Ruegger, CEO David Garza , and board members Dale Jones Burch and Melissa Burch. Right: Producers Laura Perlongo and Nev Schulman served on the host committee. Photos by Brendon Cook for BFA. 
Art Show guests enjoyed more than 40 solo presentations, as well as an array of dual, thematic, and group exhibitions. This year's exhibitions range from explorations of twentieth-century art-making in Brazil and Mexico to a collection of more than 400 years of prints, drawings, and paintings by key figures of art history.
Art Show guests sipped wine, champagne, and a refreshing signature cocktail, the Henry Street Paloma (featuring tequila, grapefruit juice, agave, lime, and sea salt), catered by Canard, Inc., while perusing the art brought together by more than 72 galleries from around the world.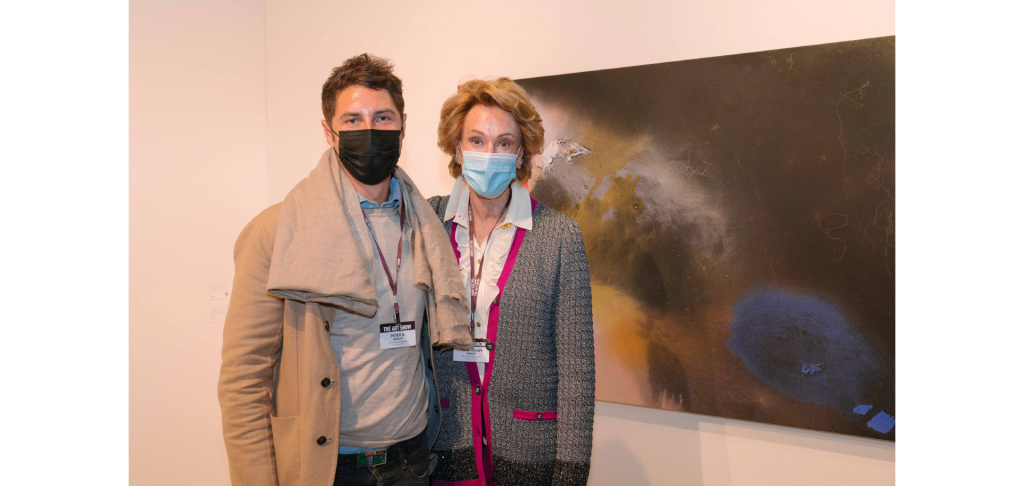 Above: Above: Board members and Art Show committee members Peter Brandt and Pilar Crespi Robert. Photo by Cesarin Mateo.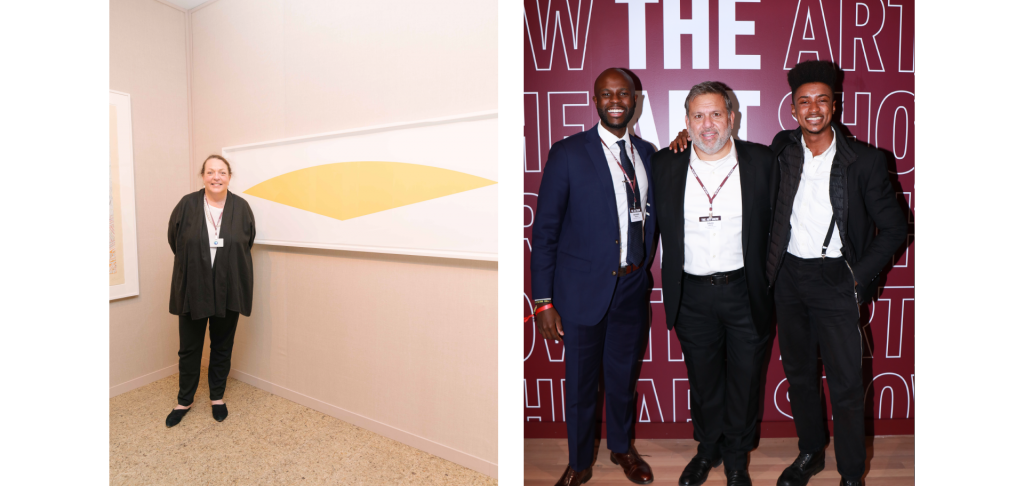 Above, left: Gallerist Susan Sheehan shows a piece by Ellsworth Kelly in her booth. Photo by Cesarin Mateo. Right: Young Collector Committee member Mohamad Merilan and guest Jonathan Batchelor with Henry Street Settlement CEO David Garza (center). Photo by Brendon Cook for BFA.
Proceeds from Benefit Preview tickets, the auction, and daily admissions support Henry Street's social service, arts, and health care programs that serve more than 50,000 people each year. "Henry Street Settlement joins the ADAA in embracing our return to the Park Avenue Armory in a deeply meaningful opportunity to support community members in need," said David Garza, the Settlement president and CEO. "For 33 years, The Art Show has served not only as a seminal New York City cultural event but the largest source of unrestricted funding for Henry Street. During the pandemic, this funding allowed us to keep our doors wide open and our services uninterrupted; in fact we have significantly expanded programming—opening three food pantries, providing emergency cash assistance to unemployed workers including undocumented individuals, and taking on new mental health and job-training programming. As ever, Henry Street is grateful to the ADAA and The Art Show patrons for sustaining this tradition of combining a world-class art experience with support for New Yorkers in need."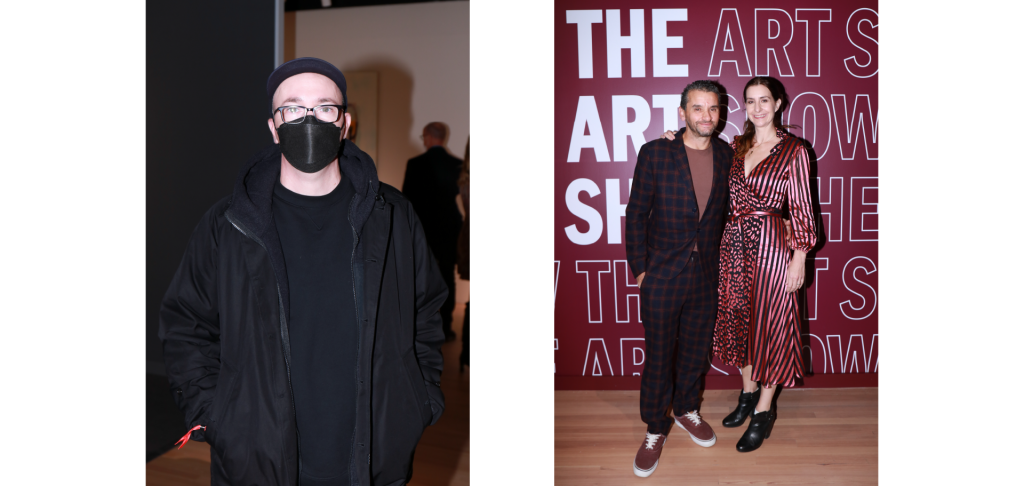 Above, left: The artist KAWS, a long-time friend and supporter of Henry Street, was our CINEMAtheque featured artist in 2018. Right: Artist Lee Quiñones and his wife, the journalist Tamara Warren; Quiñones was the featured artist at the 2019 Henry Street Social. Photos by Brendon Cook for BFA. 
Henry Street is deeply indebted to lead partner AXA XL, lead sponsors Evette and Scott Ferguson and Renate Hofmann Article 3 Charitable Trust; sponsors Bloomberg Philanthropies, Ropes & Gray, LLP, and Tory Burch LLC; Diamond Circle donors Mitzi and Warren Eisenberg, Agnes Gund, our board co-chair Ian Highet and Lea Highet, Steven and Wendy Langman, The Poses Family Foundation, and our board member Pilar Crespi Robert and Stephen Robert; and many other generous sponsors and donors.
Spotted at The Art Show were artists KAWS and Lee Quiñones, actors Fran Lebowitz, Stephanie March, and David Cross; philanthropist Agnes Gund, producers Nev Schulman and Laura Perlongo; and fashion designers Nicole Miller, Elroy Gay, and Camilla Staerk.
Co-chairs for the event were Mitzi and Warren Eisenberg, Katherine Farley and Jerry I. Speyer, Steve and Kathy Guttman, Janine and J. Tomilson Hill, Pilar Crespi Robert and Stephen Robert, Kaki and Scott Swid, and Anita and Byron Wien.

Above: Guests engaging with artwork at The Art Show 2021 Benefit Preview. Photos by Cesarin Mateo.
The Art Show, established in 1989, is the nation's most respected and longest-running art fair, featuring museum-quality exhibitions of Impressionist, Modern, and Contemporary works. It is open to the public from Thursday, November 4 to Sunday, November 7; Thursday and Friday noon to 8 p.m., Saturday noon to 7 p.m, and Sunday noon to 5 p.m. Admission is $30. All daily admission tickets directly benefit Henry Street and are available electronically here or at the Armory, located at 643 Park Avenue at 67th Street.
To view and bid on the auction pieces, click here and here.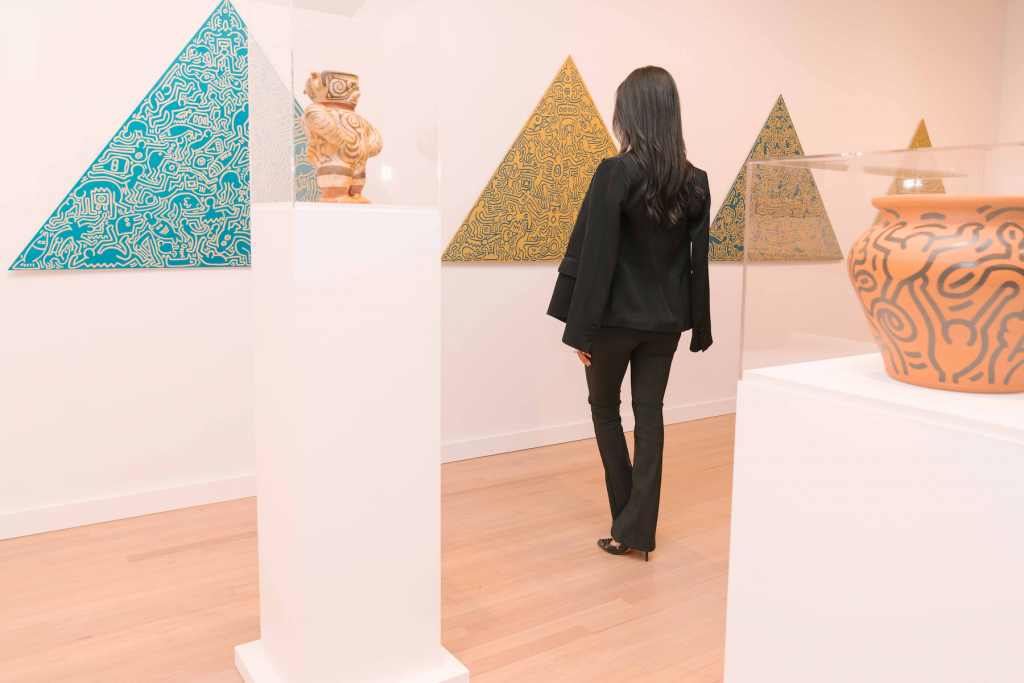 Above: Guest engaging with artwork at The Art Show 2021 Benefit Preview. Photo by Cesarin Mateo.