NYCHA Arts Initiative Opens Doors for Lower East Siders
By Henry Street Settlement
Aleena Torres is taking dance classes at Abrons Arts Center.
Aleena Torres, 10, comes from a family of performers. She always says, "One day I'm going to be famous like my dad." From her outgoing and friendly demeanor, you wouldn't know she lost her mother in June 2021. "The past couple of months have been really hard on her," says her father, Edwin Manuel Torres, a musician who performs under the name Cipha Da Lyrical. 
Being enrolled in dance classes at Abrons Arts Center has offered Aleena a creative outlet in coping with her mother's death and the mental impact of being a young person in a pandemic. When she's at Abrons, "she doesn't have all that time to think about what's been going on and all the hurt," says her dad. A friend of Edwin's told him about the NYCHA Arts Initiative, which offers free classes at Abrons to residents of public housing on the Lower East Side.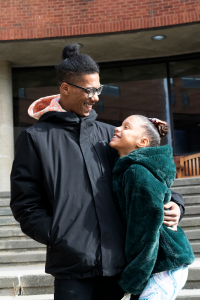 A core program of Henry Street Settlement, Abrons celebrates the idea that access to the arts is essential to a free and healthy society. It has always strived to provide free and low-cost programming while supporting living wages for its teaching artists. Still, when families have to choose between paying for basic needs and the arts, the arts often take a back seat.
Therefore, in 2021 Henry Street created the NYCHA Arts Initiative to offer free, unlimited group classes (with a one-time registration fee of $25) for public housing residents, thanks to funding from the Arts and Letters Foundation and The Sheehan Family Companies. In the first semester of the initiative, 38% of Abrons students were NYCHA residents, and another 24% received tuition support set aside for households making less than $50,000 annually.
Aleena Torres looks up at her dad, Edwin Manuel Torres.
Tyler Diaz, education manager at Abrons, grew up in NYCHA housing in Queens and says living in public housing can feel like a different world from the rest of the city. He believes organizations like Henry Street and Abrons have an obligation to make the arts accessible to all. "Whatever a family's financial situation, we will work to figure it out," Diaz says. 
"It's a great thing Henry Street has going on; I can't even explain how great that is."
Edwin and Aleena live in the Lillian Wald Houses, where he grew up. He says life as a kid wasn't always sunny; his family struggled financially. "The help we had was more limited than what kids have today. If we had [a program like] this, people I know who are either in jail or dead, wouldn't be there." The NYCHA Arts Initiative strives to make sure cost is never a barrier. "It's a great thing Henry Street has going on; I can't even explain how great that is."
Edwin is glad to see Aleena making new friends and can't wait to see what's next for his daughter. "This could be a stepping stone for her in the future. We come from a musically inclined family and it's great to see her engaging in different forms of music and artistry."