One Flyer Changed Nick Sanchez's Life
By Henry Street Settlement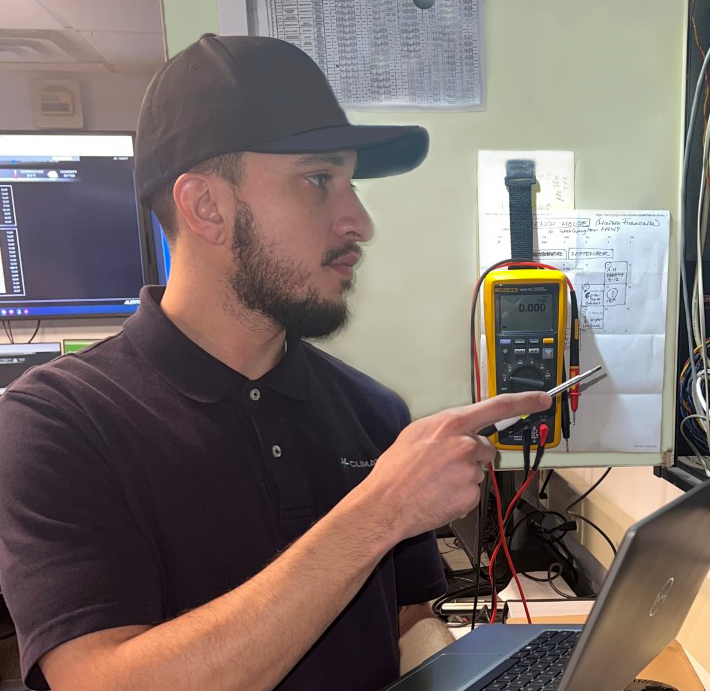 Stacks+Joules graduate Nick Sanchez at work
Nick Sanchez, 30, grew up in a humble middle-income housing development long inhabited by immigrants and their descendants on the Lower East Side of Manhattan. Now he works in gleaming, 50-story towers—modern high-rises whose complicated heating, cooling, and ventilation systems Nick maintains as a recent graduate of the Stacks+Joules Building Automation Systems Program at Henry Street Settlement.
The training program is an unusual collaboration of Stacks+Joules, a nonprofit that works to bring people from underrepresented groups into high-tech jobs, and Henry Street, a social services agency. It was developed early in the pandemic, when shifts in the economy left many low-income New Yorkers jobless while at the same time new industries were hungry for skilled workers.
In May 2022, after completing the 12-week program, Sanchez was hired by Climatec, a national building automation company. It was a major step up for a young man who, six months earlier, had been at a loss to move his career forward.
Growing up, Sanchez was deeply focused on the baseball and football fields, but less so at school, where he says his teachers took little interest in his progress. After a stint in community college, he worked for a dog daycare, in multiple restaurants, and as a group mentor for an afterschool program. Raised by his mother and grandparents, he says, no one was pressing him to go to college or to start a career. "They cared about my future, but there was no fight to push me. I had to figure it out and find my own motivation."
When the pandemic brought his work to a halt, Sanchez parlayed his sports enthusiasm into a spot in a physical therapy assistant program at LaGuardia College. But the prerequisite courses proved too many and too expensive.
"Sanchez not only thrived in the [Smart Buildings] academy; he received the highest score on the exit practicum of any student so far."
Then, his cousin sent him a flyer about the Stacks+Joules training program. "It was a shot in the dark for me," Sanchez says. "HVAC? I had always enjoyed working with my hands, and I looked at this as an opportunity to start a new path in my life—to open a door."
The door opened widely for Sanchez, who took easily to learning Python coding language. During the program, he received EPA 608 certification for refrigerant handling as well as a lighting certification.
"Our teachers really paid attention to each individual. They made sure we understood the curriculum, and it felt like they really cared," he says.
On graduation day, May 26, 2022, Stacks+Joules brought eight automation companies to class to meet students and see their presentations. Sanchez's group showed off JACE controllers—the hardware equipment used in building automation. He made sure to speak with all of the companies, and the rep from Climatec asked if he was free for a 10-minute call the next day.
The training program had ended on a Thursday, and Sanchez was interviewing in the New Jersey office by Tuesday. They offered him the job later that afternoon. "It was literally life-changing," he says.
Sanchez spends nearly every day doing maintenance in large buildings where the company maintains systems at high-profile corporations in New York City.  Entering through the loading dock and heading to control rooms, he sees a world of building operation that is invisible to most. Some of his worksites' employees have worked in HVAC for upwards of 30 years and are now learning from the new generation.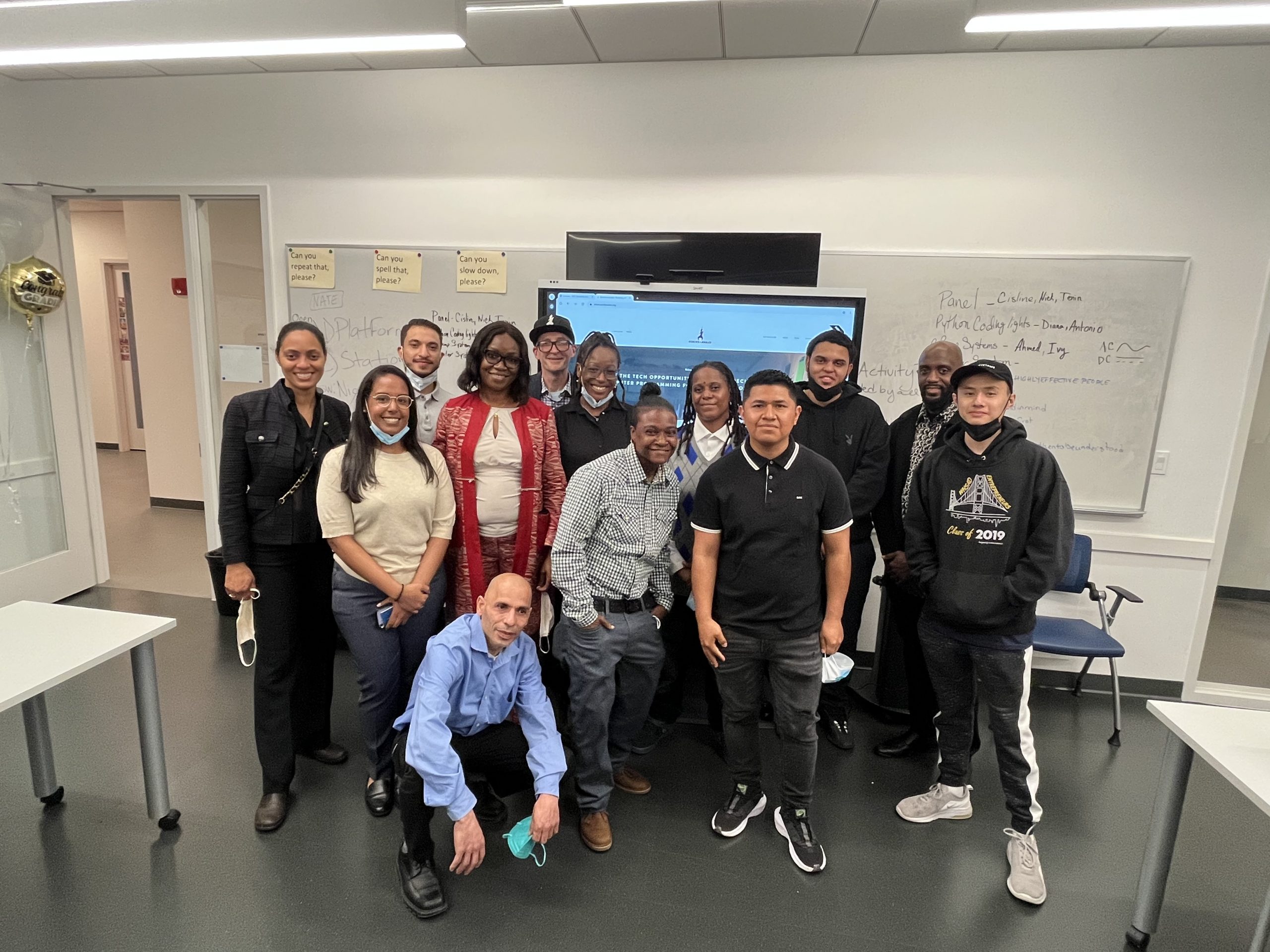 Nick Sanchez (back row, second from left) was a member of the second cohort of the Stacks+Joules training program, which graduated in May 2022.
Recognizing Sanchez's willingness and aptitude for learning, Climatec invested in his continuing education and had him participate in a Smart Buildings Academy training program. SBA is the largest company that trains smart buildings employees to improve efficiency and workers' skills and confidence.
Smart buildings, Sanchez explains, are able to adjust gradually to changes in the environment, which keeps people comfortable and saves energy and money, as opposed to clunky old systems that just turn on and off. In the training, he deepened the foundation set by Stacks+Joules by learning more about networking, computer graphics, HVAC equipment, wiring diagrams, and electrical systems.
"When I first went into big mechanical rooms, I was super intimidated, with pipes everywhere and huge equipment buzzing and ringing. It was like a spiderweb. When I got back into the field after the training, I felt even more confident of my abilities."
Sanchez not only thrived in the academy; he received the highest score on the exit practicum of any student so far. According to SBA CEO Phil Zito, "Having Nick in our recent workforce development cohort, I can personally attest to the quality of the Stacks+Joules program."
From day one, Nick says, Climatec has had his back. His colleagues encourage him to ask questions, and what's more, Nick has great benefits including a health insurance plan. "I went to the doctor and learned about paying a deductible," he says, laughing.
"I looked at this as an opportunity to start a new path in my life—to open a door."
Nick's new career has also helped give his grandparents the comfort of moving out of the apartment they shared and into a new home, without the worry of his having an unstable income. "Now I can pay the bills and they can enjoy their life with one less concern," he says.
Nick's experience exemplifies Henry Street's mission to open doors of opportunity and help its participants meet their fullest potential. It also reinforces the goal of the Henry Street–Stacks+Joules partnership, which aims to ensure that under-represented groups are not left out of higher-earning tech jobs.
Recently, while working out at the gym, Nick followed the duct work in the ceiling, thinking about the return and the supply.
"Now, I see things I've never seen before. The Building Systems Automation Program opened a door that I never even knew about. I had all the motivation, but no degree. This is something I had to conquer. It was hard and still is. But one flyer changed my life, and the lives of everyone around me," Sanchez says.