People's Permit Process Lets Community Members Reclaim the Outdoors
By Henry Street Settlement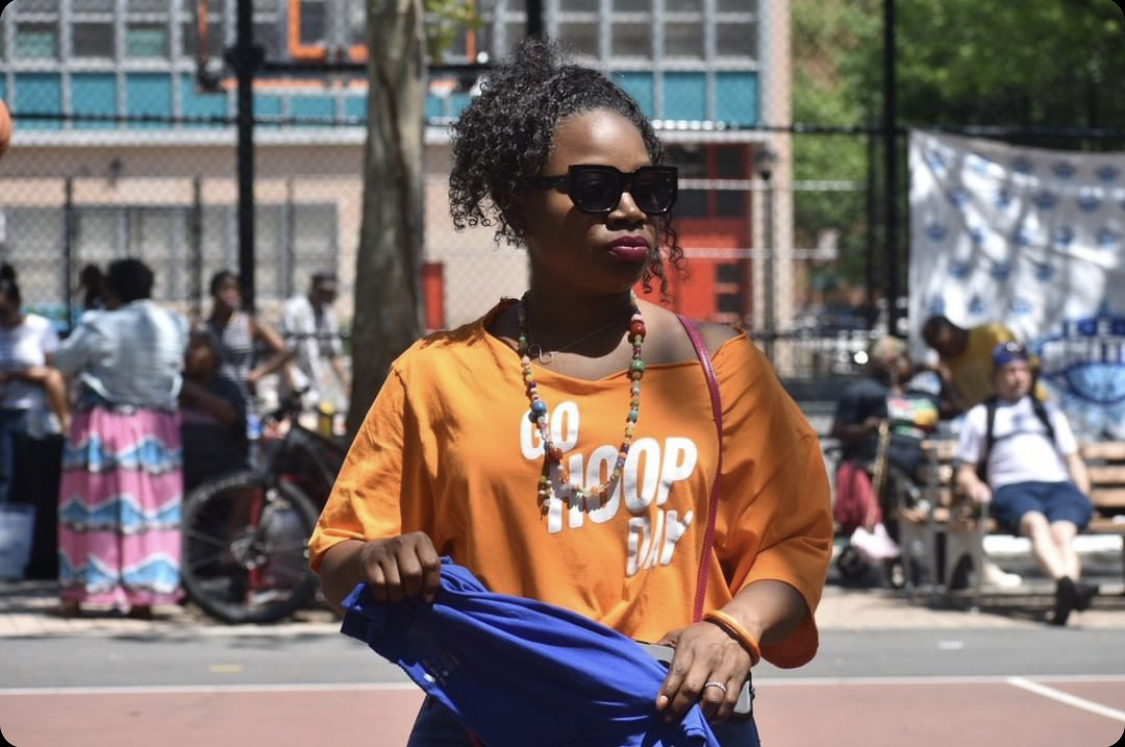 Above: Shaheeda Yasmeen Smith
Dancing in the street is among the greatest joys of summer, but Shaheeda Yasmeen Smith has seen too many parties ruined because the organizers didn't know they needed a permit. "While you're celebrating Grandmother's 65th birthday, you definitely don't want the police to come," she says.
But whether it's a gathering in a park, on the street, or amid NYCHA buildings, if the music is too loud and the crowd too large, unpermitted events can come to an abrupt end.
In early 2019, Smith, a member of Henry Street Settlement's Community Advisory Board and executive director of Infinite Movement, feared the problem would worsen as several parks and green areas in NYCHA developments closed for renovation. Attending Henry Street's Safety Town Hall in June, she asked a commanding officer how the force intended to handle barbecues, baby showers, and birthday parties this summer. She was told that permit application information is readily available on the internet.
Smith believed that this information was too hard for most people to find, and she set to work with Henry Street and Good Old Lower East Side (GOLES) to bring her vision of an education tool to fruition. The result is the People's Permit Process (also available in Spanish here), a guide to navigating New York City and NYCHA's event permit rules and regulations.
The guide explains how to apply for permits—as well as their timing and costs—for groups of over 20 in public parks, for holding picnics and barbecues in NYCHA developments, for hosting block parties, and for acquiring sound permits.
"In this neighborhood, we don't have a lot of places where we can rent out rooms, Smith says. "So there are a lot of baby showers outside. In NYCHA, people have barbecues in front of their buildings or on the waterfront. We wanted to create a layer of protection for people so they aren't punished for trying to celebrate."
The ability to freely claim the outdoors has a deep resonance for Smith, who says that changes on the Lower East Side have left the community with a fear of things being taken away. "With the Extell building, sunlight is being taken away. Scooters on the sidewalk are taking away our ability to walk safely in your community. Green space is being taken away. We have to have the freedom of being able to be outdoors."
Smith hopes that the permit process will spur more preparation, leading to more communication within apartment buildings. With people planning ahead for events instead of holding them spontaneously, they can spend more time knocking on doors and reaching out to their neighbors, letting them know a party is happening.
In the Baruch Houses where she lives, "People speak Spanish, Chinese. If you weren't born and raised here, people may not know where you are. This is another way to meet people—saying c'mon down and have a bite, starting conversations, and sharing information about opportunities at Henry Street or other groups."
The People's Permit Process is applicable in any part of the city, and Smith hopes it will be shared widely. "You can respect the order of the process and still be respected yourself when you have an event," she says.