Quincy Enunwa Stars at Henry Street
By Henry Street Settlement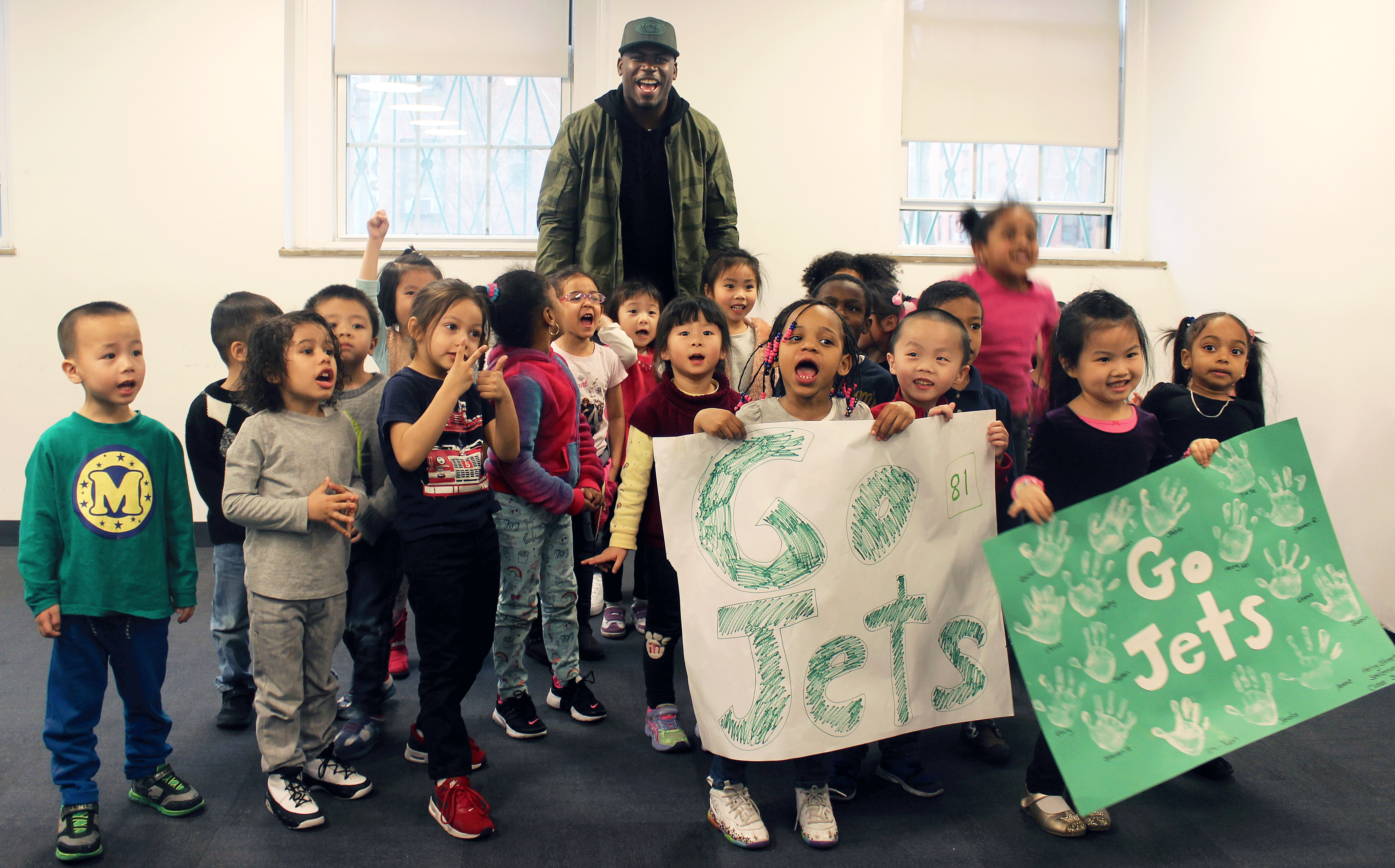 Quincy Enunwa gets an exciting welcome from children in Henry Street's Early Childhood Education program. 
New York Jets wide receiver Quincy Enunwa scored a touchdown at Henry Street Settlement on March 30, where he was greeted with cheers and high fives at two youth programs.
Enunwa's visit began at the Settlement's historic headquarters where he met with David Garza, Executive Director of Henry Street, and several other employees.  The entourage then walked to 301 Henry Street where children from the Early Childhood Center held welcoming balloons and handmade signs.
From there, the group traveled to Henry Street's Boys and Girls Republic (BGR), where after-school students welcomed him with signs, balloons, and chants of "J-E-T-S, JETS JETS JETS!" Enunwa met with BGR's Mayor and Council Members, toured the facility and learned what it's like to be a citizen. (BGR's program uses a self-government model; students are "citizens" and elect officials from among their ranks.)
"Even though a lot of us are only in middle school, we learn about how important what we do now is for our future, in high school, college, and beyond," explained Mayor Nate Pizarro.
Enunwa echoed that sentiment, stating, "I know how important that all is, I went through it too!"
The visit then moved into the gym, where the citizens were eagerly awaiting a press conference, moderated by David Garza. Enunwa took a seat at the "press" table, and citizens of all ages posed thoughtful questions about his inspirations and role models, how he manages his time, what his college journey was like, and how he got his start in football. 
In his answers, Enunwa emphasized the importance of practice (even though it might not always be fun), the importance of mental as well as physical strength to succeed at football, and how he learned early on to use his time wisely to achieve his goals.
After getting sufficiently grilled by the press, Enunwa joined BGR Sports & Recreation Coordinator Luis Checa and other BGR staff to present awards to the MVPs of the recent BGR flag football season. He then presided over the coin toss for that night's Super Bowl, the final game of the season.
Enunwa's visit was coordinated by Debbie Cox, Administrative Director at the Settlement's Workforce Development Center, who is friends with Enunwa's girlfriend Deanna Fernandez. The Henry Street connection doesn't stop there— Fernandez is an intern at the Settlement's Community Consultation Center and, as a teen, got her first set of working papers at Henry Street! 
"I knew it would be wonderful if I could get Quincy to come speak with the youth about his experience as an NFL Player," said Cox.