Remembering Richard Abrons
By Henry Street Settlement
A businessman, philanthropist, playwright, and author, Richard Abrons was one of the most important and beloved figures in the history of Henry Street Settlement.
Richard's extended family has been inextricably woven into the fabric of our community for 123 of our 126 years. To Henry Street Settlement, Richard was a dear friend—a board member for 52 years, including a decade as president—and beloved patriarch of the family that has supported the Settlement for generations. He was also our institutional memory: remarkably, Richard met our founder, Lillian Wald, in fifth grade and was the only person who knew every Henry Street executive director from Wald to David Garza.
Richard dedicated his life to social justice, bringing critical services, cultural programs, and vibrant green spaces to NYC's underserved communities. His vision and support formed a backbone of the city's settlement houses, but most important to Henry Street is that Richard dedicated his life to serving our settlement.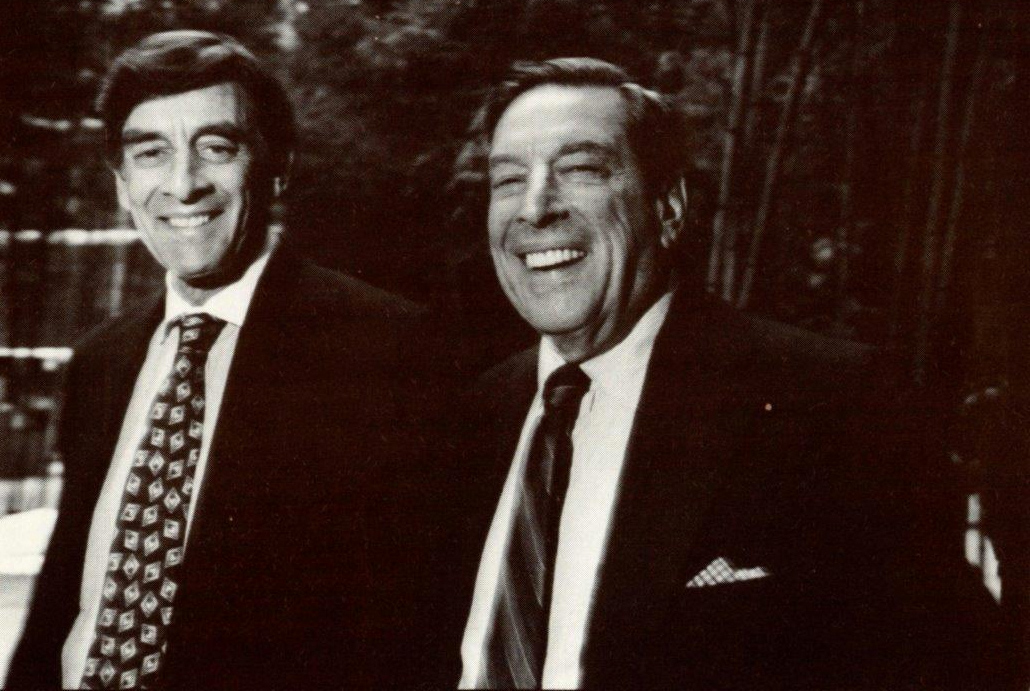 Above: Richard, left, with his brother, Herbert.
A Family Legacy
Richard's parents, Louis Abrons and Anne Schroeder, met at a Henry Street dance in 1905. Eight years earlier—in 1896—Lillian Wald had helped Anne's impoverished widowed mother by hiring her to sew nurses' uniforms so she could support her family. Louis was also involved in Henry Street as a member of a literary club whose leader, Herbert Lehman, helped fund his college education. The family never forgot how Henry Street alleviated their poverty and concerns: Both Wald and Lehman were at Richard's parents' wedding in 1911.
Richard adopted the family tradition begun by his father, a prominent builder in Manhattan, who made substantial gifts to the Settlement, including seed money for the arts center, the purchase of the Neighborhood Playhouse from the Lewisohn sisters in 1915, and a large social hall at Camp Henry, the organization's former camp on Lake Secor in Mahopac, New York.
Born in 1926, Richard started as a volunteer counselor and swimming teacher at the camp in the 1940s, and became a member of our board in 1967.
A well-educated man (Yale BA, Columbia MBA, NYU MFA), Richard took his share of risks, leaving a secure job on Wall Street and, with several colleagues, started a new firm, First Manhattan Company, in 1964. He spent the remainder of his career there, remaining a limited partner, and retired to pursue writing.
He earned an MFA in 1991 and published approximately 20 short stories. One of them, "Every Day a Visitor," won a prestigious National Magazine Fiction Award and was later produced as a play (one of five of his produced plays) in New York City; Portland, Oregon; and Rogers, Arkansas. In 1996, a compilation of his short stories was published by the Nightshade Press. Richard also authored My Life in Fact and Fiction, a memoir for his "grandchildren's grandchildren," filled with stories and advice, including this gem about exercise: "I don't care what electronic marvels are at your fingertips. Get off your ass!"
Married for 31 years to Iris, the board chair of the Children's Aid Society, Richard was fond of pithy sayings, such as "never stifle a generous impulse."
Richard served on the boards of United Neighborhood Houses, Council of the Environment of NYC, Bronx Children's Museum, Poets and Writers, and Grow NYC.
In more than five decades that Richard was a Henry Street director, he made innumerable contributions of philanthropy and service:
Through the Louis and Anne Abrons Foundation, of which he was president, and the Richard and Iris Abrons Foundation, he became our greatest individual financial supporter.
He made important introductions to other philanthropic leaders and mentored and befriended several generations of Henry Street executive directors and senior staff.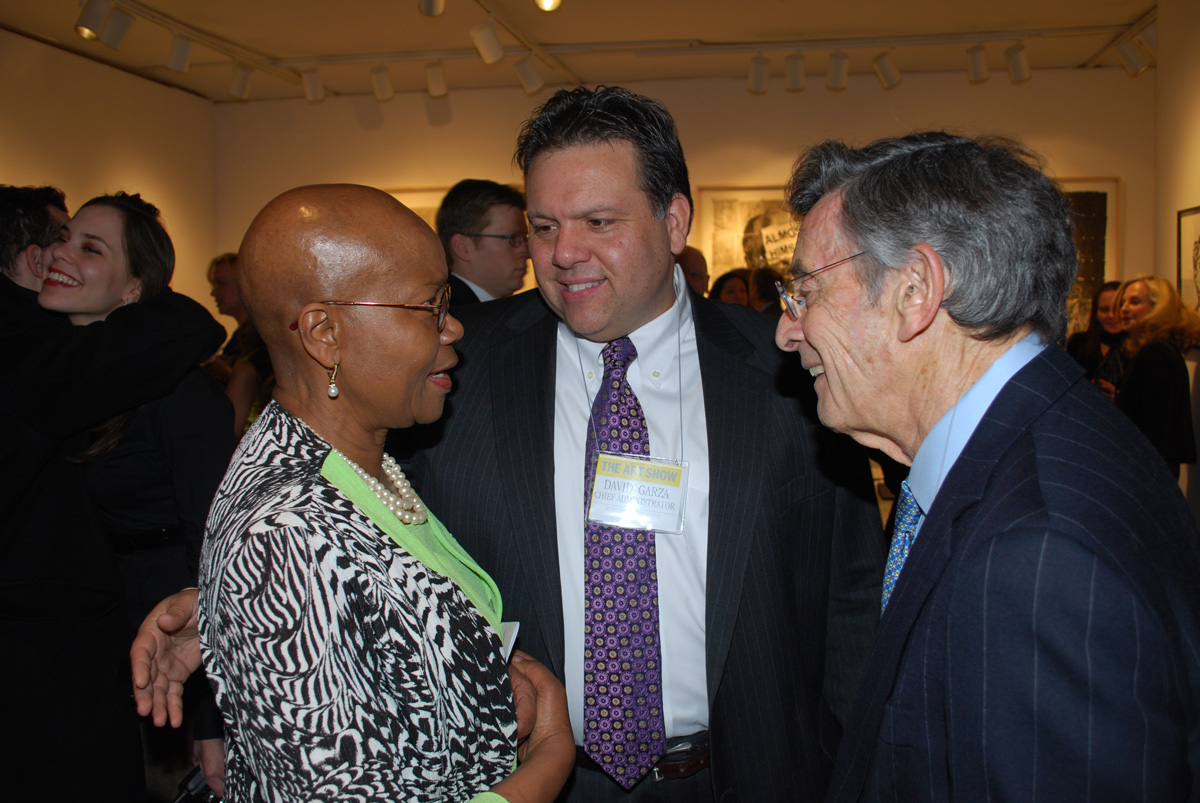 Above: Former executive director Verona Middleton-Jeter and current president and CEO David Garza with Abrons at The Art Show.
In the '90s, he chaired our successful Centennial Capital Campaign, which helped to preserve our historic buildings and bring the Settlement into the digital age.
In 2001, he helped secure a founding gift from his beloved sister, Rita Aranow, to create Henry Street's Workforce Development Center, now one of the best programs in the city helping people find and maintain jobs. During Richard's service, Henry Street also expanded its homeless programs, acquired the Boys Brotherhood Republic community center (now called Boys and Girls Republic), and worked to transform two vacant lots next to 265 Henry Street into Martin Luther King Park.
Richard's special love was the Settlement's Abrons Arts Center, which brings innovative artistic excellence to the Lower East Side through performances, exhibitions, residencies and instruction. He was serving on the board when its members surprised him and his family by naming the arts center after his family.
And Richard has inspired the next generation of the Abrons-Aranow family, who honored him and his late brother and sister, Herbert and Rita, by establishing the Abrons-Aranow Scholarship Fund, to help low-income Henry Street youth attend college.
Following his own advice, Richard never stifled a generous impulse; we are privileged to have had him in our corner for so very long. As Henry Street Executive Director David Garza voiced, in honoring Richard at the agency's 125th anniversary gala in 2018, it is a challenge to sum up Richard's immense contributions to Henry Street "because there is so much to Richard and his achievements that it's hard to know where to start—and when to stop."