Senior Companions Boogie Down at Recognition Luncheon
By Nicole Fogarty
Program Assistant Amrita Rampaul (left) poses with Senior Companions for the 70s-themed photo booth at the annual Spring Recognition Luncheon. 
Over 100 Henry Street Settlement Senior Companions were honored on June 21 at the 2017 Spring Recognition Luncheon, joining employees and community partners in celebrating over 90 years of combined service to seniors throughout the five boroughs.
Senior Companions are healthy older adults who help homebound or isolated fellow seniors live independently, providing services like friendly visiting, shopping assistance, escort to a doctor's appointment or other community activity, friendship and companionship.
The disco-themed bash featured Saturday Night Fever inspired decorations, a funky photo booth, delicious food (served by Henry Street's hardworking Meals on Wheels team) and plenty of dancing. All Senior Companions took home certificates and special Henry Street water bottles to thank them for their service.
"My hat is off to you, my heart is out to you, and I applaud you for everything you do for seniors on a daily basis," said Henry Street Executive Director David Garza during his remarks.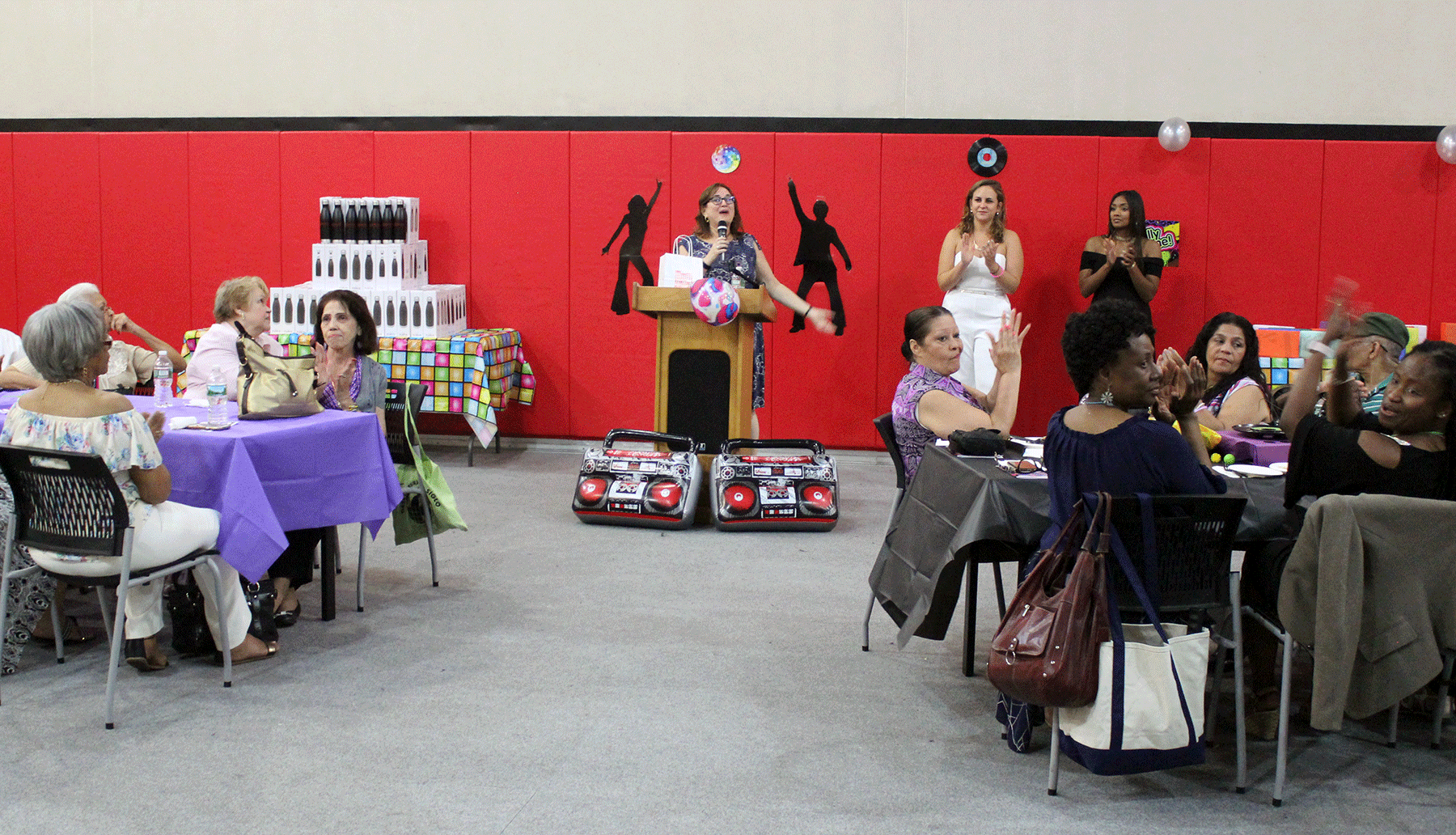 Henry Street Settlement's Chief Program Officer Diane Rubin leads the crowd in a round of applause for all the hard work that went into the event. 
Janet Fischer, Chief Administrator for Senior Services at Henry Street, explained why Senior Companions are so important: "You are actually doing something with the compassion in your hearts; you're the example of what the world should be like."
Additionally, special awards were given to a dozen seniors celebrating 5-, 10-, and 15-year anniversaries with the program.
5 Years
Dorothy Sklar , Ines Morales, Ana Marrero, Rosemarie Cumming, Margaret Pamphile, Zong Meng Lu, Adele Hodge
10 Years
Jose Toro, Altagracia Quezada, Ruth Centeno, Candida Silva
15 Years
Irma Alexis
The law firm of Allen & Overy sponsored this year's Spring Recognition Luncheon.