Senior Services Celebrates Milestone Birthday
By Nicole Fogarty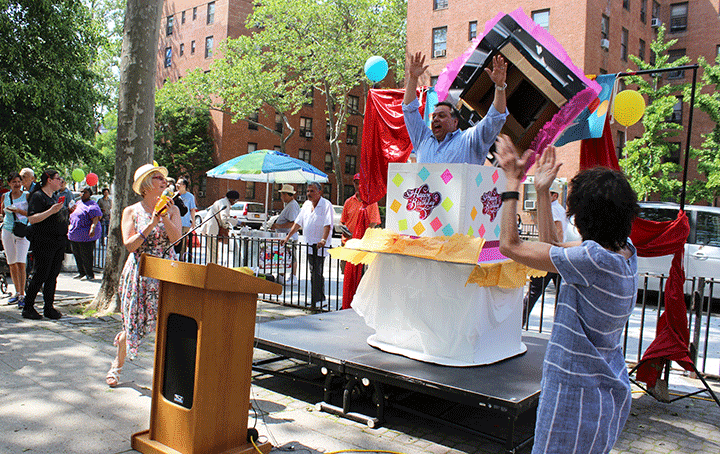 Above: HSS Executive Director David Garza surprising the crowd
Henry Street's Senior Services division hosted a very special birthday carnival last week, celebrating a combined 120 years of serving the Lower East Side!
At the outdoor event in a Vladeck Houses courtyard, seniors enjoyed a host of carnival games, competing for prizes like popcorn, hats and festive beads. The dance floor was packed all afternoon, especially during a special performance by Abrons Arts Center artists.
A representative from New York City Councilwoman Margaret Chin's Office presented a proclamation, thanking Senior Services for their decades of hard work on the Lower East Side.
Before the afternoon concluded with a lively raffle and karaoke jam session at the Senior Center, a very special birthday gift was presented to the celebrating seniors: Executive Director David Garza, emerging from a giant birthday cake!
Garza addressed the crowd from his cake podium, saying that he had three wishes for the seniors at this birthday celebration: That everyone knows Henry Street Senior Services will always have a place in the community for seniors to gather, access services, and thrive; prosperity and health in the coming year; and that someone would jump out of a cake for his birthday.
The event was a huge success thanks to event sponsor Allen & Overy LLP and Anne Brown, an Allen & Overy volunteer, as well as the dedicated Henry Street staff who helped out.
This year's birthdays:
Henry Street Senior Center   65 Years
Senior Companion Program  25 Years
NORC/Vladeck Cares              20 Years
Meals on Wheels                       10 Years
Click here or below to view more photos from the celebration.