Sleepless Nights in 1918: Lillian Wald and Henry Street's First Influenza Epidemic
By Marjorie Feld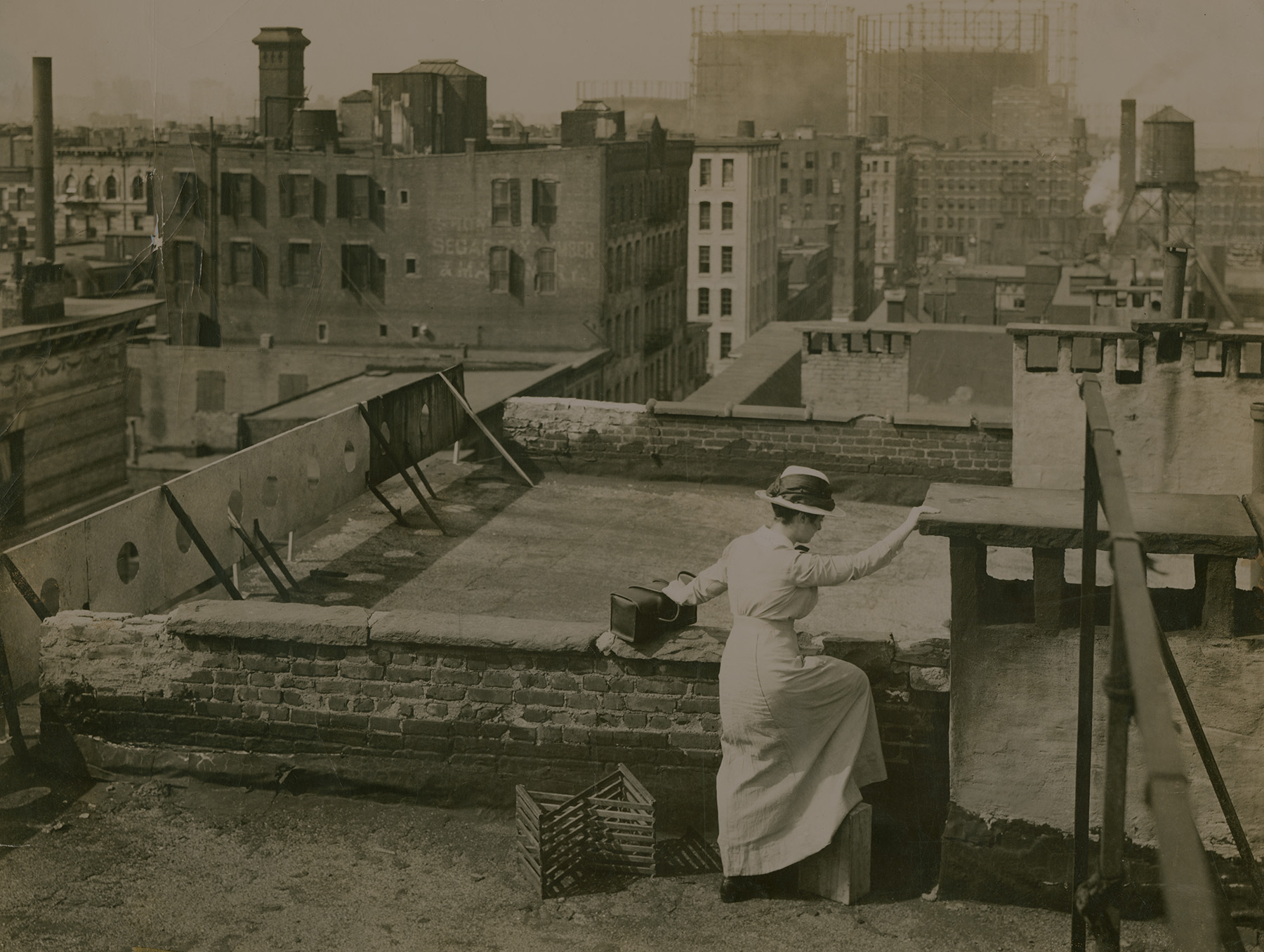 Pictured: A Henry Street Nurse Crosses Tenement Rooftop, early 1900s. The Visiting Nurse Service of New York Records, Archives & Special Collections, Columbia University Health Sciences Library.
---
During the influenza epidemic of 1918, Henry Street's founder, Lillian Wald, was recognized as an influential leader in service and care to all of New York City. She galvanized other organizations and suppliers and led an army of nurses in combatting the scourge, later describing her experiences in the article "When the City Was a Great Field Hospital." As we roll out an extensive response to the effects of COVID-19 on our community today, we thank historian and Wald biographer Marjorie Feld for bringing this history to life, in words that sound very familiar today: "Amid the tremendous suffering of that epidemic, [Lillian Wald] slept very little, caring for patients and nurses, enlisting volunteers for the work, and appealing to benefactors to fund it." Once again, we're grateful for the clear blueprint our trailblazing founder lay down 127 years ago.
---
When the City Was a Great Field Hospital
Lillian Wald (1867-1940), founder of Henry Street Settlement and the Visiting Nurse Service of New York, was no stranger to epidemics that ravaged the diverse populations of New York City and the rest of the world. In 1918, she became "chairman" of the Nurses' Emergency Council, coordinating the efforts of New York City's nurses in the wake of the influenza epidemic. Amid the tremendous suffering of that epidemic, she slept very little, caring for patients and nurses, enlisting volunteers for the work, and appealing to benefactors to fund it.
I've been thinking about Lillian Wald a great deal these last few months, as people across the world struggle in the face of the coronavirus pandemic. Wald wrote about her experiences during the influenza epidemic in an article titled "When the City is a Great Field Hospital." This week the city got a new field hospital in Central Park. With this in mind, I returned to Wald's article to see what she might continue to teach us about our current moment.
As with most of Wald's writings, the article began with a story to humanize the crisis. In "upper Harlem," she told us, there was a family of seven struggling with illness. They received no care until a visiting nurse "answered the call," aiding the family through medicine and through education. The article illuminated the need for putting all forces—"municipal and private, Catholic, Jewish, and Protestant"—to work for public health, for the larger good. Wald filled the pages with practical information, including charts with data, about the logistics of providing care to people in their homes and in hospitals.
The article is, in equal parts, an urgent plea for socialized health care and an illustration of the power of women's work (the nurses were all women). Throughout the article and indeed throughout her career, Wald expressed a strong ethic of care. She acted on the idea that had long served as the philosophy of her institutions, an idea that we hope will be realized in the new field hospital and in all institutions in our current moment: that everyone—all races, religions, classes, everyone—is deserving of care. She argued that the "value" of that care could not be monetized because all humanity was interdependent, and thus caring for one was caring for all of us. In Windows on Henry Street, her second book, she wrote that "people rise and fall together, that no one group or nation dare be an economic or social law unto itself."
Wald's writings always accented this togetherness as they humanized all sides of social work and nursing: the sick, the nurses, the philanthropists who made the work possible. Her stories captured people acting as their best selves. In the "Field Hospital" article, she testified to the generous nature of individuals she encountered throughout New York City, across classes and ethnic groups and neighborhoods: "Certainly there was evidence from all kinds of people—professional and non-professional," she wrote, "of a willingness to give and to give instantly."
I often wonder, cynically, if this willingness to give "instantly" may have been imagined by Wald—or if it were she who inspired this willingness in others. A flyer that Wald and her nurses created to encourage volunteers to aid in the care of the sick offers evidence of this inspiration. The flyer announced "A Stern Task for Stern Women" and noted, "humanity calls them" to this task, and "lives depend upon their answer." Wald strategically positioned those who distributed the flyers: "Dignified and discerning women stood on the steps at Altman's and Tiffany's Fifth Avenue shops and accosted passers-by." And her strategy paid off. The wealthy customers of these shops—people who might have departed for country homes, away from the illness and germs of urban life—"answered the call," and "hundreds of men and women" volunteered to help the city's sick.
The willingness of these men and women "to give and give instantly" was doubtless inspired by Wald's call. She and her courageous nurses and volunteers offered themselves up as role models to city residents. They transcended their formal job descriptions, rose to meet the perils of an enormous public health challenge, and saved lives.
We claim our current moment's heroes—people of all genders and backgrounds, all classes, ethnicities and races, consumers of shops of every possible kind—as our own role models. We take off our hats to these individuals, including those at the institutions Wald founded. Like Wald in 1918, they are sleeping little and saving lives. Inspired by their actions, all of us need to "give and give instantly" to those in need, even if that means staying in our homes to stop the virus's spread. We are interdependent, Wald reminds us, and especially in this moment of crisis, we must act always out of our faith that we rise and fall together.
---
Marjorie N. Feld, Babson College
A professor of history at Babson College, Marjorie N. Feld is the author of Lillian Wald: A Biography.