Standing-Room-Only for AD 65 Candidates Forum at Henry Street
By Henry Street Settlement
The six candidates vying for former Assembly Speaker Sheldon Silver's seat in Assembly District 65 squared off last night in a forum held at Henry Street Settlement's Abrons Arts Center playhouse. It was standing-room-only as the candidates answered questions from moderator N.J.Burkett, WABC-TV correspondent, as well as those posed by local residents including several Henry Street high school clients.
The forum was sponsored by Henry Street, the Women's Political Caucus-NYC and WABC-TV, which live streamed the event on its website.
The candidates – incumbent Alice Cancel, Don Lee, Gigi Li, Paul Newell, Yuh-Line Niou and Jenifer Rajkumar – agreed that the most pressing issue in the district is the need for affordable housing. Other issues that emerged were small business survival, gentrification, and police-community relations. During a "lightning round," only one candidate (Cancel) said she would vote support Mayor de Blasio for a second term; the others said they would not, or were undecided. The audience also learned the candidates' favorite dim sum restaurants – Jing Fong, Buddha Bodai and Red Egg, among them.
When Burkett asked the question of the night: "What is Sheldon Silver's legacy and how would your tenure differ?" all candidates, not surprisingly, vowed to fight corruption in Albany. Silver was convicted last year on federal corruption laws and forced to resign.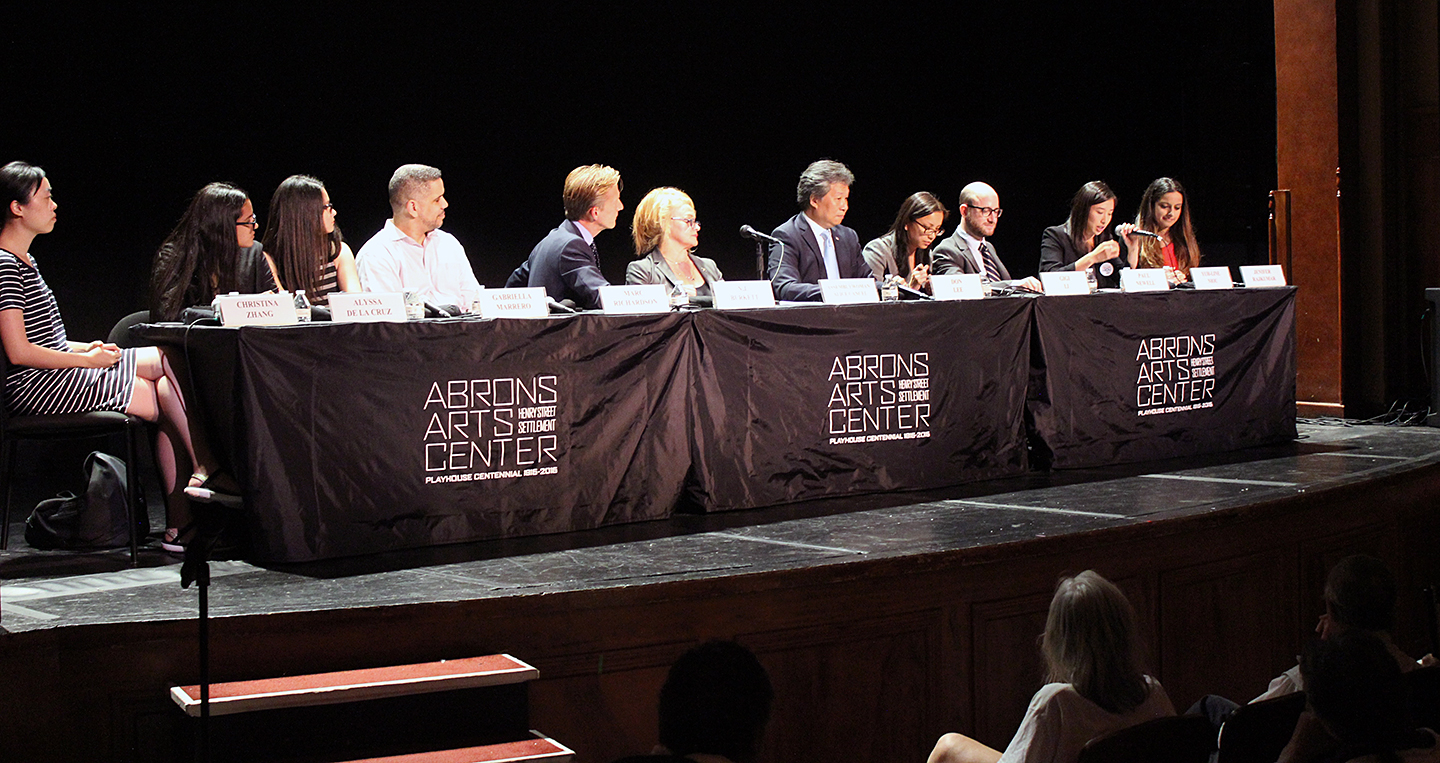 "Henry Street is thrilled to host this forum; the Settlement has a venerable history of participation in the political process and this election is very important to all of us on the Lower East Side," said David Garza, Executive Director of Henry Street Settlement, who welcomed audience members at the start of the event, as did Lolita Ferrin, Political Director of the Women's Political Caucus-NYC. 
Panelists on stage who posed questions were Alyssa de la Cruz and Gabriella Marrero, both Henry Street College Success clients, and Lower East Side residents Christina Zang and Marc Richardson.
Sharon Nelson, President of the Women's Political Caucus-NYC, "Getting to the heart of the issues and making them make sense to the public is one of the many roles that we at WPC-NYC are proud to take on.  This collaboration with media and community is ideal to realizing our goals in civic engagement."   
"WABC-TV is excited and proud to partner with HSS and WPC to sponsor the 65th Assembly District Candidate Forum," noted Saundra Thomas, VP of Community Affairs at WABC-TV.  "We consider this a part of our mission to make sure voters have what they need to make informed decisions."