"Steadies" & "Crushes" Brings to Light Henry Street's Queer History
By Valerie Dowret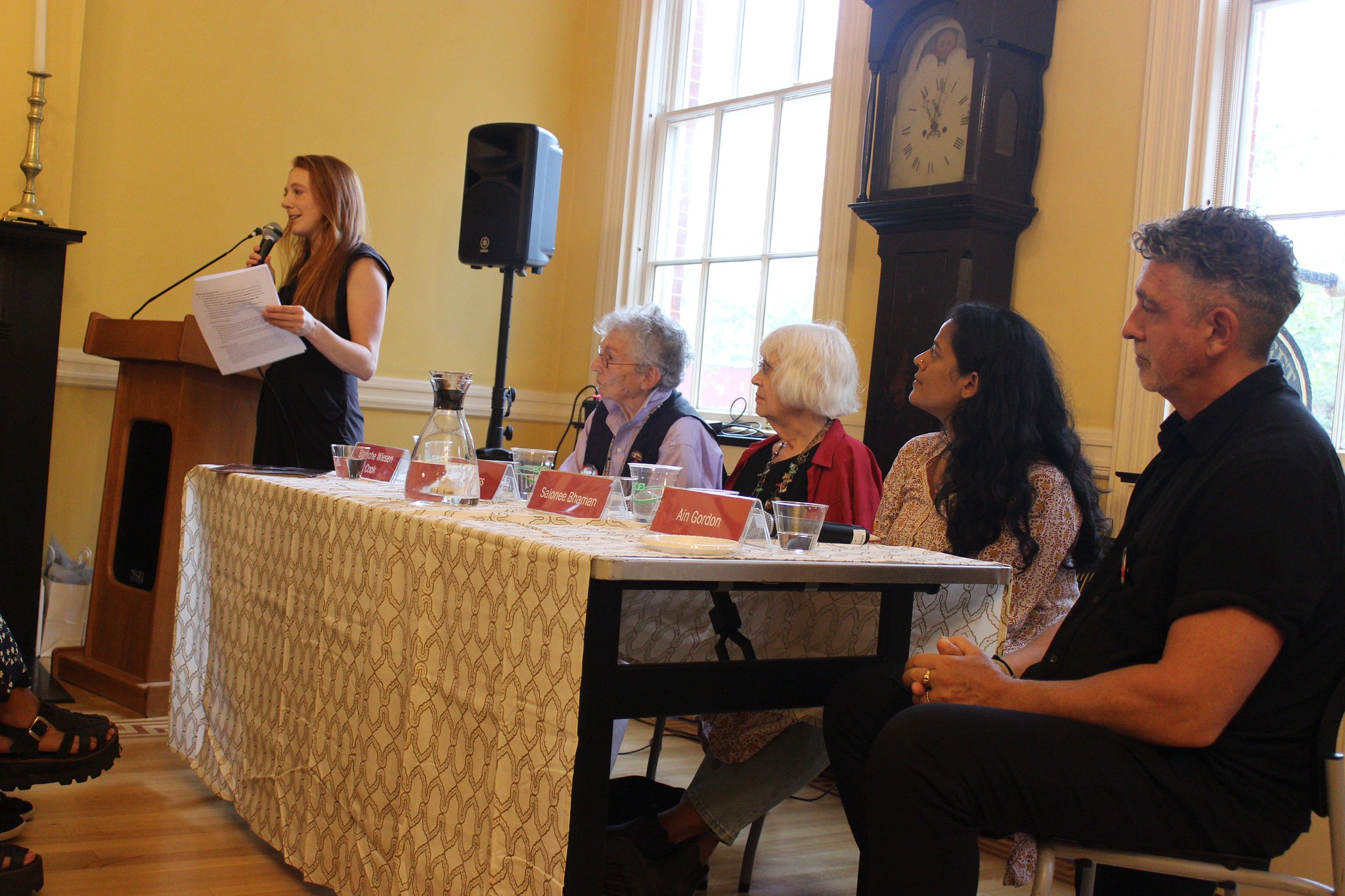 Above: moderator Katie Vogel with panelists Blanche Wiesen Cook, Clare Coss, Salonee Bhaman, and Ain Gordon.
Henry Street Settlement celebrated its queer history (just a bit past Pride Month, on July 18, 2019) with the panel discussion, "Steadies" and "Crushes." Panelists Blanche Wiesen Cook, Clare Coss, Salonee Bhaman, and Ain Gordon joined moderator Katie Vogel, Henry Street's public historian, in tackling the question of how to interpret Henry Street Settlement's queer history, and LGBTQ history in general, when the historical record is lacking.
Wiesen Cook, a professor of history and women's studies at John Jay College, and Coss, a playwright and author of Lillian D. Wald: Progressive Activist, provided the historical background on Henry Street Settlement founder Wald's romantic and platonic relationships with her female colleagues, whom she considered a family.
Wiesen Cook in the 1970s uncovered love letters among Lillian Wald's personal papers, written to her by lawyer Helen Arthur and Mabel Hyde Kittredge, who helped Wald in her effort to initiative a public-school lunch program. We know about Wald's relationships from these letters, which included the terms "steadies" and "crushes"—expressions used at the time to describe a range of relationships.
According to Cook, Wald's lovers shaped Henry Street Settlement. "They weren't employees," she said, "They were women who supported Henry Street Settlement, and supported the programs. Lillian Wald depended on them."
Cook added, "Some of them she had emotional relationships with and some of them she had friendships with, but they were all absolutely central to the creation of Henry Street and what Henry Street stood for."
According to Vogel, it was in Wald's 1915 memoir that she referred to the women who lived at Henry Street Settlement as "the family."
"The topic of her relationships, both romantic and platonic, is not just a detail of her life but I believe integral to understanding the Settlement's origins and legacy of us as an organization today," said Vogel.
Salonee Bhaman, a PhD candidate in history at Yale University, spoke about how she began studying the AIDS epidemic using a document from a man whose partner had died, who was trying to prove his familial relation to his partner. She sees similarities between Wald and families affected by AIDS during the 1980s in their heavy reliance on their chosen families.
"There's this idea: it takes a community to care," Bhaman said, "and often our chosen families don't resemble heterosexual nuclear families."
Bhaman tells her students that, sometimes, historical figures who by today's standards can be defined as queer, did not label themselves.
"Folks may have not identified as gay or as lesbians, or may have strategically represented themselves as primarily monogamous even if they weren't, in order to get something, or have access to certain spaces," Bhaman said.
"I think about that especially with women like Lillian Wald, who were operating between social classes in a lot of ways," Bhaman added.
Gordon, a professor, playwright, and founder of the Urban Memory Project, believes that it is best not to use shortcuts to label public figures from the past but rather to enable their identities to remain nuanced.
"I feel that I don't have permission to rename the dead in a way they did not name themselves," he said. "I find it very important to not shorthand these conversations to say every person who in some way did not conform to gender ideas is now a trans person. I don't know what that person thought they were," Gordon added.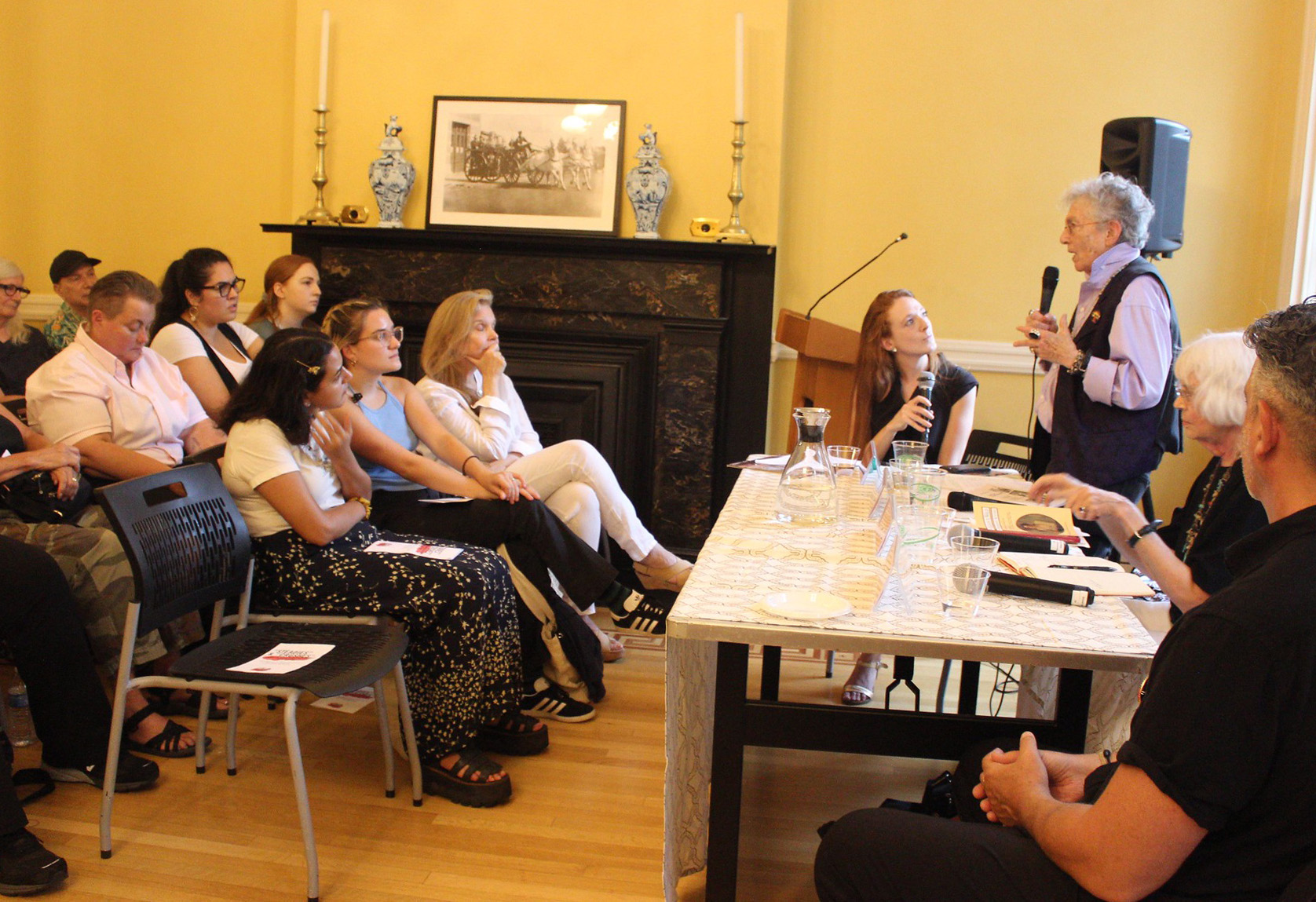 Still, says Wiesen Cook, "although they didn't use those terms, they are in love relationships and they are lesbian relationships. You can call two women lesbians if they choose each other, they live together."
Although the Settlement's queer history is accepted now as a fact, it has not always been this way. "At Home on Henry Street," a one-woman play by Coss, includes details about Wald's romantic relationships with women. When the play was first performed at Henry Street in the mid-1980s, the lead actor tried to remove scenes involving the love letters from the play.
"The actor … must have felt really uncomfortable playing somebody who might be in part a lesbian," said Coss, who refused to comply with the request.
"It was big tussle and it's how our lives get hidden," Coss said, "But we got the play exactly as I had written it, and I am grateful for that."
"Steadies" and "Crushes" was the first event in the Settlement's effort to permanently honor its queer history.
"Right now, as an organization, we're in the process of interpreting our history, and I want to make sure we're doing it in a nuanced way," Vogel said.
Already, in an attempt to right the historical record, Vogel addresses Wald's romances with women when she gives tours of Henry Street Settlement's headquarters and permanent history exhibition.
During the discussion period at the end of the "Steadies" and "Crushes" panel discussion, an audience member asked whether details of Wald's romantic relationships with women will be added to her biography on the Settlement's website. We're happy to report that they've already been added!
A full video of this event is on Facebook.