Teaching Values Through Sports, With Help from FC Barcelona
By Nicole Fogarty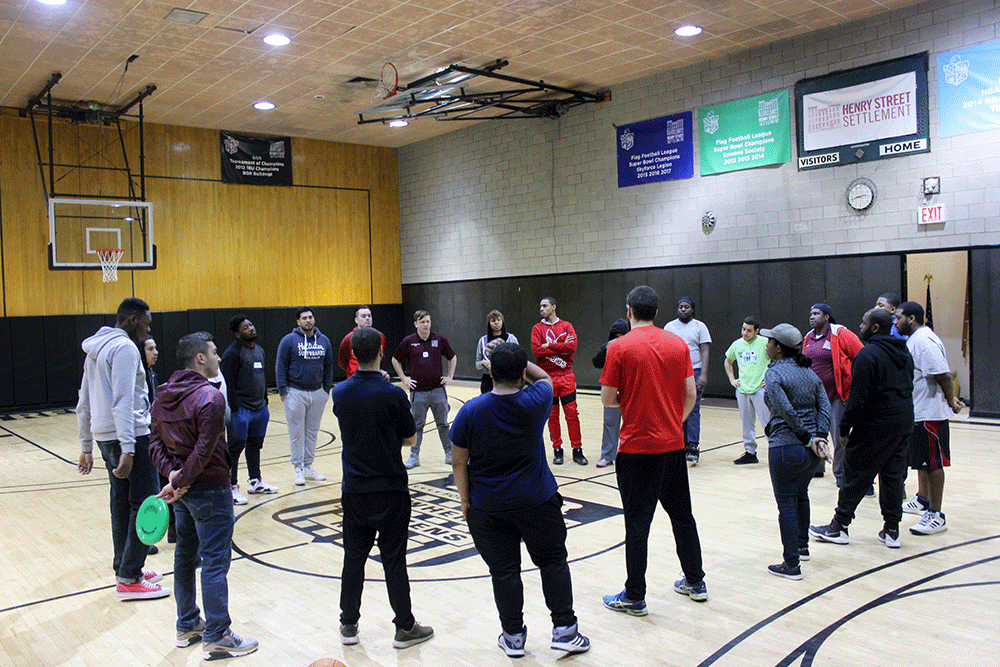 Henry Street youth team members and Barça Foundation staff reflect during a training session.
The Boys & Girls Republic (BGR) is usually quiet on Saturday afternoons, when its extensive youth programming takes a short break before picking up again in the evening. This, however, wasn't the case on two Saturdays in March, when Henry Street team members crowded the building's gym and classrooms to be trained in sports-based learning and development from the experts: FC Barcelona, Catalonia's world-famous soccer team.
Twenty Henry Street Youth Services team members participated in the training, which was led by the Barça Foundation (the team's charitable foundation). Activities consisted of lessons and presentations about the Foundation's main methodology alongside drills, practice implementation, discussions and reflection.
The methodology, known as FutbolNet, aims to teach values to youth of all ages by using sports-related activities as tools for reflection and agents of change. In this case, the central values being communicated are humility, effort, ambition, respect and teamwork, or H.E.A.R.T., as understood through a culture of cooperation on both an individual and group level.
Social-emotional development is the cornerstone of youth programming at Henry Street, making the FutbolNet methodology a perfect match. Many of the Settlement's youth programs, especially sports and recreation activities, are not merely about the physical activity. Support services like tutoring mentoring, and learning activities are available to develop the "whole person" rather than just the athlete, and FutbolNet is a unique opportunity to develop those areas even further.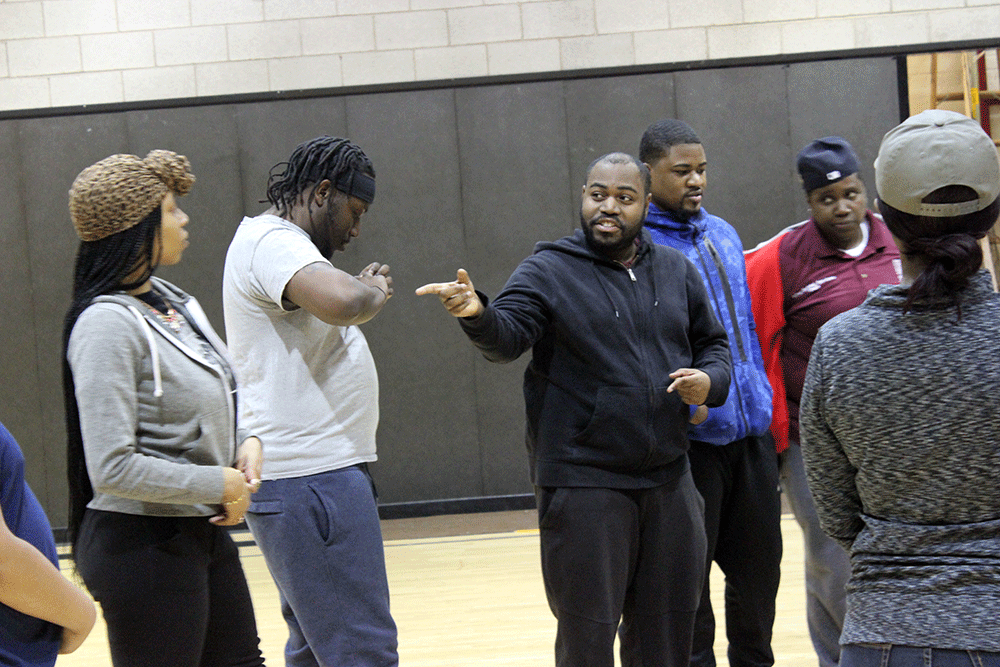 Henry Street youth team members discuss how to implement their training into activities.
"It's a phenomenal tool we can use to help our team members create their lessons more purposefully. It's not just about teaching cooking or teaching basketball," said Leonor Colon, BGR's Assistant Director of After-School and Camp Services, of the methodology that was taught during the training. "This takes it to the next level. It builds on our existing social-emotional learning curriculum – the youth can explore the culture behind the cooking, for example, or how their emotions can affect playing a sport."
During one session, for instance, the Henry Street team members began by discussing the methodology with the Foundation's staff, exploring various ways cyber bullying can impact the youth they serve. They were then tasked with splitting into small groups to develop an activity that could ensure all participants felt included and equal, leading that activity for the entire training group, and reflecting on what worked, what didn't, and how to implement the activity in their daily life at BGR.
"We are very happy to have been able to bring the FutbolNet methodology to an outstanding educational team from the Henry Street Settlement project in New York," said Nicolas Rubio, International Project Coordinator at the Barça Foundation. "It was our pleasure to share our experience and the FC Barcelona values, during this training period with Henry Street."
FutbolNet will be rolled out at BGR and Jacob Riis Cornerstone Community Center over the next few months, starting with a pilot phase in the spring. The methodology will first be applied to the 13U Basketball Team at BGR, a teambuilding class at BGR, a youth cooking class at Cornerstone, tutoring at Cornerstone, and a STEM class at Cornerstone. After the Spring Pilot, the methodology will then be implemented in the summer camps and programming at both sites.
Founded in 1994, the Barça Foundation works to provide support to vulnerable youth through sports and values-based education, with the goal of contributing to a more inclusive society. They work with youth and community partners in their own community as well as in 53 countries around the world, focusing on vulnerable populations, refugees, children with disabilities, and promoting gender equality.
Henry Street was first introduced to the Foundation through a connection forged halfway around the world, when Deputy Development Officer for Public Policy and External Relations Jeremy Reiss and Abrons Arts Center Artistic Director Craig Peterson attended a conference in Athens, Greece organized by the Stavros Niarchos Foundation. Reiss and Peterson struck up a conversation with Barça Foundation leaders over lunch one day, laying the foundation for this exciting collaboration.
"We're incredibly grateful for the opportunity to work with the Barça Foundation, and equally thankful to our mutual partners in the Stavros Niarchos Foundation for introducing us," Reiss expressed. "Henry Street is thrilled to implement this methodology, and is looking forward to continued partnership."