Team Henry Gears Up for the TCS New York City Marathon
By Henry Street Settlement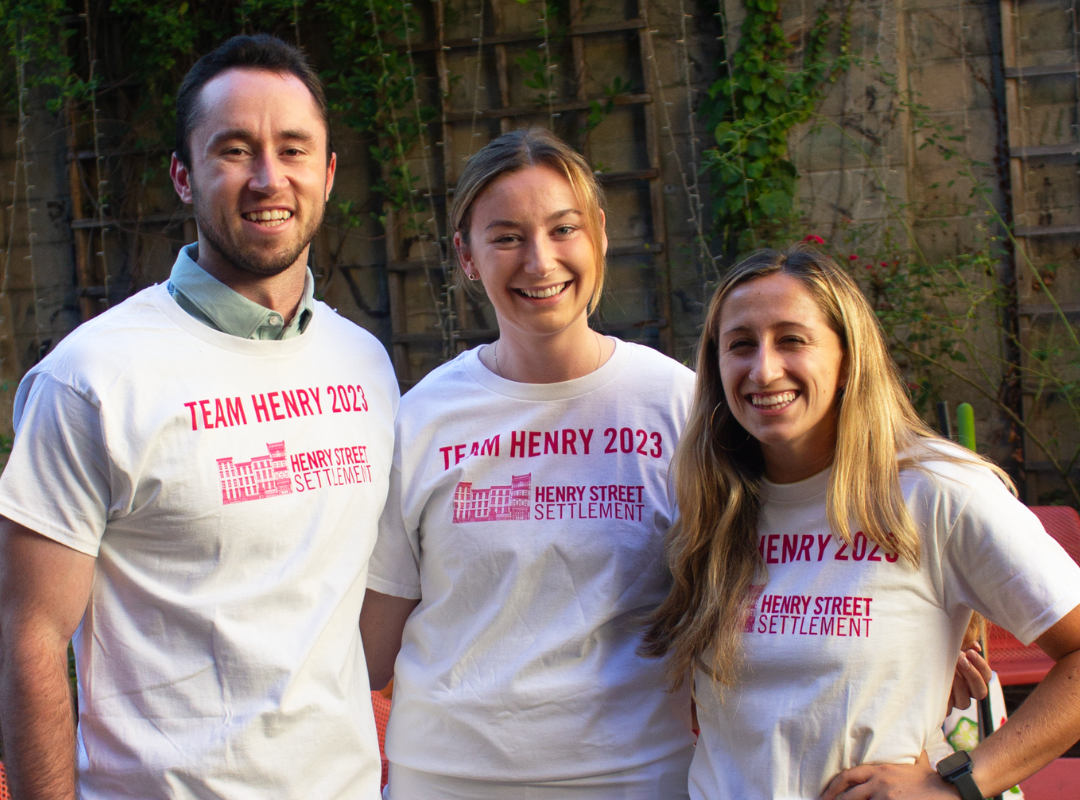 Henry Street has been proud official charity partner of the TCS New York City Marathon since 2016. We're excited to have an enthusiastic group of runners fundraising for Henry Street in the 2023 marathon. Each runner on Team Henry commits to raising $2,500 for the Settlement ahead of their 26.2 mile course on Sunday, November 5. Keep scrolling to learn more about this year's runners!
Murray Riach

Murray grew up in Connecticut and now lives in Manhattan as a dedicated employee at GE Energy Financial Services, a division of GE Capital. Murray's special connection to community services in his hometown brought him to Henry Street Settlement as his chosen cause. As a former college soccer player, Murray decided to challenge himself by taking on the marathon. 

"I was fortunate enough to have a great support network and many community services provided to me growing up nearby in Connecticut and am proud to support Henry Street in serving those in the Lower East Side."

Emily Spahn

Emily, a nurse at NYU, has always been driven by a passion for helping others. Her dedication to service led her to volunteer for afterschool programs, making a difference in the lives of those in need. Emily's athletic background includes playing sports in high school and running in college. Inspired by a friend, she's now gearing up for her first full marathon in support of Henry Street Settlement. 

"I love that Henry Street provides a plethora of opportunities and resources to individuals and families, and that the Settlement's founder, Lillian Wald, was a nurse."

Jenna Finnis

Jenna is a special education teacher for 5th graders in Brooklyn. Jenna's love for grassroots organizations and afterschool programs brought her to Henry Street Settlement as her chosen cause for running her first full marathon this year. Inspired by witnessing her close friend complete a marathon, Jenna decided to embark on her own marathon journey. 

"I deeply believe Henry Street's mission and support their work in providing employment, education, recreational, and health services to people of all ages. I am a proud educator in New York City and want to continue to support the unique city that has brought me so much joy!" 

Caitlin Collins

Caitlin loves to run and is always challenging herself to achieve her next goal. Running is a way for her to explore her surroundings, both when running in a familiar or new place. She is excited to be fundraising for Henry Street for this year's marathon.

"I am honored to be running on Team Henry Street and to support the important social services the organization provides to the residents of the Lower East Side!"

Kalliope Karella & Eddy Rena

Kalliope is a returning member of Team Henry and has ran the NYC Marathon the last two years in support of the Settlement. This year, she's excited for her son Eddy to join her as a mother-son duo!