Henry Street's Largest Benefit Celebrates 35th Year
By Henry Street Settlement
Nicelle Beauchene Gallery featured the artist Louise Despont. Photo by Scott Rudd Productions 2023.
The Art Show 2023 Benefit Preview, Henry Street Settlement's largest annual fundraiser, opened on Wednesday, November 1, welcoming more than 2,000 celebrities, philanthropists, long-time Settlement supporters, and Henry Street Board and team members to the elegant Park Avenue Armory.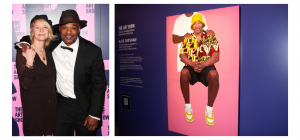 Left: Artist Kate Capshaw poses with Henry Street's "credible messenger," Toddrick Brockington, the subject of her recent oil painting. Photo by Madeleine Thomas for BFA.com. Right: Capshaw's oil painting of Toddrick. Photo by Raaziq Brown for Henry Street Settlement.
Organized by the Art Dealers Association of America, The Art Show is Henry Street's greatest source of unrestricted support, providing vital funds to the organization's social service, arts, and health care programs. This year's show celebrates the 35th anniversary of Henry Street's philanthropic collaboration with the ADAA and the 130th anniversary of the Settlement's founding. 

Left: Photographer David X. Prutting with Henry Street Board Member Teddy Liouliakis and Nicolas Heller (a.k.a. New York Nico). Photo by Madeleine Thomas for BFA.com. Right: Fran Liebowitz is a frequent guest of The Art Show. Photo by Scott Rudd Productions 2023.  
This year's event includes a vibrant portrait of Henry Street team member Toddrick Brockington painted by the artist Kate Capshaw. It is part of a special exhibition presented by Henry Street and the ADAA at Henry Street featuring new portraits of individuals close to the Settlement and its programs, in addition to portraits from Capshaw's Unaccompanied series on view at the Dale Jones Burch Neighborhood Center from October 31-November 19. Each year, the Benefit Preview allows guests to experience one of the nation's longest running and most important art shows before doors open to the general public on November 2, running through November 5. The event promotes an atmosphere of close looking and one-on-one conversations with dealers and artists.  
Left: Tom Hanks, Rita Wilson, and artist Nancy Lorenz. Photo by Matt Borkowski for BFA.com.  Right: Bart Freundlich and Julianne Moore. Photo by Madeleine Thomas for BFA.com.
The festive celebration at the nexus of art and philanthropy, produced with support from lead partner AXA XL, a division of AXA Group, had, in the weeks leading up to the event, raised more than $1 million in unrestricted support for Henry Street's programs through ticket sales, bringing the total cumulative funds raised by The Art Show since 1989 to more than $37 million.  
A silent auction of an extraordinary drawing, Étude, fond carré, by Henri Matisse, donated by the Pierre and Tana Matisse Foundation will be on view at The Art Show and sold in the Sotheby's Modern Day Auction on November 14.  
"This is a special year for The Art Show as it celebrates two milestone anniversaries—its very own 35-year run and Henry Street Settlement's 130th year of operation," said ADAA Executive Director Maureen Bray, "which demonstrates how the generative collaboration between our two organizations has had a tremendous and time-honored impact on the lives and well-being of our communities."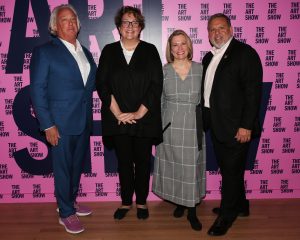 From left, ADAA President Anthony Meier, ADAA Art Show Committee Chair Susan Sheehan, ADAA Executive Director Maureen Bray, and Henry Street Settlement President & CEO David Garza . Photo by Madeleine Thomas for BFA.com.
Benefit Preview guests enjoyed booths by 78 ADAA member galleries, including 56 booths devoted to solo exhibitions such as Tavares Strachan with Marian Goodman Gallery, Joel Mesler with Cheim & Read, Sheila Hicks with Sikkema Jenkins & Co., Roy Lichtenstein with Castelli Gallery, Tom Wesselmann with Almine Rech, and Kiki Smith with Pace Gallery.  
Group exhibitions range from Mexican and Latin American modernism to Czech photography of the early to mid-twentieth century to a historic presentation of Asian American artists to a re-examination of historic museum exhibitions of African American art.  
Left: Henry Street Board Chair Catherine Curley Lee and Brian Lee. Right: Henry Street Board Members Robert Harrison, Dale Jones Burch, and Neil Suslak. Photos by Madeleine Thomas for BFA.com.
Henry Street Team Members Cindy Singh, Marily Rivera, Yahdiris Escalera, Amrita Bajoon, Shannon Scott, and Sky Otero. Photo by Madeleine Thomas for BFA.com 
While perusing the installations, guests sipped whiskey flights provided by The Macallan and enjoyed delicious appetizers catered by Canard, Inc., including mini-mac & cheese squares, tofu tartare, roasted rib-eye steak, and dim sum dumplings. 

Left: Photo by Scott Rudd Productions 2023. Right: Photo by Matt Borkowski, BFA.com
Proceeds from Benefit Preview tickets, the silent auction, and daily admissions support Henry Street's social service, arts, and health care programs that serve more than 50,000 people each year.  
"Over the past 35 years, The Art Show has proved instrumental in supporting Henry Street's sustained growth and quality, enabling us to expand our services to help those in our community face profound challenges—from poverty, unemployment, and housing instability to educational disadvantages and limited access to health care and the arts. I am so proud of our long-term collaboration with ADAA and could not be more pleased to celebrate Henry Street's 130th anniversary at this year's fair," said David Garza. 
Left: Tom Hanks with Henry Street CEO David Garza and Art Show Committee Co-Chair Neil Suslak.  Right: Artist Hank Willis Thomas. Photos by Madeleine Thomas for BFA.com.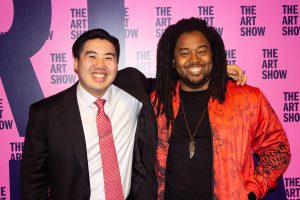 Dustin Loew, of Bloomingdale's/Macy's, and Tarik French, of Target, both long-time Henry Street volunteers. Photo by Raaziq Brown for Henry Street Settlement.
Henry Street is deeply indebted to lead partner AXA XL; lead sponsor Renate Hofmann Article 3 Charitable Trust; sponsors Bloomberg Philanthropies, The Macallan, Midway Investors LLC, and Ropes & Gray LLP; Diamond Circle members Mitzi & Warren Eisenberg, Henry Street Board Member Scott & Yvette Ferguson, Agnes Gund, our former board chair Ian & Lea Highet, Board Co-Chair Catherine Curley Lee & Brian Lee, and Board Member Pilar Crespi Robert & Stephen Robert; Platinum Circle members Jill Blickstein, Dale & Robert Burch, Naomi & Nehemiah Cohen Foundation, Katherine Farley & Jerry I. Speyer, Jamie & Jeffrey Harris, Roy M. Korins & Gillian Zackham, Gary & Iris Posternack, Stanley S. Shuman Family Foundation; and Benefit Preview Partners: Amazon, Glenview Capital Management, LLC; NewYork-Presbyterian; Sidley Austin LLP; Simpson Thacher & Bartlett, LLP; and Trinity Church Wall Street, as well as thousands of other supporters at The Art Show. 
Co-chairs for the event were Mitzi & Warren Eisenberg, Katherine Farley & Jerry I. Speyer, Ian & Lea Highet, Janine & J. Tomilson Hill, Louise & Leonard Riggio, Pilar Crespi Robert & Stephen Robert, and Anita Wien. 
The Art Show, established in 1989, is the nation's most respected and longest-running art fair, featuring museum-quality exhibitions of Impressionist, Modern, and Contemporary works. It is open to the public from Thursday, November 2, to Sunday, November 5; Thursday, Friday, and Saturday, noon to 7 p.m., and Sunday, noon to 5 p.m. Admission is $30. All daily admission tickets directly benefit Henry Street and are available electronically here or at the Armory, located at 643 Park Avenue at 67th Street. 
A series of programs will take place during The Art Show, including a conversation between Henry Street CEO David Garza and artist Kate Capshaw to take place Saturday, November 4, from 1 to 2 p.m. at the Park Avenue Armory.