The Lillian Wald Symposium: Nevertheless, She's Persisted
By Henry Street Settlement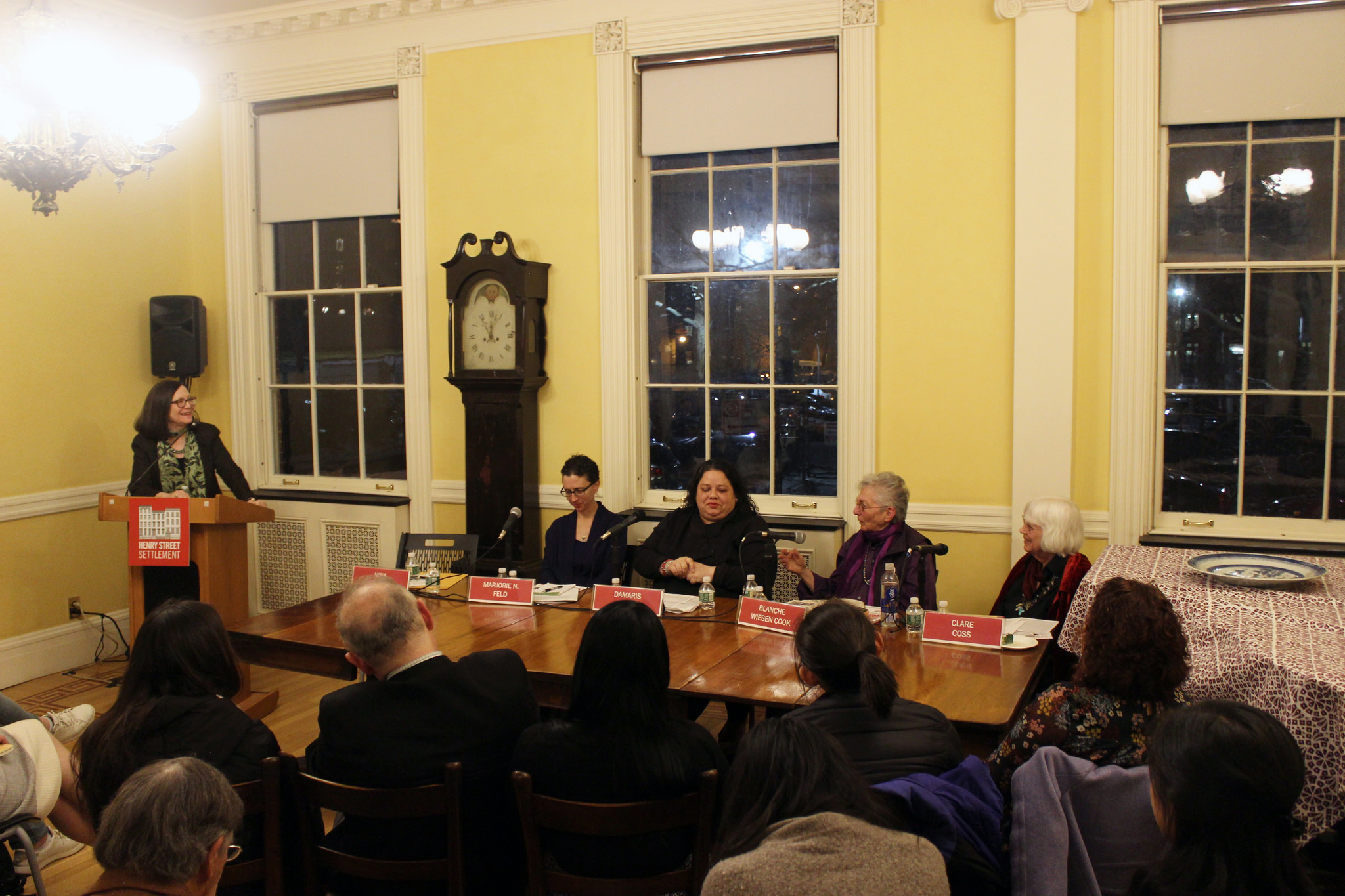 Let's just call it by its name: A Lillian Love Fest.
The third annual Lillian Wald Symposium: Nevertheless, She's Persisted – held March 19th at Henry Street Settlement's historic headquarters (and Wald's own home) – featured a distinguished and passionate panel of experts who illuminated Wald's legacy for the 70 guests who secured a seat at the sold-out event.
There was drama: Tony-nominated actor Kathleen Chalfant embodied Lillian Wald, Henry Street's founder, as she read a selection from Clare Coss's play, "Lillian Wald at Home on Henry Street." One could hear a pin drop, so rapt was the audience.
There was mystery: Why isn't Lillian Wald, whose many accomplishments we bump into daily, a household name? How did Wald, so well-known during her lifetime, fade into obscurity? In her opening remarks, moderator Nina Bernstein, a Pulitzer-Prize winning journalist, noted that Wald – unlike many women of her day – did receive an obituary in The New York Times, and that 2,500 people filled Carnegie Hall for her memorial service. Panelist Marjorie Feld, Wald's biographer and a history professor at Babson College, suggested that it may be because Wald published but two books compared to her more well-known contemporary Jane Addams' 22 volumes. "However, Addams' Hull House is closed, while Henry Street survives," said Feld. (One reason Henry Street is thriving, many suggest, is that Wald's blueprint for the Settlement has allowed for flexibility to change with the times.)
There was connection: Chalfant summarized it perfectly, when she said the event featured "fierce, eloquent, warrior women in the house built by one of the fiercest most eloquent warrior women and that is still standing and still working."
In addition to Bernstein, a New York Times reporter for 21 years, and Feld, the fierce eloquent warriors (the panelists) were Blanche Wiesen Cook, Distinguished Professor of History at John Jay College and the Graduate Center, City University of New York; Clare Coss, a playwright, librettist and activist; and Damaris Reyes, a Lower East Side activist (the Lillian Wald of the 21st century, according to Garza) who is Executive Director of the Good Old Lower East Side (GOLES).
David Garza, Executive Director of Henry Street, was greeted with a hearty round of applause as he kicked off the evening. "Lillian Wald is definitely applause-worthy," he said, before noting that the dining room, where the event was held, was where Wald hosted the founding meeting of the NAACP and welcomed guests such as Eleanor Roosevelt, Jane Addams, Herbert Lehman, Felix Warburg, Jacob Riis, Theodore Roosevelt and British Prime Minister Ramsay MacDonald. Garza introduced one audience member – Richard Abrons – who actually spent an afternoon with Lillian Wald (when he was a child, of course).
Bernstein began the discussion by saying that "there couldn't be a better time to rediscover Lillian Wald", given the national conversations surrounding women's marches, teachers' strikes and student walk-outs. The panelists addressed elements of Wald's work that resonate today, drawing comparisons to Wald's efforts in the spheres of immigration, health care, women's and children's rights, and the modern-day conversations that animate these topics. Reyes said that "it's our responsibility to carry on these legacies for women, to recognize the efforts of Lillian Wald." Henry Street, under the leadership of Wald, is credited with establishing the school nurse, special education, the school lunch, public health nursing, the playground, and numerous national initiatives, including anti-war efforts, racial equality, and rights for women, children and workers.
Cook, speaking about Wald's contemporaries Emma Goldman and Crystal Eastman, noted that it was important for these women to support one another.  "Never go anywhere without your crew," she quipped. In response to a query by Cook, who asked her fellow panelists how to inspire people today to identify as activists like Wald, Reyes urged all to "get in touch with what speaks to you and fight for it."
The Lillian Wald Symposium was held in honor of Women's History Month in March and was the first of many public events commemorating the Settlement's 125th birthday in 2018. The next program, on April 26, is Hidden Immigration Histories of the Lower East Side: Stories & Food Traditions of Local South Asian Communities.
Click here to view more photos from the Symposium.